This post may contains affiliate links for your convenience. If you make a purchase after clicking a link we may earn a small commission but it won't cost you a penny more! Read our full disclosure policy here.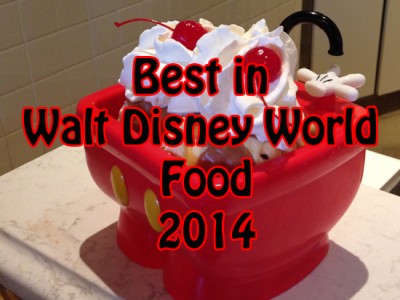 Happy 2015! I wish you a prosperous and wonderful year.
Disney delivered this year with a bunch of fantastic and delicious treats this year, as they always do for guests to enjoy and delight in.  A lot of this year's dining options seemed to improve on older ideas, creating and mashing up unique opportunities to entice guests.  So, let's find out what the some of the best things Disney offered guests to sample in 2014.  If you have a trip in 2015, here's a list of things you should really consider trying, if you already haven't, while you're visiting the Walt Disney World Resort.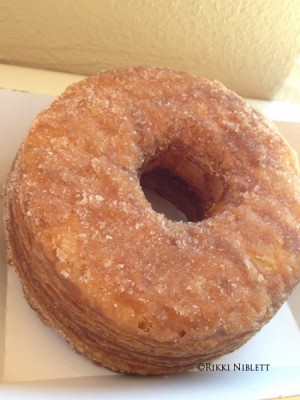 Croissant Doughnut:  Ok, I know, I'm already cheating.  This one was actually introduced in 2013, but it was done at the end of the year, so I'm making it count for 2014. This warm, doughy, flakey, buttery, cinnamon and sugar-covered delight was fantastic! Better yet, they added the option of letting guests choose to get it a la mode, taking an already great treat and making it better. Want to pick one up, head to the Refreshment Port at Epcot.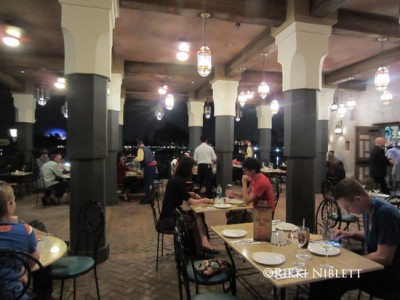 Spice Road Table:  It was a solid effort for Epcot's World Showcase.  Disney introduced this Moroccan tapas restaurant at the beginning of 2014.  Dishes include small plates that feature things calamari, mussels, lamb sausage, hummus and olives, and more.  While the restaurant hasn't exactly gone over all that well, Disney is attempting to change that by recently adding full sized entrees to the menu, accepting the Disney Dining Plan, and being able to make Advanced Dining Reservations.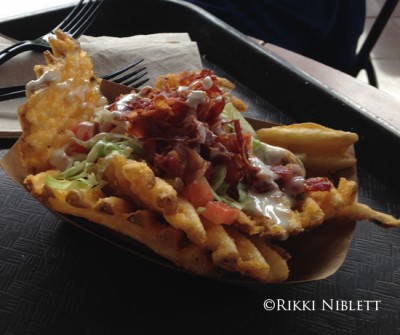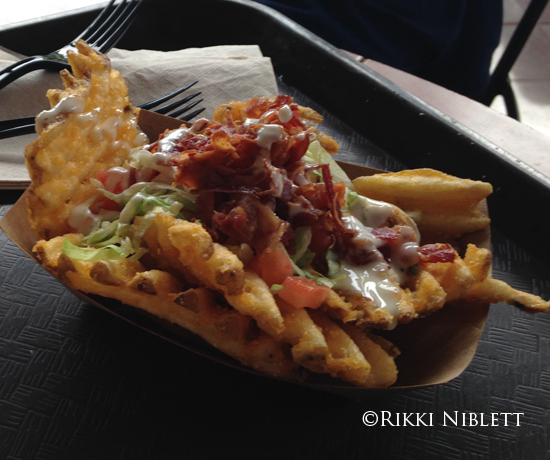 Waffle Fries:  Over at the Golden Oak Outpost at the Magic Kingdom is a kiosk window that has gone through some menu changes.  First they sold McDonald's fries, then it was chicken sandwiches, then corn nuggets, and really nothing stuck.  This year though, the snack shop started selling Deluxe Waffle Fries.  There are four different kinds, Brown Gravy and Cheese Waffle Fries, Barbecue Pork Waffle Fries, Tex-Mex Waffle Fries, and BLT Waffle Fries.  Holy cow are these good.  My only two wishes…that the window was open more often and that there were more fries. (These are that good.  But you'll just have to wait for a future blog post for a more in-depth review.)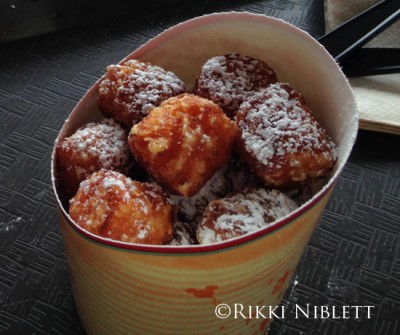 Sweet Potato Nuggets:  Also added at the Golden Oak Outpost were these delightful treats. They are small puffs of sweet potato covered in powdered sugar.
Star Wars Dining:  This is one of the things that I wonder why it took them so long to do.  It just seemed like a no-brainer.  This year, during Star Wars Weekends, Disney's Hollywood Studios added two new character meals featuring the Star Wars characters at Sci-Fi Dine In for breakfast and Disney characters dressed as Star Wars characters at Hollywood and Vine for dinner.  These were both extremely popular meals and great opportunities to meet your favorites while getting a meal too!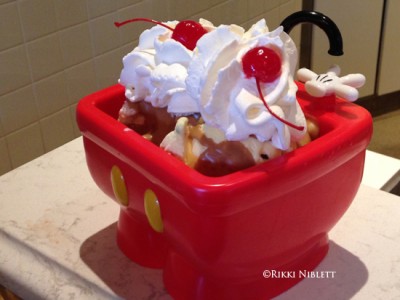 Mickey Pants Ice Cream:  This sharable ice cream bowl is so adorable!  It's available at both Beaches and Cream at Disney's Beach Club Resort and The Plaza Ice Cream Parlor on Main Street USA.  The only disadvantage of the cute bowl is that it's a big mess when you're finished with the ice cream.  I've seen many people attempting to wash it out in bathrooms nearby so they can take it home.  But what a cool and unique souvenir. (Plus, eating the ice cream is a pretty good perk too.)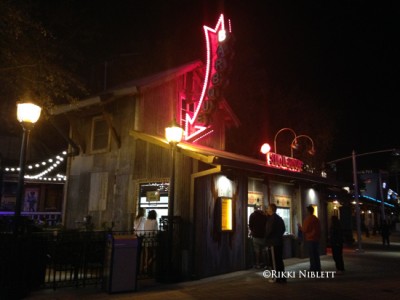 The Smokehouse:  This barbeque window opened in Downtown Disney's West Side as part of House of Blues with some pretty darn good barbeque.  There's a pulled pork sandwich, St. Louis style ribs, smokehouse nachos, and turkey legs.  There's no indoor seating, only outdoors, but if you're in the mood for some barbeque, this is a good place to grab it!
Artisan Mac and Cheese:  I mentioned previously that this was the year of taking something old and making it new again.  Guests can enjoy Bacon Cheeseburger Mac and Cheese, Pot Roast Mac and Cheese, Buffalo Chicken Mac and Cheese, and Barbecued Pulled Pork Mac and Cheese.  There are two different stops where guests can pick up this snack.  One is at The Friar's Nook at the Magic Kingdom and the other is at Min and Bill's Dockside Diner at Disney's Hollywood Studios.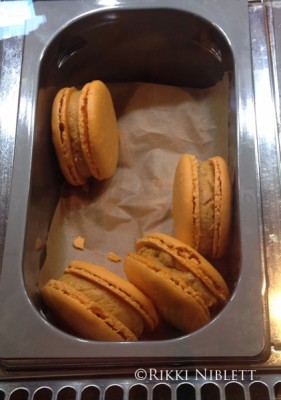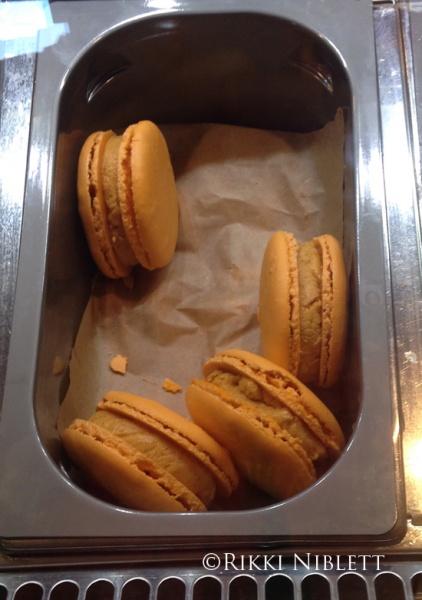 Macaroon Ice Cream Sandwiches:  L'Artisan des Glaces creates a lot of unique ice cream flavors.  This year they came up with peppermint, caramelized apple and cinnamon, and pumpkin.  But they also created the ice cream macaroon sandwich. I'll be curious to see what this unique shop located in the France Pavilion at Epcot comes up with in 2015.
Are you full yet?  That's a lot of great new treats for 2014.  It will really be interesting to see what 2015 has to offer.  I'm sure that Disney's best culinary minds are already thinking up some fantastic ideas!
What's your favorite treat from 2014?