This post may contains affiliate links for your convenience. If you make a purchase after clicking a link we may earn a small commission but it won't cost you a penny more! Read our full disclosure policy here.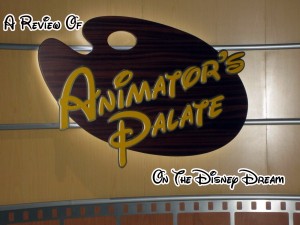 So, while everyone is talking about all the great changes that have taken place with the dining on the Disney Magic, this year, I was lucky enough to take a cruise aboard her beautiful sister ship, the Disney Dream.  Today, I thought I would start a series taking a look at some of the great dining that guests can look forward to aboard this majestic ship.
First off, we need to discuss why dining aboard the Disney Ships is a little different than most other cruise lines.  Abord the Disney Cruise Line, guests will experience rotational dining, where you will visit different restaurants each night, but your serving cast members will follow you on your journey.  This works out wonderfully because the Cast Members only take care of a few tables during your cruise, so you really get to know them and they really get to know you.  (Matter of fact, my one server knew each night to have a glass of milk at the table for me, given that I only drink milk and water.)
There are two different dining rotations each night.  The first is the early seating, which is scheduled for 5:45 p.m., the second seating is the late seating, which is scheduled for 8:15 p.m.
But wait…how do you tell which restaurant to go to each night?  Well, that's simple!  On your Key To the World Card, you will see a series of letters that follows your scheduled dinner time.  On mine, you will see that it says AERR.  So, what exactly does this mean?  Well, it means that I was scheduled to dine at Animator's Palate, Enchanted Garden, Royal Palace, and Royal Palace.  Next to that, you'll see that it lists my table number as 118, which was my scheduled table number each night.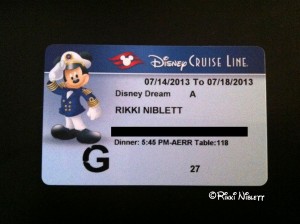 During a cruise, most of the time you will be seated with guests you don't know.  (Unless you have a large group).  While kind of scary at first, this is really not that big of an issue.  It's actually part of the fun of a cruise to get to know your table mates.  When I was a kid, we went on a cruise and I actually pen pal-ed back and forth between a couple that I met at our table for a while.  So, get to know your table mates…you never know who you'll meet.
Ok, so now we've talked about how dining sort of works on the Disney Cruise Line, let's discuss the first restaurant we dined in, which was Animator's Palate. When guests enter Animator's Palate, their eyes will take in the colors that mimic Mickey Mouse.  Lots of red and yellow fill the room, in addition to sketches and artwork that would be common to those who are animating your favorite Disney movie.  Also found inside the restaurant are large screens that feature an underwater scene.  This will come into play later.
What's fun are all the little touches that Disney includes, even at your table.  Make sure to check out your plate, your table number sign, and your bread knife!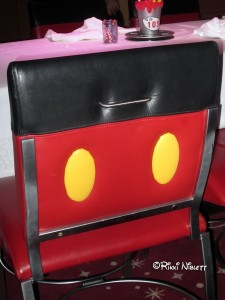 One of the best things about cruising is that the food is all you care to eat at the restaurants…so, if you want two meals or two desserts, you can have it!  This way, if there's something you want to try, you don't have to worry if you don't like it.  You can simply eat the other dish that you ordered!
On the night we visited Animator's Palate, I decided I wanted to get the Baked Potato and Cheddar Cheese Soup, as well as the Creamy Butternut Squash Soup.  I'd heard great things about both.  Now, I was expecting to love the potato, but funnily enough…I ate the entire bowl of the butternut squash soup! It was just so good.  Both were creamy and hearty soups.  The potato was good too, but I much preferred the other one.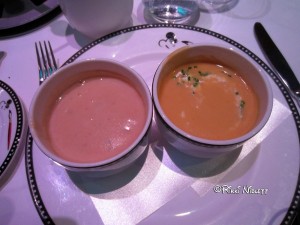 Next, we make our way to the main course.  I decided that one options was more than plenty and decided to try the White Shrimp Pennette Pasta.  There were a ton of meaty options that were listed, but I was just in the mood for some seafood.  This meal did not disappoint.  A large shrimp was found atop a plentiful pile of pasta.  Little mini shrimp were mixed in as well.  The sauce was perfectly creamy and just the right amount of garlic.  Needless to say, I did not go away hungry.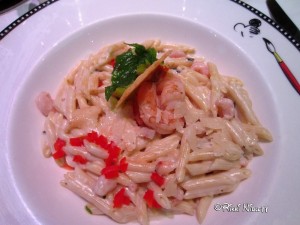 Now, all throughout your meal, you are entertained because those screens I previous discussed started coming to life. All the sudden, here come the characters from Finding Nemo.  The main draw though is Crush, who, much like at Walt Disney World, can carry on a conversation with you.  (Which can lend itself to some pretty hilarious moments.)  It's a great Disney touch.  It's only something that they would and could do.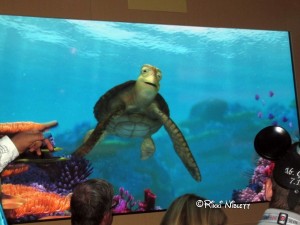 Let's get to the best part of any meal…dessert.  For dessert, again, I decided that there were two choices that I had to have.  My eye immediately went to the White Chocolate Brownie Cheesecake, but the Crunchy Walnut Cake was something that I just had to try.  I enjoyed both overall.  The cheesecake was perfect with it's brownie "crust", but honestly, the clear winner was the walnut cake.  It was both light and rich at the same time.  While it said it was walnut cake, it was mostly made out of chocolate mousse with walnuts mixed in.  Which I was perfectly ok with.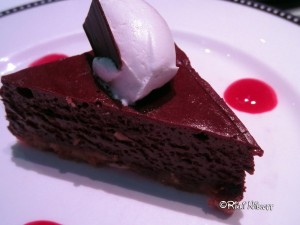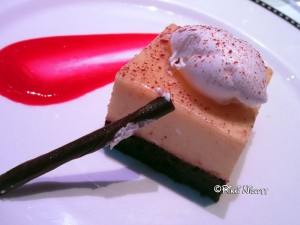 As you can guess, I left dinner very, very full!
If you are curious about the menu (keep in mind, it may change periodically):  http://disneycruise.disney.go.com/ships-activities/ships/fantasy/dining/animators-palate/menu/
Animator's Palate is really my second favorite of the three rotational dining offerings.  Though really, it's hard to say that.  I have yet to experience Enchanted Garden for dinner. I have always had a reservation for Palo every time Enchanted Garden was scheduled for me.
Speaking of Palo, next week, I'll discuss the joys of Palo for dinner and why you should most definitely consider spending the extra money to dine here.