This post may contains affiliate links for your convenience. If you make a purchase after clicking a link we may earn a small commission but it won't cost you a penny more! Read our full disclosure policy here.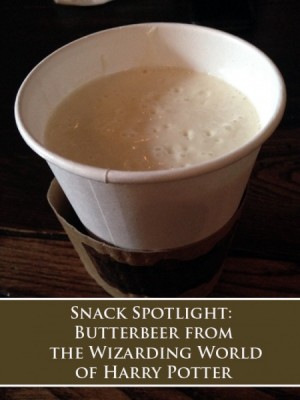 Are you as cold as I am right now? To get through the bitter temperatures, I'm day-dreaming about my most recent trip down to Orlando, just one month ago in January!
On that trip, I took my first jaunt over to see the new Diagon Alley, part of The Wizarding World of Harry Potter at to Universal Orlando Resort.  I was so excited to finally get to see this new land that I'd been dying to experience and it was honestly everything that I ever could imagine; just wow!
Just look at this gorgeous view of Diagon Alley!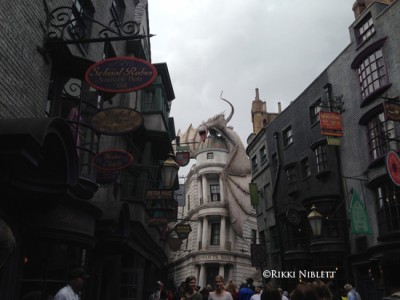 In addition to seeing how fantastically well done this land is, there was one other thing I was excited to experience –  warm Butterbeer, a recent addition to the Wizarding World of Harry Potter!
Ok…first….let me explain what Butterbeer is for those of you who don't read the books or haven't seen the Harry Potter movies.  Butterbeer is one of the most commonly discussed and delicious drinks that are a part of the Harry Potter universe.  In the books, the beverage is said to be served either warm or cold, and it is stated to have warming tendencies. (The book's version may have just a hint of alcoholic property to them…the theme park's version does not.)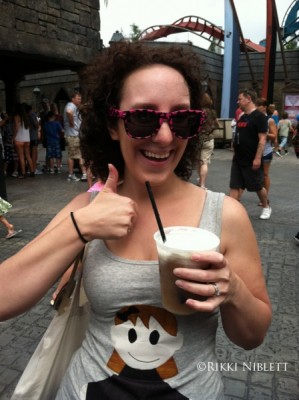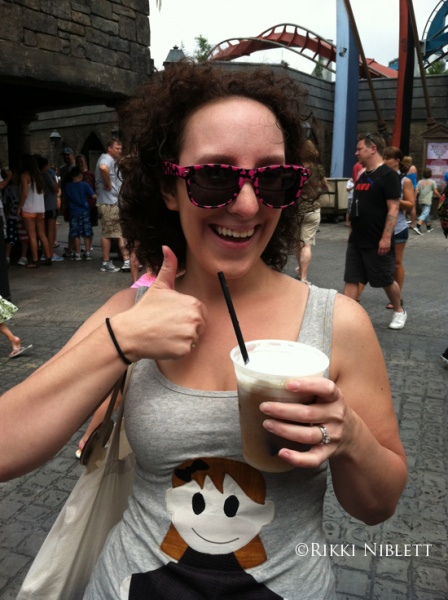 Now up until just earlier this year (with the exception of a test last year), Butterbeer was only served cold or frozen.  When I first visited The Wizarding World of Harry Potter – Hogsmede, I tried the frozen version, which I found to be outstanding.
The beverage looks much like beer would…a caramel-colored bottom and a white foamy top.  It tasted very much like butterscotch (though many say it tastes like cream soda) and the frozen texture was perfect for the hot summer day. As I mentioned previously, while the name would imply that there is alcohol in it, Butterbeer at The Wizarding World of Harry Potter is completely non-alcoholic, so the whole family can enjoy it!  I would very much recommend it.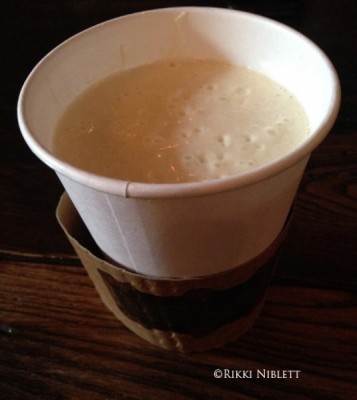 So, knowing how much I enjoyed the frozen version, I was excited to try the hot version of the same drink. This version looked similar to the frozen version – a caramel-colored bottom with a dense foam on top.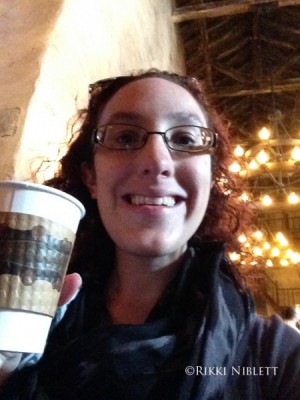 I took my first sip and I was in heaven. It was incredible. While it is a completely unique drink, I would equate it to being similar to something like hot chocolate…just without the chocolate flavor.  It is warm and milky, with a rich butterscotch flavor, very similar to how hot chocolate would be made. The butterscotch flavor isn't super overwhelming though.  It's nice and subtle.  I didn't think the treat was "rot your teeth out sweet" either, but there certainly was a sweet flavor to it.  Then, you add on top the delightful vanilla flavored foam; the two flavors marry perfectly.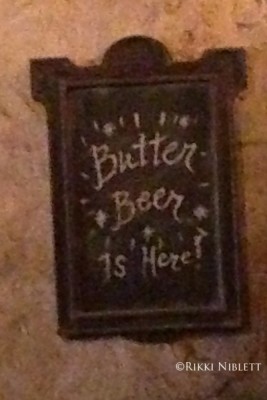 Butterbeer can be purchased at many locations throughout The Wizarding World of Harry Potter.  In Hogsmede, guests can stop at Three Broomsticks and Hogs Head, plus there are various carts that sell the beverage.  At Diagon Alley, guests can purchase Butterbeer at The Leaky Cauldron, The Fountain of Fair Fortune, and The Hopping Pot.
Of course, if you are looking for another way to enjoy your Butterbeer…try it in ice cream form, from Florean Fortescue's Ice Cream Parlor.  While I didn't get to try it this way this time, I hear it's fantastic, and it's on my bucket list!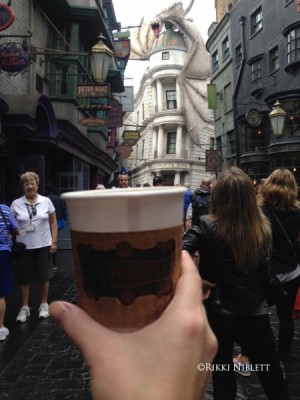 The question remains…which version do I like the best? Honestly, it's a tough call…both are incredible and it's certainly nice to have the option, however, I think, the warm version wins out.  (Though if you ask me again when it's 100 degrees out, I'll probably have a different answer!)
Have you tried Butterbeer?  Which version is your favorite?