This post may contains affiliate links for your convenience. If you make a purchase after clicking a link we may earn a small commission but it won't cost you a penny more! Read our full disclosure policy here.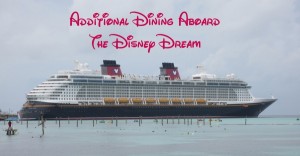 I hope you've been enjoying my articles all about dining on the Disney Dream.  Cruising on Disney Cruise Line is so incredible.  If you ever have the chance to try it, I strongly suggest it.  I don't think you'll regret it one second.  (Gosh knows I haven't.)
Today, I thought we'd take a look at the additional dining opportunities I took part in during my cruise aboard this luxurious ship.
When you board the ship, you will often have two places to choose to eat from.  One is Cabanas, but the other is Enchanted Garden.  Located on Deck 2, I particularly like this restaurant on embarkation day because it's usually a little quieter than Cabanas, which is located on Deck 11.  It doesn't open immediately when the ship begins letting passengers on, but if you wait, it can be so worth it.  On this trip, we actually rope dropped the restaurant.  Here, they have lots of great options on the buffet to choose from and a beautifully filled dessert case.  What's also great is that we were staying on Deck 2, so when lunch was over, we rope dropped our cabin too!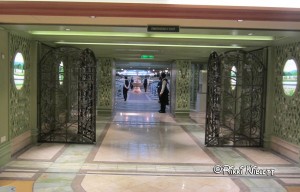 Enchanted Garden is also a great spot to have breakfast.  Again, it's not one that people think about, so it's often quieter than the upstairs area.  (PS:  I love these booths!  I actually got to sit in one of them this trip out!)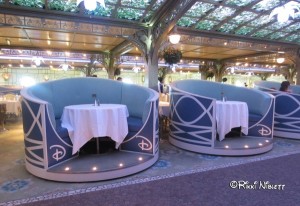 Of course, I mentioned Cabanas, which I also dined in a few times.  This buffet area is themed after Finding Nemo.  It serves up breakfast, lunch, and yes, even dinner, in case you don't feel like visiting your main dining rotation that particular evening.
One of my favorite events that took place was the infamous (for cruise lines anyway) midnight buffet.  I had no idea this existed until I got on the ship, but on the night of the Pirates in the Caribbean party, Cabanas opens for a spectacular buffet.  One of the most unique items on the menu – turkey legs. Be on the look out for lots of little decorative touches, like this carved watermelon!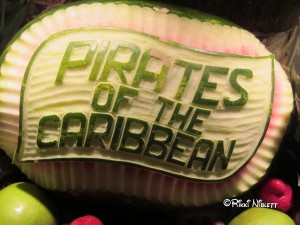 Another area I particularly enjoy is the food court area, found on Deck 11 near the main pool, known as Flo's Cafe and Eye Scream Treats.  These two are great stops for when you want a quick bite. (You know, when you feel that tiny pang of hunger, which, of course, you shouldn't feel on a cruise ship!  You should NEVER feel hungry…always stuffed to the gills.)  Flo's Cafe is of course, themed around Cars and features Luigi's Pizza, Tow Mater's Grill and Fillmore's Favorites.  Menu items include: Burgers, Chicken tenders, Pizza, Fresh fruit, Salads, and Sandwich wraps.  It's a great spot to go an unwind and meet up with friends, especially at the end of the night.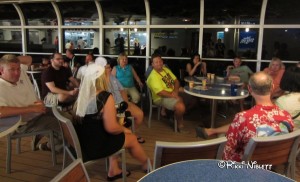 Of course, the area that I frequented most was the Eye Scream Treats.  Located on the opposite side of Flo's Cafe and themed around Mike Wazowski from Monsters Inc, this ice cream shop has all you can eat soft serve.  Simply grab a cone, pick your ice cream choice and go.  Seriously.  I couldn't get enough ice cream.
Headed to the nightclub district known as The District?  While you can of course, grab a drink here, did you know that they frequently put out appetizers throughout the night?  It's one of the best kept secrets that you often just stumble upon, with treats like chicken wings, veggies, mozzarella sticks, and more being available for guests.  The menu changes, even during the night, so it's always fun to see what's going to be offered next.
There are of course, many additional areas to grab a snack while you're on the ship.  You could try the Cove Cafe for coffee, there's the theaters which sell popcorn and treats, and of course, the many bars have delicious beverages to choose from.  And don't forget about in-room dining, where they famously can bring you huge chocolate chip cookies!
If you're ever worried that you'll go hungry on a cruise ship…let me assure you.  You will not.  There's a ton of options available, no matter what you're in the mood for.  The question then becomes, how can I eat it all? I'm already so full!!!   The good news…whatever you don't get to, no worries, it just means you'll simply have to book another Disney Cruise!