This post may contains affiliate links for your convenience. If you make a purchase after clicking a link we may earn a small commission but it won't cost you a penny more! Read our full disclosure policy here.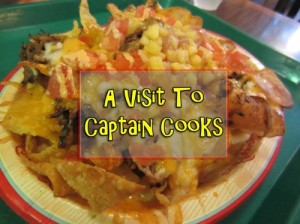 Hi everyone!  I'm officially back from a glorious almost two week vacation that included stops at Walt Disney World, as well as the Disney Dream and boy, do I have a LOT to talk about!
One of my all time favorite places to visit at Walt Disney World is the Polynesian.  The resort is so popular among many Disney fanatics and I can't put my finger on why.  It's probably a mix of a lot of factors, to be honest. The theme is great, the restaurants are fantastic, and the nostalgia is quite present.
There are four different places you can dine in at this resort.  You have 'Ohana, the family style meal; Kona Cafe, the more "upscale" meal; the Luau, called the Spirit of Aloha dinner show, which can be a fun experience, and Captain Cook's, the counter service location.
For me, when heading over to this resort, if it's anywhere around meal time,  I typically want to make a stop somewhere.  Often, it's at the last option I mentioned, Captain Cook's.
I actually found it by accident one day.  My husband and I had just had a massage at the Grand Floridian Spa (I know…tough life…) and we were starving.  Feeling a little delirious, we just happened to be walking down the path, when we walked up on the Polynesian.  Not knowing what deliciousness was inside, my husband suggested we go in here.  On that day, I was converted.  I wondered what kind of amazingness is this and why does no one in the Disney community talk about it?  So, me with my big mouth…I started to.  And I think word is catching on, as more and more people are talking about this hidden gem.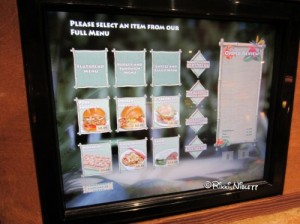 The restaurant itself is found on the bottom floor of the Poly.  It is themed with the same tropical feel and has colors of browns, greens, and yellows to accent.  This counter service location is a bit different than some other ones.  Here, you go up to a touch screen and place your order on that.  It allows you to customize your order a bit, but maybe not as much as you'd like to.  You may still have to talk to the Cast Members about any special options with your food.
From there, you pick out any extras you'd like with your dish, like drinks, desserts, or ala carte options.  You then head up to the register where you pay for your items and then they give you a pager.  Then, you can go sit down, either inside or in one of the outside options until your pager goes off, where you then head back to the counter to pick up your food.
The restaurant serves up a little bit of everything, with influence from it's Hawaiian flare infused into many of the dishes served.  Items include stir fry, sandwiches, salads, and flatbreads.
Alright, so let's talk food.
On my recent trip, I actually ended up making a few stops here.  (I told you I love the place.)  This time, I decided to be a little different and try some menu items I've never had before.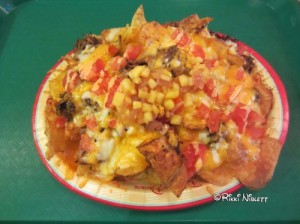 The first day we made our stop, I decided to try the pork nachos.  I love the housemade chips that they serve up here (a mixture of both homemade potato chips and wonton chips) and I thought, made into nachos, this will be good.  Boy, did it not disappoint!  These were delicious!!!  The flavor of the pork was fantastic and it was great when paired with the cheese, as well as the tomatoes and pineapple.  (Yes, pineapple.)  It's hard to believe this came from a counter service location!  These are a very large portion, and by the end, it hardly looked like I made much of a dent, so I would totally recommend sharing these bad boys!  Unless you are VERY VERY hungry!
A friend of mine, whom I was traveling with tried the specialty tuna sandwich.  She is a clean eater (I like to tell her she eats grass, because she prefers things like quinoa and chia seeds…how we are friends…I don't know…) and she thought this sandwich was fantastic.  She actually went back for it a few times during this trip.  The sandwich could be found in the refrigerated section and included two strawberries with it.  She was certainly happy that she made that choice and she strongly suggests it!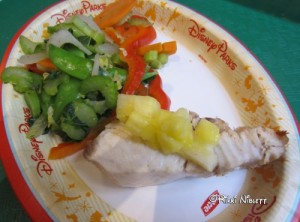 The second time I headed over to Captain Cook's this trip, I decided to try something off the kids menu.  I always approve of when Disney includes things on the kids menus that aren't just chicken nuggets and hot dogs, and found the seasonal grilled fish with a vegetable medley and mandarin oranges listed.  The restaurant had a lot of healthy options, having the Mickey check mark on it to indicate that it meets Disney Nutrition Guidelines for Complete Meals when served without substitutions.  I applaud Disney in their efforts to make unique options for the kiddos and think it is long overdue.  The option looked really good too via the picture on the touch screen. Once I got my meal, however, that's where that ended.
I am sort of a picky eater, so I know how kids think…and if I were a kid, this is one meal I would have not wanted.  The fish was tough…it wasn't flaky and the only way it had any flavor to it was when I ate a piece of the pineapple "salsa" that had been placed on top.  The mandarin oranges (which at the time I thought were peaches, because I never read anywhere that said they were oranges) didn't even come on my plate.  I never received them.  Finally, the veggies that it was served with were not good.  The picture showed broccoli, which I love, however, that is not what ended up on my plate.  What was served didn't even appeal to me, as an adult, so I know a child would take one look at it and leave it on their plate.  The medley included snap peas, carrots, onions, red peppers, and celery.  This was the only meal that I simply did not want to eat the rest of, during my entire trip.  So, while I'm certainly glad they offer different and healthy options for kids, I would strongly suggest getting one of the other Mickey Check options, as I think they would have been more enjoyable to everyone, of all ages.  (I really want to try the Chicken and Pineapple Skewer the next time.)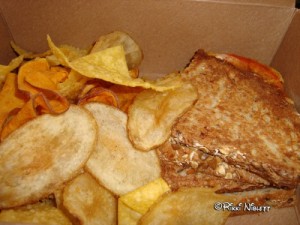 Of course, I realize this meal, which is only served at dinner, is just a small blip.  Everything else I've ever gotten from this restaurant has been delicious.  Which brings me to one of my favorites, that I did not partake in this trip, but get almost every other time.  It is the sandwich that I extoll to everyone when I talk about how good Captain Cook's is…and that is the Grown Up Grilled Cheese sandwich.  Now…I know what you're thinking…it's grilled cheese…how can that be incredible?  It's because Disney makes it with cheddar, swiss and the ultimate kicker, boursin cheese, served with a slice of lettuce and tomato.  Add the Polynesian chips with it and you have a real winner!  It is one of the best hidden secrets in all of Walt Disney World.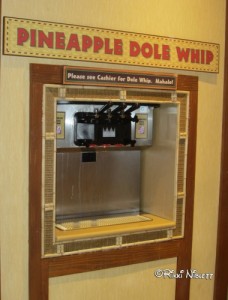 Of course, the other not so hidden secret is that Captain Cooks is the only other location on Disney property, besides the Magic Kingdom, where you can purchase yourself a Dole Whip.  And here…it's not just them putting it in a cup…no, no.  You are given a cup and you can fill that sucker up with as much delectable pineapple heaven as your heart desires.  (And the cup can hold.)  I've seen people walk out of here with monstrous mounds of Dole Whips.  This alone is what draws many to Captain Cooks.
Honestly, this restaurant really does have something for everyone.  Other menu items that I didn't have, but sound just a delicious are the Aloha pork sandwich and the flatbreads.  Make sure to check out the full menu.
For a place that I just happened upon, I'm certainly glad I did!  What makes it even better is that it is just a quick monorail ride away from the Magic Kingdom! If you've never been there, make sure to take a trip over to the Polynesian (come on, I know it probably doesn't take much for you to want to visit anyway) and have either lunch or dinner at Captain Cooks.  You won't regret it.