This post may contains affiliate links for your convenience. If you make a purchase after clicking a link we may earn a small commission but it won't cost you a penny more! Read our full disclosure policy here.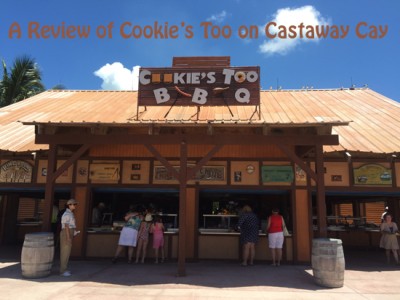 Castaway Cay is a fantastic paradise. Seriously. It is paradise. From swimming to biking to feeding stingrays, to parasailing, to sleeping, to reading, to running, to so very much more. Of course, there is one more thing that is a huge part of being on Castaway Cay….dining. And there is a great choice to get your lunch on, because why leave paradise to go eat? That place is known as Cookies Too. (There is also Cookie's BBQ on the island.) And because you're on Disney Cruise Line and Disney owns the island, lunch is included in your stop AND it's all you can eat.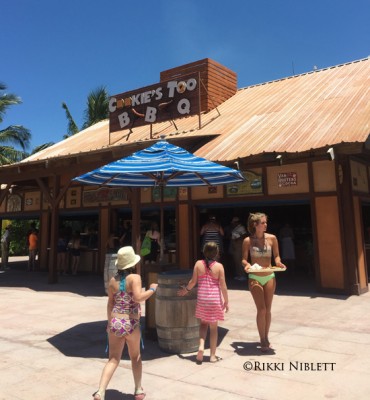 Cookie's Too is an open air dining establishment where guests pull up trays and go through the buffet line. There are multiple lines for guests to choose from, including some in the back, so if there's a long line, check to see if other stations are open.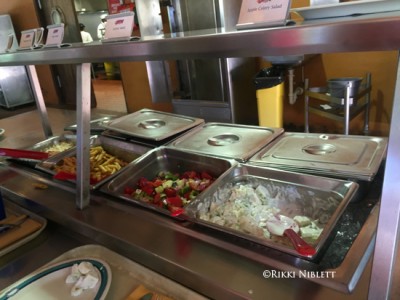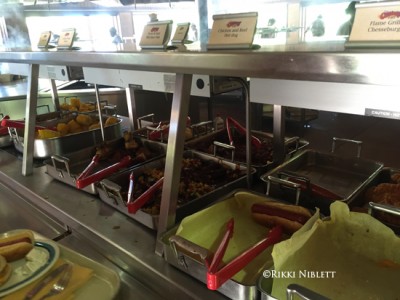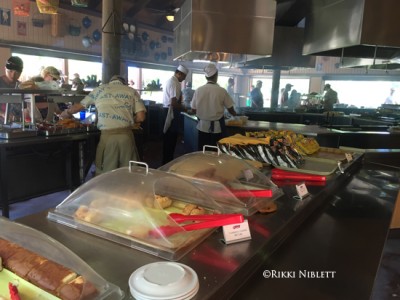 Menu items include a ton of island and barbecue inspired dishes for guests to choose from including burger, hot dogs, chicken sandwiches, mahi mahi, salads, vegetables, chips, and desserts. There are also stations were Guests can go to to get beverages. Oh and of course, there are places for soft serve ice cream!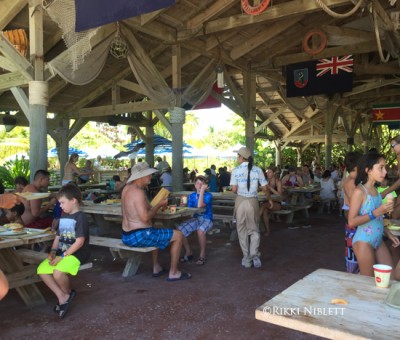 Once guests create their plates, they are able to head to one of the open air dining sections and sit a spell.  Do keep in mind that most places are shaded, some are not. Also, if the first area you see is full, look around, because there may be more areas available to guests than you though at first. Also, watch out for birds. They know these areas house food and swarm, so be on the lookout.
Let's get to the food. Since we had a double dip cruise, we got to experience Castaway Cay twice, which means, we got to dine at Cookies Too twice! Most of the time menu items remained consistent, however, they did switch things up a little bit each day.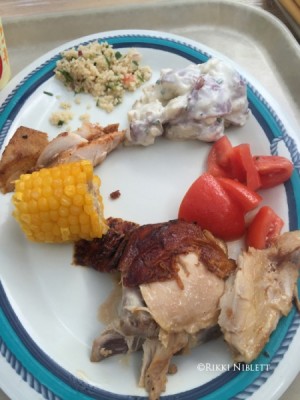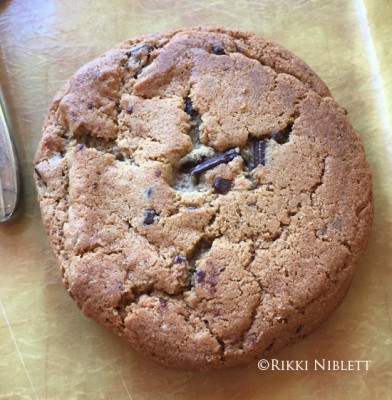 My first day, I had chicken, mahi mahi, tomatoes, potato salad, corn on the cob, and cous cous. I particularly enjoyed the chicken and the potato salad, however the corn was not good at all. It was over cooked and I couldn't even eat it. I also enjoyed a bag of potato chips, and of course, the main reason for coming here, the cookie!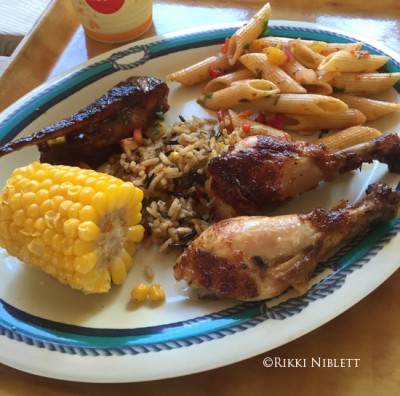 The second time around, I enjoyed the corn because it was much better, and the ribs were also fantastic. (And also a delicious cookie.)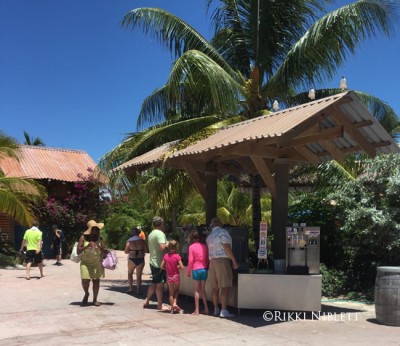 As I mentioned, there is also the choice of all you can eat ice cream and trust me, it is great to be able to take advantage of that on the hot and steamy island.
Cookies Too is one of my favorite dining experiences when taking a Disney Cruise because I think that it offers a wide variety of choices and the options are perfect for a great beach picnic. I strongly suggest making sure you stop at Cookies Too when you visit Castaway Cay!
Have you enjoyed Cookies Too? What's your favorite dish to grab?