This post may contains affiliate links for your convenience. If you make a purchase after clicking a link we may earn a small commission but it won't cost you a penny more! Read our full disclosure policy here.
Breakfast, lunch, dinner, snacks…you won't go hungry!
I want to share a story with you. Lisette (actual name changed) recently told me that she was worried about her upcoming Disney cruise. It seems that she was unable to get the early dinner seating, which is typically around 5:45pm. She usually eats early in the day and was worried that she would be ravenously hungry before her dinner time came along, approximately 8:15pm.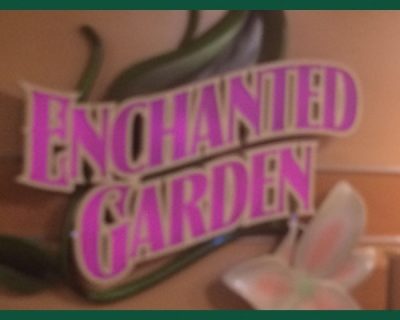 Enchanted Garden on the Disney Dream
Having done a Disney Cruise, I was able to tell her that there is absolutely no possible way for this to happen.

Cruises in general are known for their copious amounts of food, and Disney cruises are no exception. However, it can be a little bit confusing to sort out what is included in the price of your cruise, what costs extra, what you need to make reservations for, etc. So I thought I'd do a basic rundown here.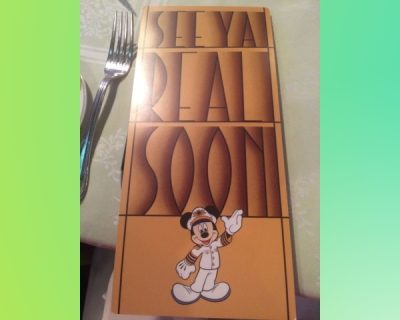 See Ya Real Soon breakfast menu
In general, breakfast, lunch, dinner and snacks are all included in the price of your cruise. Alcohol, specialty items (these are clearly marked with a price) and gratuities for your servers are not. In addition, each ship has at least one adults-only restaurant, usually open for brunch and/or dinner, and eating here carries a surcharge. Plus, you need to make a reservation to eat here.
Breakfast on a Disney Cruise


When breakfast time comes along on a Disney Cruise, you have several options. You can head to a bountiful breakfast buffet. You can order food to be sent to your cabin. (Editor's Note: Please make sure you tip your room service server, however, if you get room service delivered.) One of the full service restaurants will be open for breakfast. Or you can pick up a grab-and-go item from a quick service restaurant.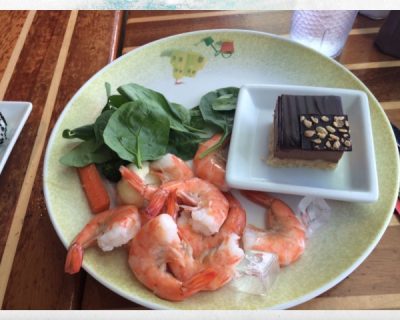 Lunch from the Cabanas buffet
Lunch on a Disney Cruise
At lunch time, you will find the same situation. You can grab a hot dog or shawarma from a quick service restaurant. You can eat at the buffet. You can visit a full service restaurant. If you are docked at Castaway Cay, the buffet on the island is also included in the price of your cruise. If you happen to be sailing on the Fantasy, you can splurge for the Palo Be Our Chef experience, which is portside cooking class and dining experience open to only eight guests. It is not cheap ($279 per person as of this writing) but if you love to cook, this might be up your alley. (Or galley? Sorry.)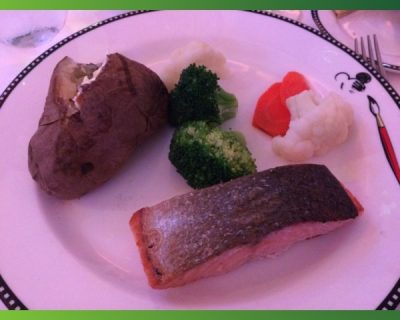 Dinner at Animator's Palate
Dinner on a Disney Cruise
Dinner brings about the famous rotational dining service, in which each traveling party is assigned a certain full service restaurant per night. The best thing about this? Your server follows you throughout your cruise! So by the third night of our cruise, our server knew that I would be ordering a glass of red wine to go with my entrée that could be found "on the lighter side" of my menu.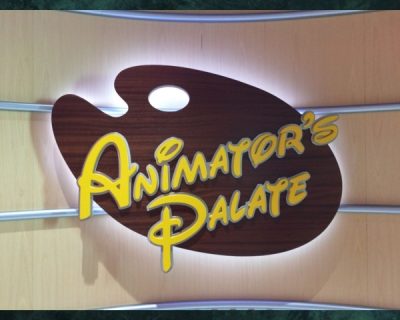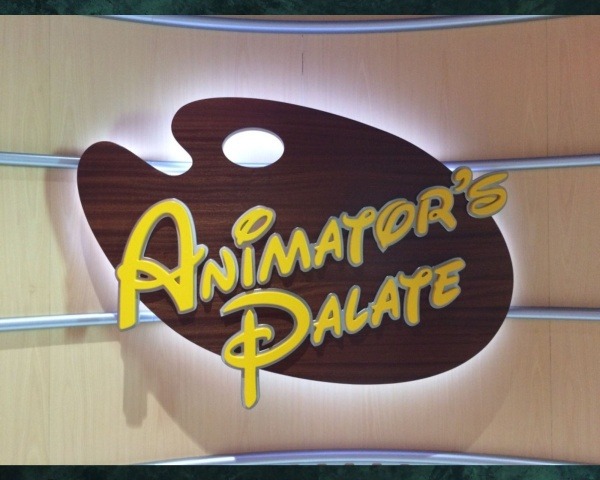 Animator's Palate, Disney Dream
Snacking
Remember when I mentioned how Lisette was not happy about getting the late dinner seating time on her Disney Cruise? There are only two seating options. Let's say that she was getting hungry hours before her dinner. No problem! She could always go the buffet, a quick service restaurant, or have food sent to her cabin. And she absolutely still can then go to her regular dinner seating!

As for snacks on Disney Cruise Line, they are plentiful. The buffet will always feature fresh fruit (usually apples and bananas) and chocolate chip cookies. There is a soft-serve ice cream station on the pool deck and on Castaway Cay. Certain areas around the ship offer candies and pastries. Some of these are included in the cost of your cruise, while others carry a surcharge. These are always clearly marked so that there will be no surprises.

Bottom line? No matter what your dinner time is, there is no way you will go hungry on a Disney Cruise!
What dining tips do you have for sailing on Disney Cruise Line? Share your thoughts in the comments or on Facebook or Twitter!
Did you like this article? Make sure to share it with your friends! Check below for easy ways to share!  
Want to visit a Disney Destination? Contact The Magic for Less Travel for more information and a free, no-obligation quote.

Incoming search terms:
https://www themouseforless com/blog_world/food-on-your-disney-cruise/