This post may contains affiliate links for your convenience. If you make a purchase after clicking a link we may earn a small commission but it won't cost you a penny more! Read our full disclosure policy here.
By Michelle Leifur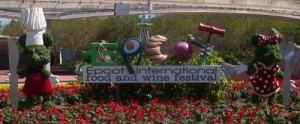 I want to share with you a trip I took last year. It was a gorgeous fall week. The kind of fall week where the evenings are significantly cooler than the days and the days aren't horrendously hot. And there is just a little nip in the air in the mornings. I awoke one particular fall morning and shrugged on a sweater as I sipped a cup of Prince of Wales Tea. I headed out the door and had a delightful breakfast of French croissants with real butter and loganberry jam. As I strolled through the winding lanes, I did some shopping, all the while taking pictures of the Eiffel Tower, a Norwegian sailing ship, and a very quaint British telephone booth. After a few hours I decided to have a light snack of corned beef and cabbage and some whiskey flan. I picked up a glass of some lovely German wine that held me over until I was able to have a snack of American apple pie. As evening approached I found myself again hungry and settled on some delicate Japanese sushi and a cup of sake. As the stars came out over the Shinto temple, I hurried to fulfill a desire for some chocolate mousse, rounding up my day back in France
No; that was not a description from a whirlwind world venture but of just one of my days spent at Epcot's Wine and Food Festival during the fall of 2004. This worldly event is held each fall around Epcot's World Showcase. Other locations within Epcot are also used to house wine tasting seminars, food pairings, cooking demonstrations and world markets. Along the World Showcase, where normally live 13 countries, tons of tiny food huts spring out of the ground which features foods and wines from various cultures.
You can find Sweet Potato FuFu from African and Spanakopittá from Greece. You might want to try Norwegian Rice Cream with Strawberry Sauce with a glass of Cherry Kijafa or perhaps a Chocolate Macadamia and Caramel Tartlet with a glass of Merlot from Australia is more to your tasting. Does it all sound absolutely divine? Does it all sound positively expensive? Well, it is divine, but it actually isn't very expensive. Because you are not getting a full serving, but just a sampling. The cost is kept between $1.50 and $4.50 a serving. Five to six samplings can constitute a nice meal for about the same price as a counter service meal.
With over 20 venues to try you may think to yourself, "Self, you are going to have to jog around the World Showcase ten times to make up for all this eating." That's the beauty of this. Bring a friend with you to share your samplings. You can try twice as many countries and not feel like your pants are two sizes too small. Plus if you have a friend with you, you can cover twice as many venues at a time. One of you can get something from Peru while the other heads to New Zealand for their samplings. And you can charge your samplings back to your room if you are staying on-site, so you won't need to carry around a wad of cash.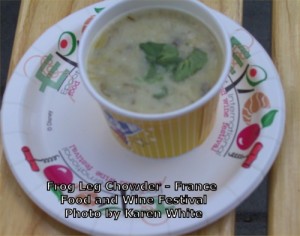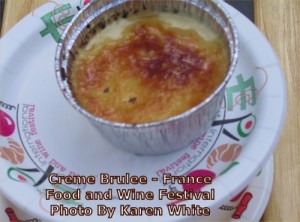 Now that we have the food all covered, let's talk about the wine! Epcot offers hundreds of different kinds of wine to sample and purchase by the glass or by the bottle. Find a wine that pleased your palate? You can purchase a bottle or two to take home with you. (Note: Because of shipping laws, wine must be hand-carried home. Neither Disney nor the vineyards are allowed to ship out of state. So keep this in mind if you are thinking of purchasing some wine while on your vacation.) Find one that isn't to your liking? Well, keep trying. There is something to please everyone whether you are a red wine snob or a blush wine lush or just enjoy a glass of nice dry white wine. (Editor's note: we want you to know that Michelle is both a red wine snob and a blush wine lush – you can keep the whites!)
Aside from wine from various countries, there are several wine tasting and pairing seminars that you can also attend. These vary between free and around $125 per person depending on the event. There are other free seminars offered throughout the weeks and some of these rotate based on who is presenting them. There is a delightful beer tasting seminar that is held outside the Rose and Crown as well as a tea seminar that debuted last year with a full capacity for every offering! (Note: Be sure to sign up for both the beer and tea seminars first thing in the morning as they do become full quickly.) Australia is always present with a "walkabout" and other vineyards send their wine masters out to give talks and presentations on wine.
One important thing to remember is to not only eat while doing all this wine tasting but to keep yourself hydrated with water as well. With all the sun and walking, you may find yourself feeling overdone in a short time if you only drink the wine!
If you have children who will be attending with you, don't fret! There is plenty for them to do as well. Perhaps they will don a paper hat and try their hand at cookie baking. Or maybe they will make bee crafts as they learn about honey. They could even learn a few things about peanuts! They might even surprise themselves in finding that they actually like Beef Stroganoff and want you to make it for them every week!
Now just how will you make real Beef Stroganoff every week once you get home? This is easily answered. Before you have one nosh, one bite, one nibble or sniff of wine you are going to pick up 2 things as soon as you enter Epcot for the day. The first will be the Wine and Food Festival program which will list the times and locations for the different events, how to sign up for the food pairings and where to find the different countries' booths. The second is the Marketplace Recipes from around the World Cookbook. This is available inside the Marketplace located in Future World for around $6 (check your guidebook for exact locations.) Not only will this recipe book help you recreate the delightful tidbits that you have snacked on throughout your trip, but if you have a food allergy or sensitivity, you will be able to know ahead of time what foods to stay away from. This is a great little souvenir that changes recipes each year! These have been known to sell out, so make sure you pick one up as soon as you see one!
And if food and wine and activities weren't enough, this is one of those special times when Epcot puts their gardeners, landscape artists and designers to task! Special topiaries are brought out for display, food sculptures are created, and the decorations are unique for just this festival. So not only will your tongue and tummy get a treat but so will your eyes! Be sure to have your camera out and ready to snap the truly out of the ordinary! Bon appetite and salud!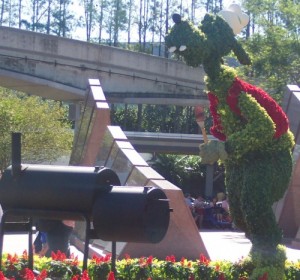 Magically Speaking Featured Article
Library of Congress ISSN:1556-3863