This post may contains affiliate links for your convenience. If you make a purchase after clicking a link we may earn a small commission but it won't cost you a penny more! Read our full disclosure policy here.
I live 400 miles from one U.S. Disney resort and more than 2,100 from the other. Which parks I fly and drive to are pretty obvious. But large sections of the country live in a big gray area between the parks — a long drive or a shorter flight. Deciding on flying vs. driving to Disney will be your first big decision when you are planning a Disney trip.
"That's easy," you say. "We always drive." (Or the opposite.) But thinking through the "True" value of each mode of transportation will help you figure out whether it's truly the best option for your travel on each trip.

True cost
If you're flying a large family, you'll probably always pay more to fly than drive. That's because driving costs do not rise proportionally per person like airline tickets. But consider some "True cost" questions before flying:
Do you have frequent flier miles to redeem?
Would you have luggage fees?
Would you need a rental car for some or all of your trip?
Do you live far enough from the airport to need a hotel overnight before catching your flight?
How much does airport parking cost?
Do you have the money now — well before your vacation — to commit to airplane tickets?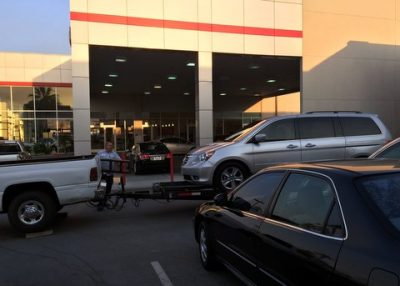 Our van blew an alternator on one Disney trip
There are also costs associated with driving that you may not be considering when planning a road trip:
What kind of shape is your vehicle in? Will it make it safely and comfortably to your destination?
How much does gasoline cost? Do you think it will rise before your trip?
How many meals would you need to bring or buy while you travel?
Would you need a hotel overnight on the road?
Does your hotel or theme park charge for parking?

Waiting … and waiting … for luggage
True time
After you've calculated the real costs of flying vs. driving, you'll also need to factor in the time commitment for each option. After all, time is money! If you'll be flying:
How far do you have to drive to an airport?
Can you get a nonstop flight, or would you spend time in a connecting airport?
Have you calculated the 2-3 hours you need to arrive at the airport before your flight, both directions?
When you arrive at your Disney destination, how long will it take to get to your hotel (rental car, Disney's Magical Express, Uber, etc.)?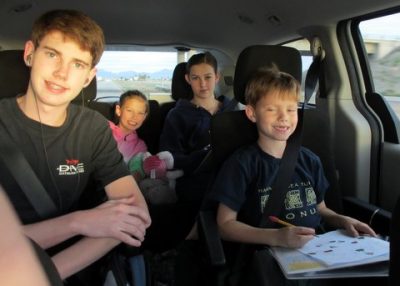 If you are driving, don't get complacent about the distance. Consider these conditions:
How much time do you have for your vacation all together? Will you spend more than half of the time in transit?
How many drivers do you have to rotate?
Would you be able to drive straight through?
What will the weather be like during your travel?
Is there major construction or detours along your route (consult the state highway departments)?

True comfort
Even after making calculations about which option saves you the most time or money, there are still intangibles every family will want to consider:
Does a member of your group get carsick or airsick?
Any anxiety issues with flying or driving?
Do your children do better in a car where they can be loud and messy, or on a plane where they can move around?
Is Disney your only goal or are there other stops you would make on a road trip?
How much gear do you plan to bring — strollers, groceries, etc.?
Do you need the flexibility to change your travel plans that driving would give you?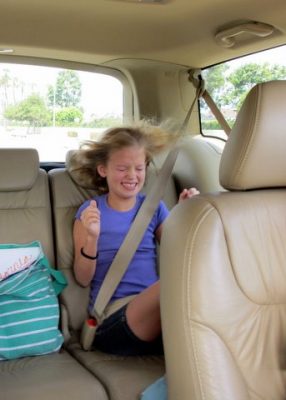 Road trips produce fun memories, like the windtunnel effect on my daughter's hair
This seems like a lot of questions! Chances are you already come down on one side of the equation or the other. But don't automatically assume that "driving will save us so much money" or "flying will have us in the park in four hours," based on your personal situation. Choosing flying vs. driving will have a big impact on your trip in money and time, so it's a good exercise to make sure you get the most out of both!
How do you calculate the value of flying vs. driving to your Disney vacation? Share your suggestions in the comments.

Did you like this article? Make sure to share it with your friends! Check below for easy ways to share!
Incoming search terms:
https://www themouseforless com/blog_world/flying-vs-driving-one-right-disney-trip/
https://www themouseforless com/blog_world/flying-vs-driving-one-right-disney-trip/#:~:text=If youre flying a per person like airline tickets
https://www themouseforless com/blog_world/flying-vs-driving-one-right-disney-trip/#:~:text=If youre flying a frequent flier miles to redeem?
road trip from seattle to disneyland
is is cheaper to fly or drive to disney world
disneyland fly vs drive
how long would it take to drive to disney world
driving vs flying to disney world
drive vs fly to disney
road trip to disneyland from seattle