This post may contains affiliate links for your convenience. If you make a purchase after clicking a link we may earn a small commission but it won't cost you a penny more! Read our full disclosure policy here.
Hans Christian Andersen said: "Just living is not enough; one must have sunshine, freedom and a little flower." Talking about sunshine and flowers the Epcot International Flower and Garden Festival comes to my mind. The festival which runs through May 18, is among my favorite annual events at Walt Disney World. It is the perfect special event for first time Epcot visitors and of course a paradise for guests with a green thumb.
Expert-designed flower and garden displays and Disney character topiaries, are sure to dazzle. 'Flower Power' live music concerts and special seminars by HGTV and Epcot gardeners round up the offerings. The park smells and looks wonderful and if you are like me, an avid photographer, you will have found your nirvana.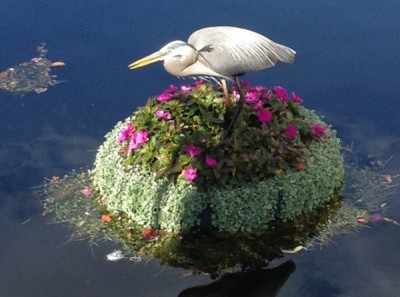 Over 30-million blooms, 240 floating flower planters, 700 gardens, nearly 100 Disney character topiaries, 30 flower towers, herb gardens and a beautiful butterfly garden await during this 75-day festival.
There is much to see and a handy map and Garden Passport guides visitors through a multitude of displays, events and food kiosks. Here are some of my favorite gardens and culinary delights:
I liked the new Mike & Sulley's Monstrous Garden, which is basically a playground inside a beautiful garden, and a big hit with kids and parents alike. Another fun garden for children is the Cars themed play area located at the walkway near Test Track.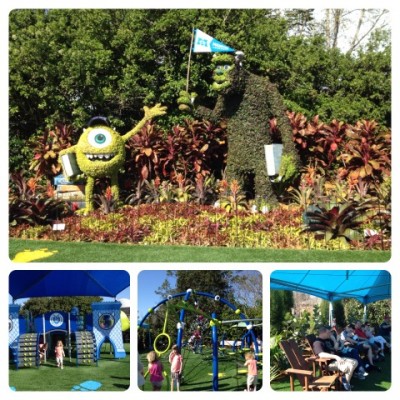 In the Mater's Parts, Plants and Play Garden kids can search for missing car parts and there are nice shaded areas for parents to rest their feet.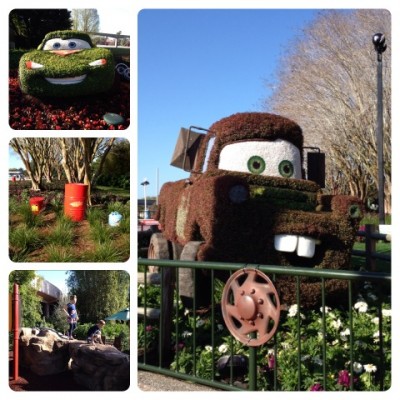 My favorite garden, the one I would love to have at home, is the Backyard Play Garden. Kids are encouraged to participate in playful, active and healthy activities in a natural setting.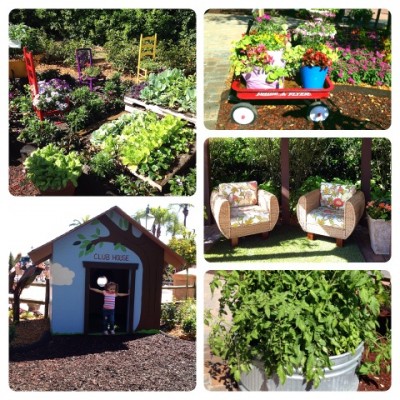 Tinker Bell's Butterfly House impressed me with the miniature birdhouses made to look like houses of fairies. What a fabulous idea.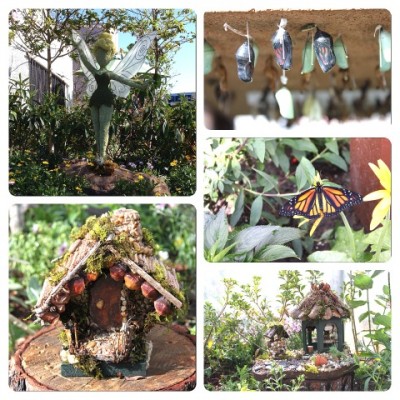 About the Topiaries: I am an avid topiary fan and there are about 100 topiaries throughout World Showcase and Future World. Goofy, Donald Duck and Daisy Duck topiaries engaging in a butterfly hunt greet guests at the entrance of the park. There were some new topiaries but overall I was disappointed that most of them were the same old same.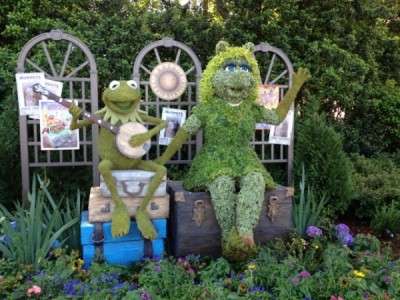 In addition to the scene at the entrance to the park the new topiaries this year were: Soccer Goofy, Kermit the Frog & Miss Piggy (inspired by the "Muppets Most Wanted" movie, which just opened in theaters nationwide) and a large display with topiaries from the Fantasia movie. I liked that display a lot especially the cute little mushrooms. Another disappointment however was the fact that at night the topiaries where, like in 2013, anything but twinkling. I really think that the gardens would benefit greatly if proper lightning was used at night.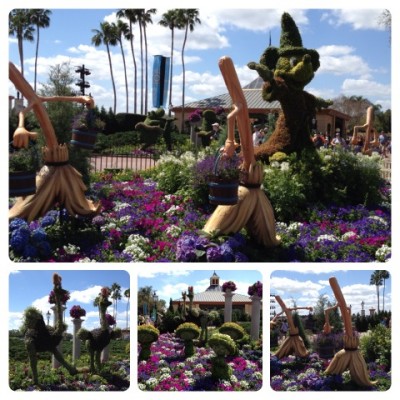 My favorite Eats:
Eggplant "Scallop" with Romesco Sauce at Urban Farm Eats
Pulled Pig Slider with Cole Slaw and for desert the Bacon Cupcakes at the Smokehouse BBQ
Hanami Sushi, a flavorful combination of Salmon, Scallop and Beef topped Rice Balls served with Shiso Violet Sauce from Hanami
Pulled Duck Confit with Garlic and Parsley Potatoes at Fleur de Lys
Beijing-Style Candied Strawberries at Lotus House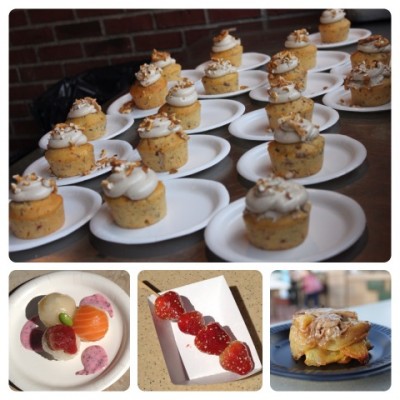 When I visited Gary Lewis and the Playboys were on stage at the America Gardens Theater. The Flower Power Concerts are held every Friday, Saturday and Sunday during the Epcot International Flower & Garden Festival at 5:30 p.m., 6:45 p.m. and 8:00 p.m.
More information on the Epcot International Flower and Garden Festival here.