The Flag Retreat Ceremony at Walt Disney World and Disneyland
|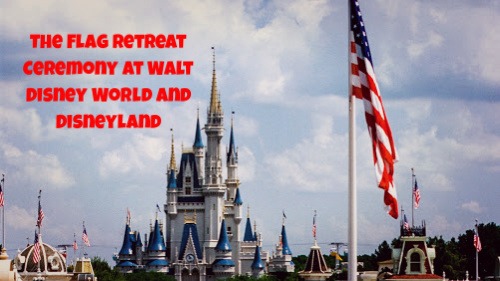 Memorial Day Weekend just passed and the day is one where every citizen of the United States should pause and remember and honor those who have died while serving in our country's armed forces. It's a beautiful weekend spent with friends and family, while never forgetting how and why we are able to do so.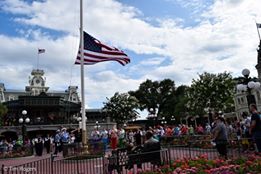 The Flag Retreat at Walt Disney World and Disneyland is one of the magnificent ways that Disney recognizes all of those who have served our country. It shows that the patriotic ideals established in the Disney parks by Walt Disney himself are still upheld and always will be. Walt Disney's love for his country was extreme, his patriotism always showing in his work and now shown throughout the Disney parks. Walt once said, "Actually, if you could see close in my eyes, the American flag is waving in both of them and up my spine is growing this red, white, and blue stripe."
Happening at 5:15 PM in Walt Disney World and at 4:15 PM in Disneyland, the Flag Retreat always takes place at the flagpole at Town Square on Main Street, U.S.A. At Walt Disney World, the Philharmonic always starts the ceremony with a younger guests who helps the Dapper Dans to lead the crowd in the Pledge of Allegiance before the Flag Retreat begins. Guests are led to the gorgeous chorus of "God Bless America, and the ceremony honors tradition, with the crowd singing and removing their hats and putting hands over their hearts.
The National Anthem is performed, and the Color Guard lowers the flag to remove it from the post. The honors veteran is standing by to salute as everyone is gathered to honor America in the fifteen minute ceremony. After the ceremony, the veteran, along with the color guard, and the Cast Members all have a short procession down Main Street, U.S.A.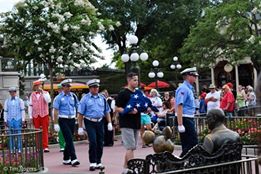 The Flag Retreating Ceremony is a tribute and a thank you to all the veterans for their service, their sacrifice, and the dedication to protecting our beautiful country. It is a ceremony and a tradition of the Disney parks that I strongly encourage for you to attend. Not only are you enjoying the magic of your Disney vacation, but you can see the strong traditions that the foundation of the park was built upon, and you can think of the park's imaginative creator and just how much he loved his country.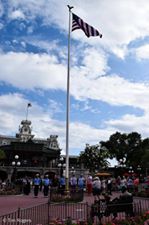 Have you seen the Flag Retreating Ceremony before? Let us know in the comments below or on Facebook or Twitter! 
Did you like this article? Make sure to share it with your friends! Check below for easy ways to share!
Want to visit tone of the Disney Resorts? Contact The Magic for Less Travel for more information and a free, no-obligation quote.

Incoming search terms:
flag retreat disneyland
flag retreat disney world
walt disney founder love for the usa flag
do they still do the flag retreat at magic kingdom
flag retreat ceremony in disneyland
flag retreat disneyland memorial day
how to raise the flag in walt disney land