This post may contains affiliate links for your convenience. If you make a purchase after clicking a link we may earn a small commission but it won't cost you a penny more! Read our full disclosure policy here.
From Our Magically Speaking Newsletter Archive – subscribe today!
Published On May 8, 2006, By Carol Garcia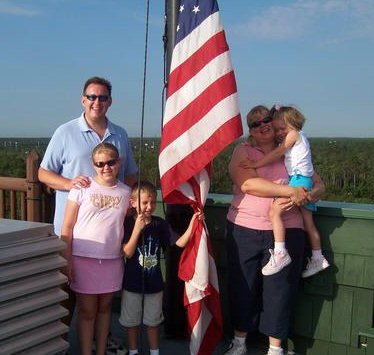 Some days at Disney, I can wake up and feel as if I'm on top of the world. The daily grind has been left behind and there is magic everywhere. Other days, I can wake up and really be on top of the World, or at least on top of the Wilderness Lodge. How, you ask? Well, it's simple: become a Flag Family.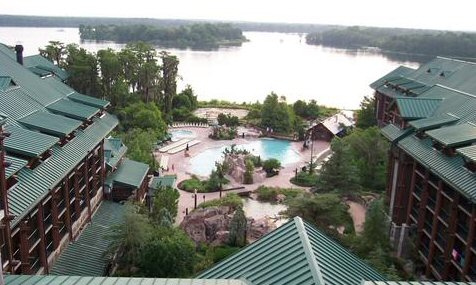 Alright, admittedly, it isn't quite so simple to become a Flag Family. In fact only one family (up to six people) is selected each day to raise the flags high atop the Wilderness Lodge. There really isn't a secret to becoming the family. One simply has to ask at check in. And hope that no one else has asked first, as only one family out of all of those staying at the Lodge get this treat each day. It is strictly first come (or ask), first served. There is no way to sign up for this before check-in, either.
My family has had the privilege of doing this twice (on separate trips). I think one thing that helped us is that we were on extended stays, so we were able to ask about dates a week in advance. We also were flexible; we were willing to take any date available during our stay at the Wilderness Lodge, regardless of our other plans. That helped our odds as well.
So, what exactly does the flag family do, you ask? Well, to put it simply, we raise the four flags that fly atop the hotel. But it is more of an experience than just that. And it is a little more difficult to get to the top than just a simple elevator ride.
First, our family was greeted by a friendly guide who met us in the lobby first thing in the morning (around 8am). We were shown the carefully folded flags and told a little about our journey. We then made our way up to the seventh floor on the regular guest elevators. Even from this vantage point, the views of the lobby are magnificent. But the observation stairwell awaited.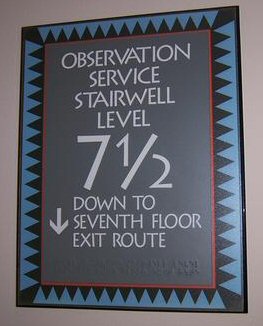 We were taken to a set of stairs that led us to none other than floor 7 ½ (if you look really closely, you can see the sign for this "floor" from the lobby, on the Whispering Canyon side). We then climbed some steel stairs to another secured door. Behind this door was where the real adventure began.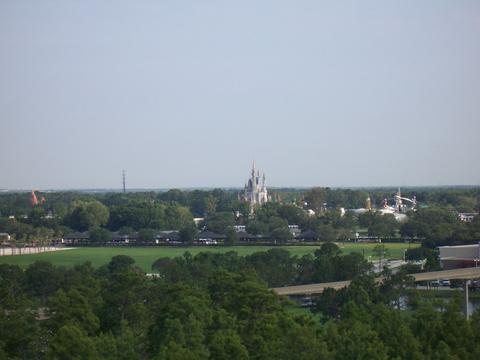 It opens to the stairs that lead to the roof of the Lodge. A short stairway later, and we were standing on the roof. Now, although this is Disney, is it just a roof of a hotel. It isn't very big and contains several vents and other pieces of equipment. But looking beyond it is a view that rivals that of the California Grill in the Contemporary. From here, one can see all four parks: a great deal of the Magic Kingdom, the Epcot "ball" (Spaceship Earth), Disney-MGM's Tower of Terror and a little green bump that is actually Animal Kingdom's Tree of Life.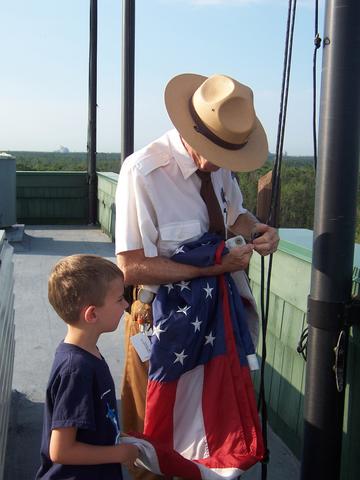 Of course we were free to take pictures, but we had a job to do. There were flags to raise! Both times, our guides were more than willing to let the children assist with the job. Once, after raising the American Flag, we said the Pledge of Alliance while overlooking all of Walt Disney World. We then finish the job with the flag of the State of Florida, that of Walt Disney World, and of course, the flag of the Wilderness Lodge.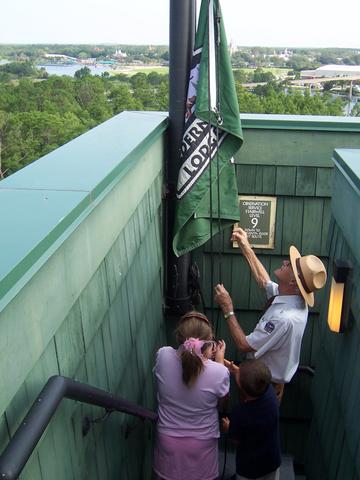 With our flag duties complete, we were able to linger for just a few last minute photos of Bay Lake before it was time to make our descent back to the lobby.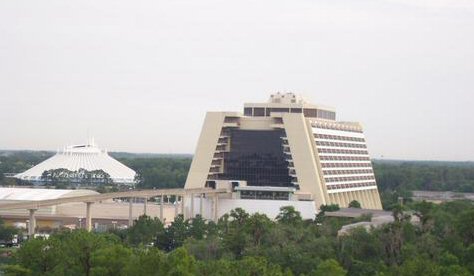 As a memento of the occasion, each flag family is presented with a certificate signed by the escort for the journey.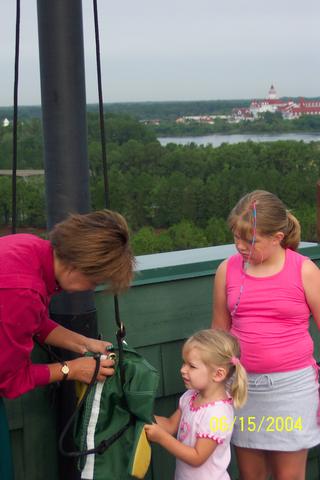 This is truly a memorable experience, and definitely more than a little extra magic to add to any trip to the Wilderness Lodge.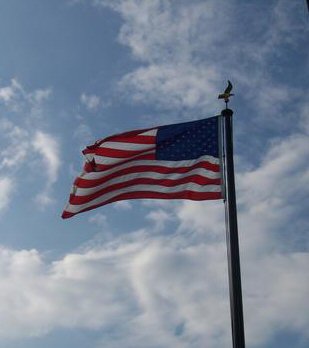 Magically Speaking Featured Article
Library of Congress ISSN:1556-3863