This post may contains affiliate links for your convenience. If you make a purchase after clicking a link we may earn a small commission but it won't cost you a penny more! Read our full disclosure policy here.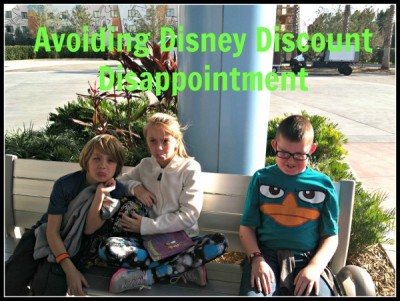 It's heartbreaking, frustrating, and my own fault.  I was counting on a promotion that would result in a discount for my family's upcoming Disney World vacation.  As my son gets older, it becomes more and more difficult to coordinate a trip during the school year.  We had the perfect plan, go during a short school week in November and he will only have to miss three days of school.  It was the perfect storm for disappointment, and deep down there was a part of me that saw it coming.  Here are five ways that you can learn from my mistakes and avoid Disney Discount Disappointment.
Be fluid in your plans. This is easier said than done, as I described in my scenario above.  Work schedules can be constricting as well.  However, if you have the option, give yourself some alternate time frames for vacation.  For example, if you are trying to score a fall discount, give yourself a week in October and two weeks in November to pick from.  As soon as the fall discounts are released (same day if possible), be diligent in choosing your dates and getting that discount applied.  The more flexibility you have in your plans, the more likely you are to get the best discounts.
Be realistic about your budget. This is a mistake that is made so often.  When planning your trip, assume that you will pay full price with no discount.
Have a back-up plan. Be willing to make some cuts in your plans if you don't get the discount you were hoping for.  This could mean changing resorts to one that is more affordable, staying off-site, switching from the standard dining plan to the quick service plan, or using Disney transportation instead of a rental car.
Be inventive. There are many creative cost saving ideas out there.  Don't be afraid to try something new that will save you a few dollars.  You can bring some glow sticks from your local dollar store to have on hand and ready to use instead of getting sucked into the Main St. plethora of nighttime souvenirs.  You can bring food and drinks into the parks, saving significant snack money.  Ask for Disney gift cards from family and friends instead of birthday and holiday gifts for your family.
Be heard. Disney is a company known for soliciting feedback and being responsive to their guests.  I have written several emails to Disney when I am dissatisfied about something and always receive a response.  I can't say that I have contributed to change, but I do feel better knowing that my voice was heard by somebody.
My family and I are die-hard Disney fans.  But, like everything in life, it isn't all sunshine and lollipops.  I have learned that if I don't set myself up for disappointment, I won't be upset when things don't go my way.  By changing your attitude and having realistic expectations, you can avoid Disney Discount Disappointment.
What are your best ways to avoid Disney Discount Disappointment? Share in the comments section.