This post may contains affiliate links for your convenience. If you make a purchase after clicking a link we may earn a small commission but it won't cost you a penny more! Read our full disclosure policy here.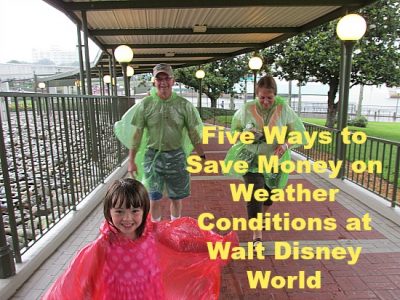 Weather conditions at Walt Disney World can be gorgeous.  The promotional images suggest that the weather is sunny and beautiful every day of the year.  But the truth is that Florida weather often has extreme conditions, but if you are traveling from many parts of the United States, you might not be prepared.  Extreme heat from May through October, torrential downpours and thunderstorms, and even some colder conditions might catch the casual vacationer off guard.  (Editor's note: this couldn't be more true, having just visited during Marathon Weekend where there were sunny gorgeous days, lightning storms, and freezing cold temps, all within three days)
Walt Disney World is prepared to help you with supplies to help you through the weather conditions you experience to be sure.  (Just watch how fast rain ponchos appear in every gift shop on property when it rains.)  And like any good company, Disney makes a good profit from the extreme weather. Fortunately, a bit of education on the weather conditions at Walt Disney World and some advanced purchases can prepare you for what Mother Nature brings on your vacation.  This article gives you five ways you can save money by preparing in advance of your travel.
Money Saving Tip #1:  Buy your own rain ponchos.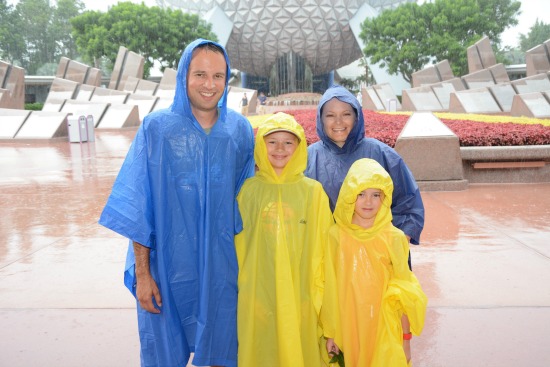 You never know when the skies will open. Bring your own ponchos.
No matter what time of year you vacation in Walt Disney World, part of your trip is likely to have some rain.  During the hottest months of the year from April through September, you are just about guaranteed to have a torrential downpour come seemingly out of nowhere and soak you.  Don't bother with umbrellas–the winds during the storms could break them.
Money Saving Tip #2:  Bring clothes appropriate for the expected temperatures.
Shorts and shirts that are designed to keep you cool should be a given.  And while you might think you will have hot weather year-round, you may not!  Pack a sweatshirt and pants (perhaps even gloves and a winter hat in the coolest months) for trips from October through March.  You might not need them, but you just might!  A Disney World sweatshirt can run you $60 or more.
Money Saving Tip #3:  Bring cooling fans, misters, and cooling towels.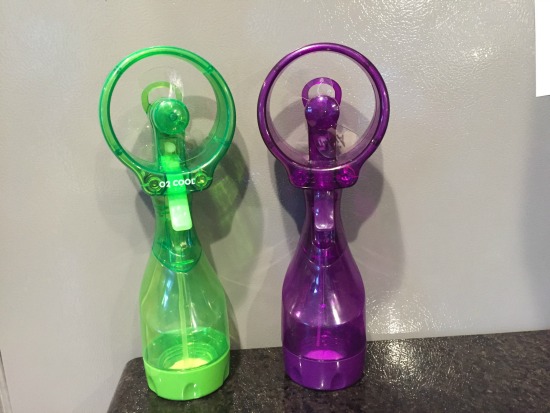 Pick up a few cooling fans from your local big box store before you go.
For the hot weather, have one or two things in your park bag to help cool you down.  You can find portable fans, misters (and fans with misters!), and various types of cooling towels in your local big box store for a fraction of the price of what Disney World sells them.  Added tip:  for devices that are battery-powered, consider an extra set of batteries just in case you leave one powered on in your bag for hours without knowing it (guilty!).
Money Saving Tip #4:  Bring a soft-side cooler with a cooling pack and your own cold water.
You can always get free glasses of ice water from any counter service restaurant in the theme parks (and some of the table service venues as well).  But to avoid the inconvenience of going into a restaurant, consider bringing a small, soft-sided cooler (a small lunch "box" container fits in this category) and packing your own water.  Cool your water in advance in your resort room refrigerator.  My family always packs a small, reusable cooling pack that we put in the very back of our refrigerator, near the coolest part, which will nearly freeze it.  This pack along with the water in the lunch box keeps our water cool for several hours.
Money Saving Tip #5:  Bring your own sunscreen.
Apply sunscreen generously.
This seems like a no-brainer, but I often see families buying sunscreen at premium prices from their resort's gift shop or near the entrances of the theme parks.  Pack your own bottle of sunscreen at home.  Be sure to put it in your checked luggage if you are flying, as any container larger than 3 ounces with a liquid is likely to be seized by TSA agents in the airport security checkpoints.
Your vacation will be expensive enough.  A bit of advanced planning and purchasing will save you on some unexpected costs on weather conditions at Walt Disney World when you arrive.
What are your best tips of things to bring with you to help beat the weather at Walt Disney World? Share in the comments.