This post may contains affiliate links for your convenience. If you make a purchase after clicking a link we may earn a small commission but it won't cost you a penny more! Read our full disclosure policy here.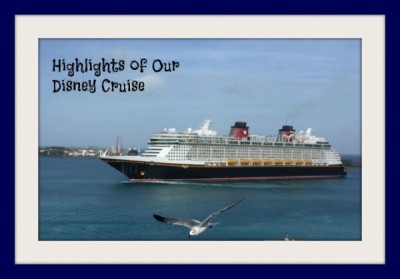 We have been on a few cruises in the past, and sailed many different cruise lines, but just recently returned from our first Disney Cruise. We were excited, of course, to be on vacation and away from the stresses of everyday life. We were looking forward to warmer weather in the winter and, dare I say, warm sunshine in February! And, now that our kids are teens and older, family time isn't as plentiful as it once was. Having my entire family "captive" on a Disney Cruise ship for 5 days sounded great.
We were ready for all that and sure we would have a good time. We knew this cruise may be a little different from those we have experienced in the past. After all, it's not on every ship that you can cruise with all the Disney characters and experience the service that we have come to expect from all our Disney vacations. All that was certainly true, but reflecting back, I was surprised that the four best highlights of the trip were not at all the obvious things I had expected.
Gluten free eating that wasn't only about salads and crumbly after-thought rolls
As a Celiac, dining out is not always as memorable as I would like. Often I have to explain and re-explain at every meal what I can and cannot eat. I'm then presented with the limited (often unimaginative) choices. On our Disney Cruise, I did not have to sit at meal time with my family and watch them enjoy beautiful and delicious meals while munching on boring salad or fresh fruit. In fact, because of the rotational dining on a Disney Cruise and the fact that your amazing waitstaff spends every dinner time with you regardless which of the three main restaurants to which you are assigned, I didn't have to re-explain my needs at every meal. Our servers had our family's bread basket waiting along with a separate one for me each night holding only safe, gluten free options. I ordered off the same menu as the rest of the family and there were usually at least two choices in each category that were gluten free. Everything I chose was delicious and in no way seemed like an after-thought or "less than" the meticulously prepared and plated appetizers and entrees that everyone else was enjoying. Desserts weren't always the best, I admit. There were a couple of standouts, however. The Crunchy Chocolate Walnut Cake from Animator's Palate  was the best of the week. In fact, on the last night, I asked our server if there was a chance he could bring me the dessert from Animator's Palate even though we were dining in Lumiere's. He was happy to oblige!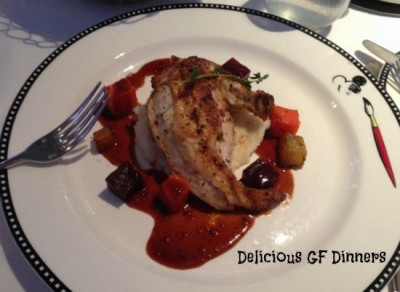 Cove Café
Unlike other cruise lines, most beverages are included in the cost of your Disney cruise. So, yes, I could fill and refill my cup with coffee or tea all day long if I wished, but that didn't prevent me from spending a lot of time in one of the ship's adults-only areas. The adult pool and lounges were lovely, but one place that turned out to be one of our favorite spots was the Cove Café. Here, we could choose from a menu of coffee house drinks to enjoy (as well as some select cocktails). It was intimate and quiet. Different snacks and treats were laid out for the taking whilst you enjoyed your beverage. Though this was one of the areas that required additional cost (for drinks only, snacks were complimentary), it was so worth it. The cafes location next to the adults-only pool made it easy to enjoy a daytime iced version of my favorite chai latte poolside! Be sure to ask for the beverage card the first time you order a drink. After five drinks, the sixth is free. The card can be shared by your entire family/traveling party, making it even easier to get to your five drinks! Traveling with a family four, we had no problem filling two cards during our short 4-night cruise. And, if you don't happen to finish your card, you can always bring it on your next cruise. They never expire!
Castaway Cay 5K
Wait. Exercise on vacation was a highlight? Yes, and I'm surprised, too. Heading out on vacation, the last thing I thought I would do is run a race. Yes, I brought along a couple of pieces of exercise clothes and my sneakers, but only with the intention of early morning strolls on deck or a yoga class or two in the sunshine. Somehow, while standing in line on embarkation day for Princess Meet and Greet tickets, I heard the family next to us inquire about the run the next morning when we docked at Castaway Cay. Before I knew it, I was registering our family for the Castaway Cay 5K and I'm so glad I did. It was one of the best memories of the trip. We got to disembark the ship very early for the race. It was a special morning to spend with my college-age daughter who I don't get to see very often. It was a nice way to see the island. It was a great way to start a relaxing day on Castaway Cay. It helped me rationalize yet another cup of ice cream from the ice cream machine. Registration for the race was free and you receive an keepsake medal when you're finished.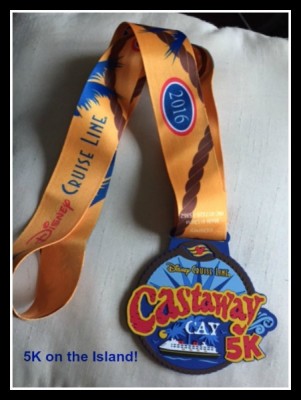 Rainforest Room at the Senses Spa
I've had massages, facials and other treatments at a spa before, but I had a new experience on the Disney Magic. My daughter and I purchased a pass to the Rainforest Room of the Senses Spa for the duration of our cruise. Included in the price was access to the facilities (complete with robe and slippers) to use the sauna, steam rooms, heated loungers and rain showers. We also received five scrubs to use between us with a choice of relaxing scents like lavender, vanilla and citrus. It was quiet, peaceful and smelled heavenly. It was a great place to relax, treat our skin, have a hushed conversation and pamper ourselves with the scrub. We could visit the spa anytime we wanted during our cruise. We made it a daily event—and I must admit, there was even a day I visited twice!
Verandah
On past cruises, we have had all types of staterooms–on lower decks, upper decks, inside cabins and cabins with a window. On the Disney Magic, we selected a Family Stateroom with a verandah. We were curious to see if the extra cost of a balcony room was worth it. It was! Sharing a cabin with my spouse and two teenagers was no easy feat despite the fact that Disney staterooms are some of the largest in the industry. Though we appreciated all the extra storage space and the split bathrooms (one room with sink and toilet and another with tub/shower and sink), having the verandah made all the difference. It was like having an extra room to hang out in. We shared lots of laughs, enjoying complimentary room service out on the verandah as we watched the ship pull in and out of ports. Yes, it did cost more than a standard oceanview room, but it was so worth it.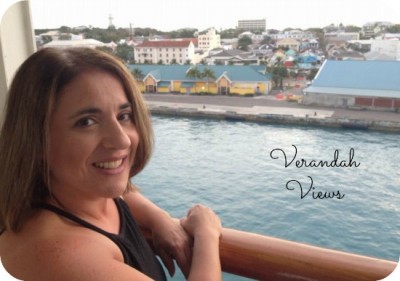 Have you taken a Disney Cruise? What were some of your favorite highlights? Share your thoughts in the comments section!