This post may contains affiliate links for your convenience. If you make a purchase after clicking a link we may earn a small commission but it won't cost you a penny more! Read our full disclosure policy here.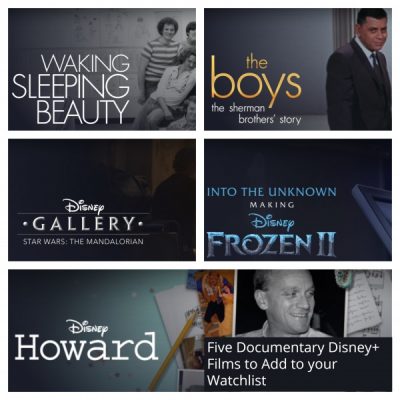 Disney+ has many great documentary films.  There's a little bit of something for every Disney fan, or super fan, on this list is stocked full of great documentaries.  Here are five documentaries to add to your Watchlist, in no particular order.
1- The Boys: The Sherman Brothers' Story
Have you ever wondered about the writers of those famous Disney tunes?  The story of the Sherman brothers who wrote a little song titled "It's a Small World After All" comes to life through their sons in this musical tribute to the songs and lives of Robert and Richard Sherman.  Every Disney fan should watch this documentary film to find out about the songwriting team that was Walt Disney's go to for many catchy and famous songs.
2- Waking Sleeping Beauty
Directed by Don Hahn, this film is the story of the reawakening of Disney Animation.  Uniquely told by those who were actually there, Waking Sleeping Beauty gives you an unprecedented look behind the scenes at the animation process.  This documentary film should be on the Watchlist of every Animation fan.
3- Howard
The Little Mermaid.  Beauty and the Beast.  Aladdin.  Little Shop of Horrors.  All of these have one thing in common- song lyrics written by Howard Ashman.  Don Hahn directed this film which offers never before seen footage, audio, and new interviews with those involved in the making of these Disney classics.  Hahn offers a look back at this Disney Legend's life beginning with his childhood and ending after his unfortunate death from AIDS.  This documentary belongs on the Watchlist of anyone who ever wondered about how some of the famous Disney songs came to be.
4- Into the Unknown Making Disney Frozen 2
How did Disney make the blockbuster sequel to Frozen?  This six part series begins 11 months prior to the premiere of Frozen takes the viewer along on the journey.  Each episode brings you that much closer to the premiere of the film, which occurs in the final episode.  There's so many good tidbits that make this worth the watch- from the struggles by the creative team trying to decide what direction to take the film to the filming of various songs.  One of the highlights may be Josh Gad, the voice of Oalf, trying out various jokes.  Remember the joke about turtles breathing out their butts?  You can see this line being filmed in it's original form. This is a Watchlist add for the Frozen or Animation fan in your household.
5- Disney Gallery Star Wars: The Mandalorian
Two words.  The Child.  This eight part series dives into the making Disney+ original series that became a worldwide pop culture craze.  Each episode focuses on a different aspect of how The Mandalorian was brought to Disney+.  Featuring a round table of various personnel including directors, costumers, and special effects artists, viewers are shown a side that is normally hidden from them- the process involved with shooting a ground breaking series.  Every Star Wars fan should add this to their Watchlist.
How many of these have you seen and which do you want to watch next? Let us know in the comments below or on Facebook or Twitter!
Did you like this article? Make sure to share it with your friends! Check below for easy ways to share!  
Want to visit a Disney Destination? Contact The Magic for Less Travel for more information and a free, no-obligation quote.