This post may contains affiliate links for your convenience. If you make a purchase after clicking a link we may earn a small commission but it won't cost you a penny more! Read our full disclosure policy here.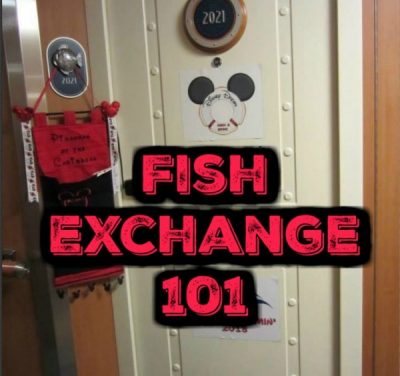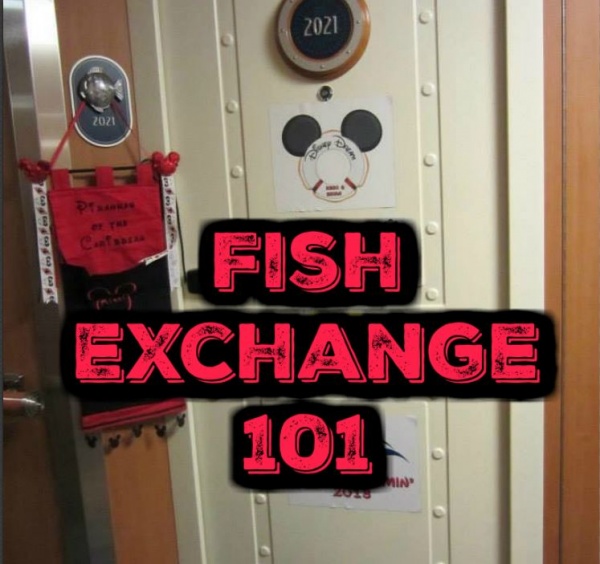 If a cruise on one of the Disney Cruise Line ships is in your future, you may wish to add some extra magic to your adventure by participating in a Fish Exchange.  A Fish Exchange (FE) is a gift exchange with other guests on board the ship. The gift exchange is organized prior to cruising as a way to get to know some of your fellow cruisers and add some extra fun to your journey.  Here's some frequently asked questions about the Fish Exchange process.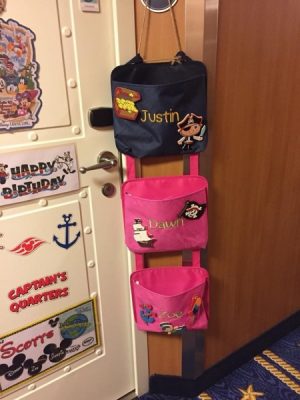 Photo courtesy of Dawn Baker Scott
Why is it called a Fish Exchange?

There is a hook next to each stateroom door decorated with a fish (port side), seahorse (starboard side) or starfish (concierge rooms).  The ship crew use this hook as a mailbox, where they leave correspondence and information related to various happenings and appointments around the ship.  Guests participating in the Fish Exchange hang a personalized Fish Extender, extending the space available so that others can leave special gifts for the people residing in that cabin.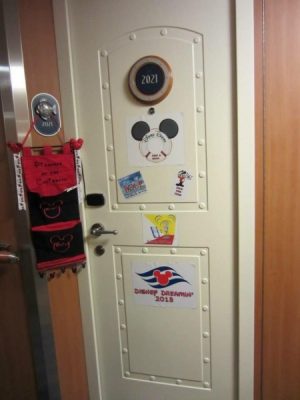 Photo courtesy of Rikki Niblett
How do I get involved?

To sign up to participate in the Fish Exchange, you will need to join the cruising page for your specific cruise on Facebook.  A Facebook search for the name of your ship and cruising dates will typically get you to the correct place. Even if you aren't participating in the FE for your cruise, joining that community will give you the opportunity to learn about other events happening on your cruise and to connect with fellow cruisers.  There could be Fish Exchanges just for kids, Fish Exchanges just for adults, classes, tastings, and other events happening throughout your cruise.
Where do I get a Fish Extender?

Some people choose to make their Fish Extenders, while others rely on the crafty folks of Etsy to create them.  There are no requirements or specifications, anything that gifts can be left inside will do, although most people tend to use a hanging organizer with a pocket for each cabin member.  A search on etsy.com for "fish extender" will reveal some great options if you are looking to purchase an FE, and on the same site a search for "fish extender gifts" will give you some great ideas for things to purchase or make.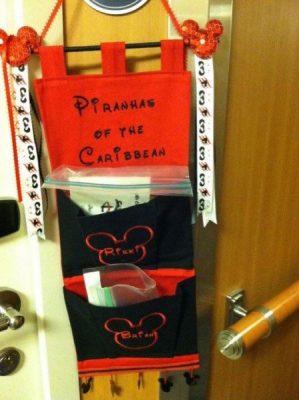 Photo courtesy of Rikki Niblett
How many gifts do I need to provide?  

The number of cabins you exchange gifts with is determined by the Fish Exchange organizer for your cruise.  The exchanges I have participated in have had groups of about 10 cabins. Once registration has closed for the Fish Exchange for your cruise (usually 4-8 weeks prior to departure), you will receive a list of cabin assignments for whom to provide gifts.  The list should include names, ages and cabin numbers. It may also include interests, favorite characters, favorite color, allergies, or other information that would help you select an appropriate gift for your group. You can then decide whether to provide gifts for each person in the cabin, a gift for the adults and a gift for the kids, or one larger gift for the entire cabin.  
When should I deliver my gifts?

There is not a scheduled time to deliver your gifts, you can choose what works for your cabin.  Just make sure to deliver them prior to the last night at sea, as most people will have their luggage packed and ready for pickup by that time.  We typically deliver our gifts on a sea day early in the cruise because it gives us a chance to explore the ship and clears a little bit of room in our tiny cabin.  When we sailed on the 14 night Panama Canal cruise, we received gifts throughout the entire journey, which kept the fun going. Some cruisers also choose to deliver smaller gifts several times throughout the cruise.  There is no "right" answer, you choose what works best for you. I made delivering a map reading exercise for my 9 year old, and she got to plan how best to deliver. I do not recommend delivering right away as you board, as many people will not have their luggage yet and will not have their Fish Extenders available.  
How much should I spend?

No monetary amount is set for the Fish Exchange gifts.  If it is thoughtful and comes from the heart, it is the perfect gift.  Some crafty people choose to make their own gifts, while others choose to purchase special items for the Fish Exchange.  While most tend to be Disney themed items, we have also received items that represent the home or culture of the gift giver.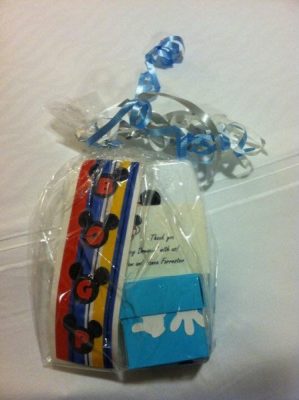 Photo courtesy of Rikki Niblett
Do you have any helpful hints to get my started?

These are a few things that I keep in mind when deciding what to give:
*Size – Not only do you have to get the gifts to and onto the ship, the recipients have to get them home.  Gifts that are smaller in size are typically preferred and easier for both parties to manage. Things like trading pins, magnets, ornaments, and tiny toys are easy to pack and transport.  

*Food – There is an overabundance of food on the ship (and no shortage of sugar!), so some people prefer to stay away from food items.  This also eliminates any potential allergy issues members of your group may have.
*Practicality – Some of our favorite Fish Exchange gifts have been things we could use immediately while on board, such as glow sticks and a pirate spyglass for pirate night, or tiny toys that could entertain my kids during dinner.  We have received lovely homemade and purchased magnets, which we could use immediately to decorate our stateroom door. I also consider the practicality of transporting the gift back home; if it is going to get broken in checked luggage on the way, it might not be a good choice.   

*Money – Things can add up quickly.  No need to go overboard and become Santa Claus for each cabin (even if you are on a Merrytime Cruise!)  Create a plan and budget and stick to it. Consider items that you or your children can make at home to help with the costs.  
Do I have to follow those rules?

Of course not!  Sometimes a great idea can supersede those guidelines.  This is your chance to get creative! My favorite Fish Exchange gift was received on a Merrytime Cruise several years ago.  Two cabins worked together to provide us with a miniature Christmas tree, complete with lights and homemade Disney ornaments.  We used the tree as our nightlight and to decorate our room throughout the cruise, and once we returned home my daughter has claimed it as "her" tree and gives it a special place in her room each Christmas.  
Because it is necessary for us to fly to most of the DCL ports, transporting 10 or more Christmas trees and decorations would not be a practical option for us.  It is important to keep size restrictions in mind when purchasing or creating gifts! But the families that provided those lovely gifts lived within driving distance of the port and were able to bring an extra suitcase just for those items.  Figure out what works best for you and your family that will make the experience fun and not stressful.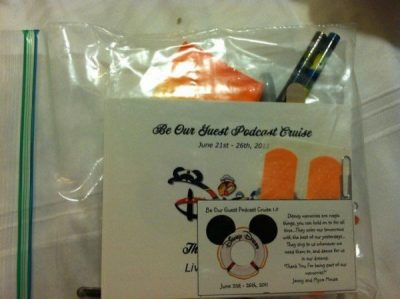 Photo courtesy of Rikki Niblett
Is There Ever a Problem with Theft?

We did have one known incident of sticky fingers with our Fish Exchange.  I came back to the cabin and noticed we had gifts waiting, but decided to leave them there for my children to discover.  When I brought the kids back to the stateroom 30 minutes later, the gifts had disappeared. I was a bit disappointed, but I did learn an important lesson:  bring items into the cabin as soon as they are received. I don't think this happens often, but be aware that it can happen.
Is a Fish Exchange for me?

Disney cruises are all about magic and making wonderful memories.  Fish Exchanges can bring another added element of magic to your adventure and can be a fun way for your family to plan for and get excited about an upcoming adventure.  If you would like to get to know your fellow cruisers and have some fun, why not give it a try!  
Have you participated in a Fish Exchange?  Do you have any tips for those trying the exchange for the first time?  Share in the comments, or on Facebook or Twitter.
Did you like this article? Make sure to share it with your friends! Check below for easy ways to share!
Incoming search terms:
https://www themouseforless com/blog_world/fish-exchange-101/
https://www themouseforless com/blog_world/fish-exchange-101/#:~:text=A Fish Exchange (FE) is extra fun to your journey
https://www themouseforless com/blog_world/fish-exchange-101/#:~:text=A Fish Exchange (FE) is about the Fish Exchange process
pirate sword on disney cruise