This post may contains affiliate links for your convenience. If you make a purchase after clicking a link we may earn a small commission but it won't cost you a penny more! Read our full disclosure policy here.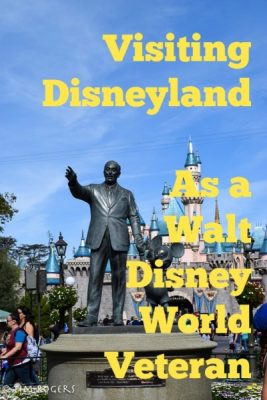 Earlier this year, my wife and I took our first visit to Disneyland. I wrote about our planning process, as Walt Disney World veterans, and now that the trip is over I wanted to reflect on our trip, and on the differences between visiting Disneyland and Disney World.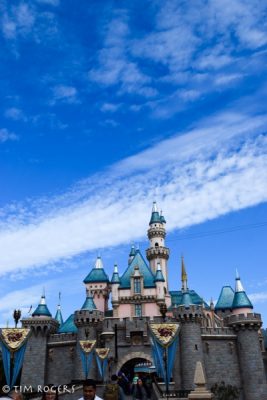 One of the most noticeable differences between Disneyland and Disney World is the size. Everything at Disneyland is just much closer to each other. This helps in several ways – first, they moved the security screening outside of the main theme park and Downtown Disney area, so once you go through you can freely pass between the two parks and the shops and restaurants in Downtown Disney.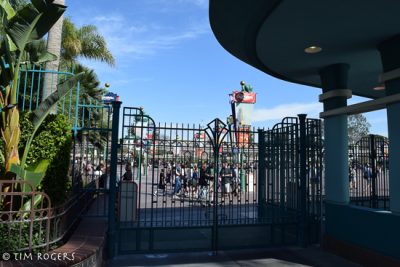 From DCA you can see Disneyland
Because of this, you are really missing out if you don't get a park hopper ticket. You can easily and quickly walk between Disneyland and Disney's California Adventure.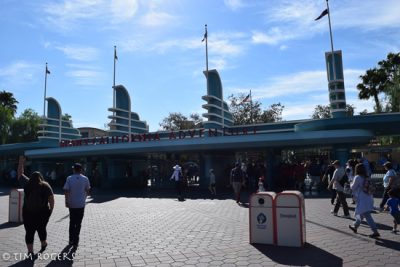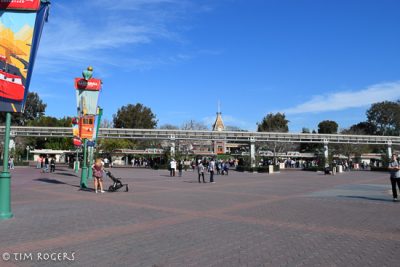 Both of these pictures were taken from the same point between the two parks
Speaking of Fastpasses – the Fastpass system here is pretty much like it used to be at Walt Disney World. You have the paper system, and they are only available for select attractions. However, they do still save you a lot of time. As a tip (or a warning) the Fastpass situation for Radiator Springs Racers is still insane. Luckily, we never needed to get one (more on that later), but right at park opening the line to get a Fastpass for RSR was as long as some attraction lines, and they were gone for the entire day very quickly.
The next big thing we were very happy with across the whole resort area was the quality and variety of the food. Specifically as vegetarians, we were able to find numerous places we wanted to eat, and great options at those restaurants. Some particular favorites were Café Orleans, the Jolly Holiday Bakery, and the Wine Country Trattoria.
While we were obviously interested in the rides and attractions only available in Southern California, but also enjoyed noticing the differences between the versions of rides at each park. A few highlights (note: Pirates of the Caribbean was closed for refurbishment during our visit).
-While the ride for the Haunted Mansion felt largely the same, the stretching room was a good experience, and the Hatbox Ghost looks fantastic (and is a cool effect)
-We haven't been back to Epcot since Soarin' Around the World premiered, so this was our first time seeing it. I really like the locations they chose, and think they did a good job utilizing and matching the original music (especially since original composer Jerry Goldsmith is no longer with us). I did notice that some of the long and straight objects (like the Eiffel Tower) did appear a bit curved on the screen.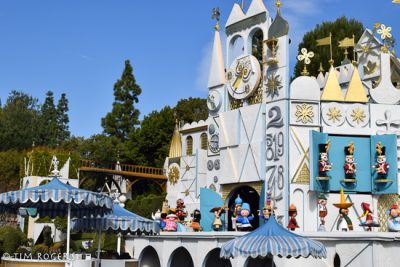 -"it's a small world" is just in a different world at Disneyland. The building façade is enormous, complete with clock show, the ride is incredibly long, and many Disney favorites are incorporated into the attraction. Even if you hate this ride, if you have never seen it at Disneyland, you really have to.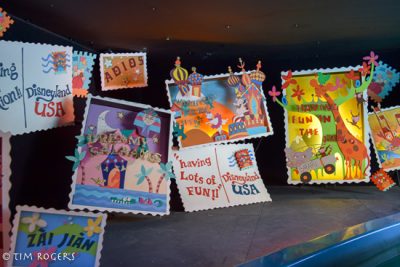 -One of the things Disneyland is known for much more than Disney World is its overlays. One of the current ones is Hyperspace Mountain, adding a Star Wars twist. The overlay I really enjoyed, both the additional music and the effects on the ride. Neither of us were that big a fan of the ride vehicles. (Editor's Note: Original Space Mountain returns in June.)
-Speaking of ride vehicles – whether it was because of the single row flume, or just bad luck, this was the most wet we have ever gotten on Splash Mountain. Our entire boat was completely soaked from head to toe.
The unique attractions there strike a range, from attractions that also used to appear at Walt Disney World, to historic rides that have always been only at Disneyland, to more recent additions.  A few of our thoughts (note, the Matterhorn was closed for refurbishment during our visit, so I won't be talking about that):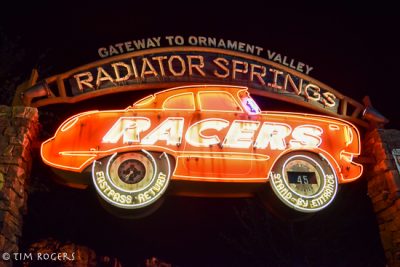 -Radiator Springs Racers lives up to the hype. The ride is well themed, has great effects, looks good, and is fun. We were able to ride it three times, and we both liked the "inside" track for the outdoor portion a little more, but I'm not sure if there is a way to guarantee that when loading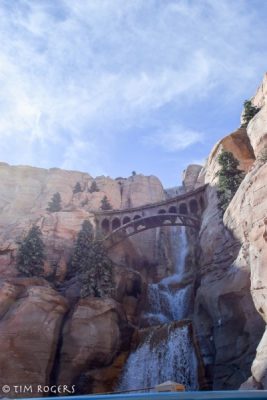 -California Screamin' has a fun and well made roller coaster, and is one of the more thrilling rides I've seen at a Disney Park, but it's pretty much just a normal roller coaster. Worth doing, but not super special.
-There are a handful of "dark ride" type attractions that help bring you into the worlds of various films, including Roger Rabbit, Snow White, Mr. Toad, Monsters, Inc, Pinocchio, and Alice in Wonderland. These are all fun enough and good for all ages, but I think the Roger Rabbit ride is probably the most unique and enjoyable out of all of them (special note, riding Mr. Toad's Wild Ride inspired us to watch "The Adventures of Ichabod and Mr. Toad." Mr. Toad is a weird ride and a weird movie).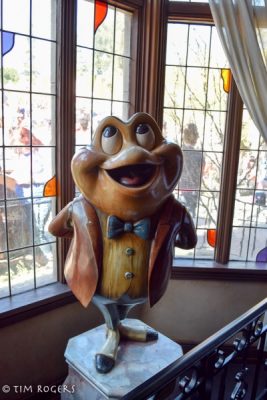 -We really enjoyed the Animation classes in Disney's California Adventure, especially that there was also a schedule so we could come for specific characters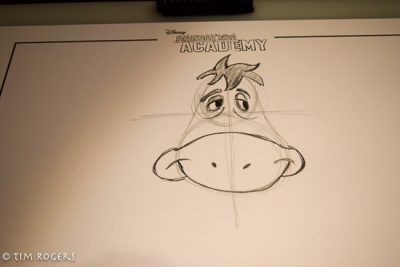 Speaking of characters, meeting them in Disneyland was great. We had some really nice interaction with many of them, and after multiple tries, got toe meet Oswald. He then tried to take a picture with my camera.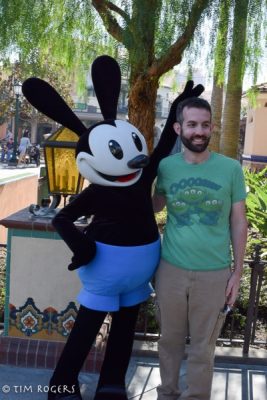 A brief note about our hotel. We are Disney Vacation Club members and used our membership to stay at the Grand Californian. Stylistically, the Californian felt like the Animal Kingdom Lodge or Wilderness Lodge, most likely because of the distinctive touch of architect Peter Dominick, who designed all three.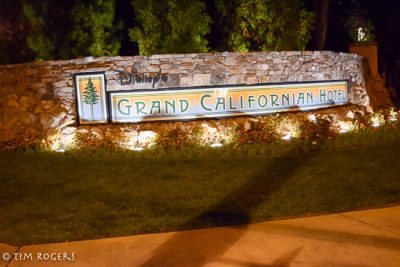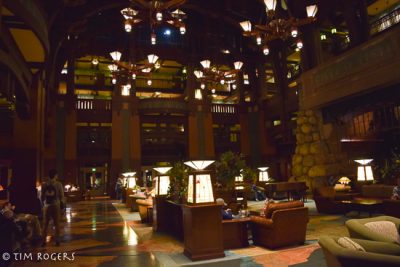 One of the most unique and useful features of the Grand Californian, is that it has an entrance directly into Disney's California Adventure. This entrance is incredibly helpful for early entry, for running back to the room, and for many other situations. For the actual rooms and resort experience, they were doing a lot of refurbishment work during our stay, so I don't think I could accurately assess this hotel, except to say that it seems like it will be very nice once the work is done.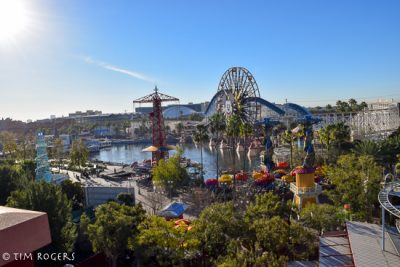 A few quick observations overall:
-if you are staying on site, you really need to take advantage of the Extra Magic Hours, especially the ones at DCA. We were able to get so much done so quickly, it was kind of crazy.
-part of the idea of a "locals park" with Disneyland translates into offerings during the week. Some shows and performers only occur in and around the weekends, so you can avoid some of those crowds by during the week but you might not get to experience everything.
Finally, go see World of Color. I knew going in I would want to see this show, but it really was a great experience. We went twice during our trip, and seeing it from different angles and multiple times let us discover new things each time. It really was a great way to end each night, and our trip as a whole.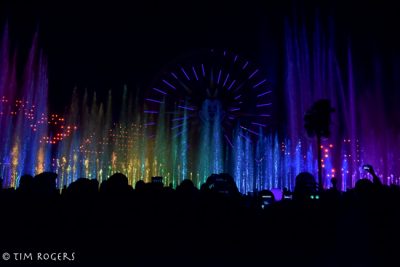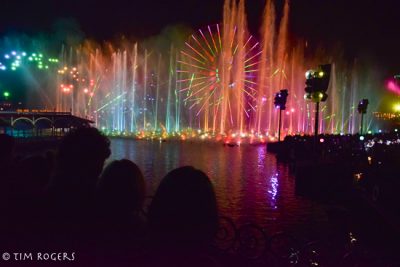 So, overall we really enjoyed Disneyland and had a fun trip. However, we still can't wait for our next trip to the World.
What were your thoughts when you visited your "non-home" park for the first time? Share your thoughts in the comments.
Did you like this article? Make sure to share it with your friends! Check below for easy ways to share!