This post may contains affiliate links for your convenience. If you make a purchase after clicking a link we may earn a small commission but it won't cost you a penny more! Read our full disclosure policy here.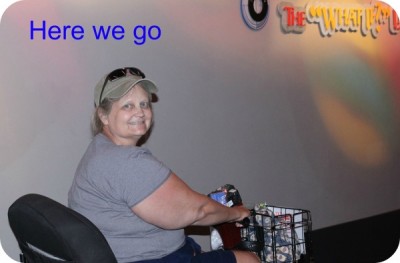 On a recent July trip to Walt Disney World, I finally gave in and ordered an ECV for myself, an electric convenience vehicle or scooter as they are commonly called.
I have health issues that have zapped my stamina, so walking around the parks all day in the heat was not something I would be able to do as I had on previous trips. In fact after trying in September and really ruining my feet (a side effect of a current medication), I was barely able to walk by the end of the trip and had to get a wheelchair at the airport. So, I decided it was time. And this time, it was not me deciding halfway through the trip that I needed a wheelchair and my family got to push me around. I committed, ordered it ahead of time from Walker Mobility, and chose our drop off and pick up times for the scooter.
Walker is unfortunately not one of the "preferred" Disney companies, so you do have to be there when the scooter is dropped off and picked up; it cannot just be left with bell services like the preferred companies can do. While this does take a bit more planning, as a first timer, I appreciated the man who dropped it off going over everything with me on how to run the scooter, charging options etc. I actually think this is an extra bonus, turning what could be an inconvenience into plus. They are very careful to get your weight and height beforehand so the seat can be adjusted just for you as well.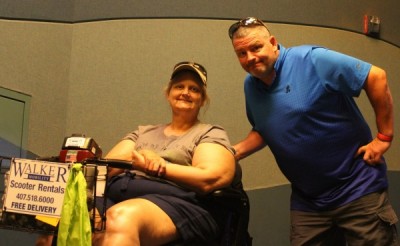 Why had I fought against renting an ECV you might wonder? I had a few different reasons in my head, one the crowds, I have seen parents with strollers and guests in wheelchairs and ECVs struggle to get through the crowd. As we all know, you could be walking down the middle of Main Street USA and the people in front of you suddenly decide that's a good place to stop, you have to try to get in to the flow of people on either side to try to get around them. It seemed to me like a lot of patience would be required and it would take us twice as long, if not three times to get ANYWHERE.
Another thing was the cost, I kept telling myself to just suck it up, walk and we can use that money for dining. I didn't want to be the one slowing down the bus with loading my ECV, and was particularly nervous about getting the ECV onto the bus. Lastly, it's another step in a direction I just don't want to go, admitting my health issues are getting worse.
I will now admit, it was the best decision I could have made. Walker was very pleasant to work with and I highly recommend them.  They were able to bring and pick up the scooter directly at our villa at Old Key West which to me was easier than having to pick it up at bell services.   While this was a plus at Old Key West, it wouldn't work as great at some of the other resorts, I admit.
The bus drivers were incredible helping me out, I couldn't have been happier and felt more like "I was not slowing every thing up". My only complaint about that is one of the bus stops coming home from a park was not clearly marked where ECV's were supposed to get in line and wait so the bus driver would notice them. That was our only hiccup with using the buses.   We did allow extra time for our travel time as there are only two ECV's allowed on any one bus,  and while we did not have issues leaving our resort, we did have to wait an extra bus once coming back.
In the parks, it was not as horrible as I imagined maneuvering through the crowds, and most of the rides we were able to go into the regular queue with the scooter and park it shortly before boarding. The cast members are right there to provide you with any instructions you need or if there is a separate entrance.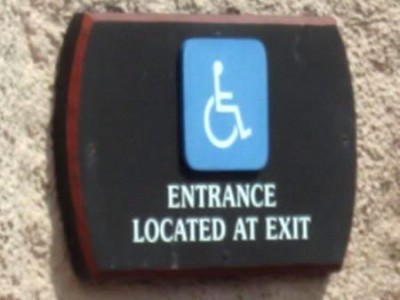 A few rides did have a different procedure, Test Track asked that we leave the keys in the scooter for them to move it, other rides just unlocked it and wheeled it to where they needed it to go. Spaceship Earth has a side entrance you go through, and then there is a waiting area near the exit from the ride (check with the cast members out front however). Guests requiring assistance boarding Spaceship Earth are escorted up a ramp and the ride is stopped if needed. We had three special needs dogs that were out on training missions board Spaceship Earth with us. That was pretty neat!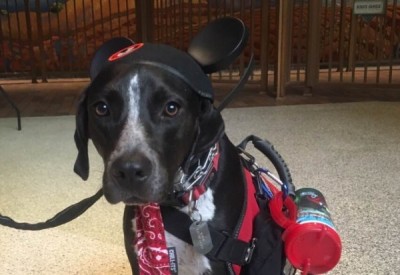 Most restaurants have outdoor parking areas for strollers and for scooters, so watch for them so you can park in the right place. As I am mobile, I preferred not to try to fit the scooter into a restaurant.   Also areas like in Innoventions have plenty of parking areas if you want to get out and enjoy an attraction.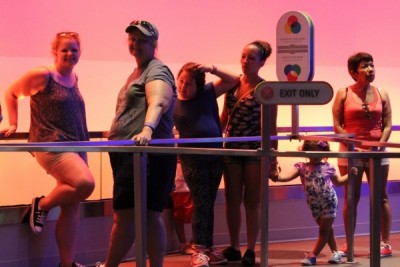 I would definitely go this same route again, and rent through Walker again. It made the trip much more enjoyable for all of my family.
If a trip is in your future and someone in your party will be using an ECV check out these 10 tips to help out.