This post may contains affiliate links for your convenience. If you make a purchase after clicking a link we may earn a small commission but it won't cost you a penny more! Read our full disclosure policy here.
Arrive early and be at the front of the line! Our family has learned that this simple procedure has a way of earning a "Magical Moment" or two on a Walt Disney World vacation.
For those readers not familiar with the term, a magical moment is an occasion when a cast member chooses YOU to be a part of a show, receive a gift like a Disney pin or a fast pass, or participate in a special event. Sometimes cast members ask for volunteers, but at other times, the moment is completely spontaneous. At any second, any given guest could be chosen for something unique and wonderful.
We like arriving at the parks early to beat the crowd to everyone's favorite attractions. Being chosen for a magical moment is simply a bonus. Years ago we were the first in line at what was then known as MGM Studios (now Hollywood Studios). A cast member chose our family to announce the opening of the park by proclaiming, "Lights, Camera, Action" as we closed the top of a clapper board. We were then escorted to a VIP lounge where we were served cold soft drinks and given several fast passes.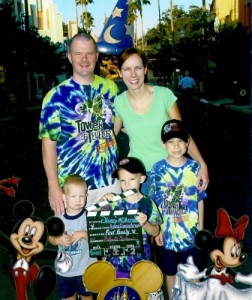 On another trip, we were some of the first guests waiting to enter Blizzard Beach. A cast member approached our oldest son, then eleven years-old, and asked him to be the "Ski Captain of the Day". The Ski Captain's benefits included free towel and locker rentals, two free refillable drink mugs, a medallion, and being the day's first guest to slide down Summit Plummet as part of the opening show.
On our most recent trip, we showed up well before the opening of "Flights of Wonder" at Animal Kingdom. As we waited, our sons were asked to announce the opening of the amphitheater by pulling back the curtains and informing guests that they could be seated. They were then escorted to VIP seats on the front row and given certificates noting their magical moment.
During that same vacation, we arrived almost an hour early to Magic Kingdom one day and were waiting patiently for the countdown to announce the opening. A cast member approached us with an offer to be guest greeters, to which we unhesitatingly agreed. We were given Mickey Mouse hands to wear as we waved to the crowd entering the park.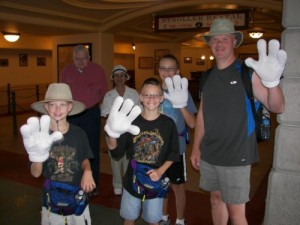 That magical moment had its drawbacks. We laughed to ourselves as we waved to all the people who arrived later than us, yet were making their way to the rides well before us. Arriving early did not get us to our favorite ride first, but it did provide us with a unique Disney opportunity, as well as give us four additional Mickey hand souvenirs to take home. Some may disagree, but I say it was well worth it!