This post may contains affiliate links for your convenience. If you make a purchase after clicking a link we may earn a small commission but it won't cost you a penny more! Read our full disclosure policy here.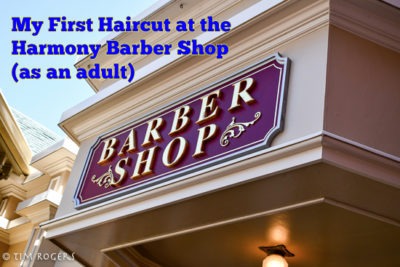 As I have been fortunate to take multiple trips to Walt Disney World, I have tried to continually find new and different experiences to try in addition to returning to all of my favorites. When preparing for my most recent trip, things had gotten really busy at my job and I didn't get a chance to get a haircut to prepare for that Florida summer heat, and then I thought – why not try out the Harmony Barber Shop?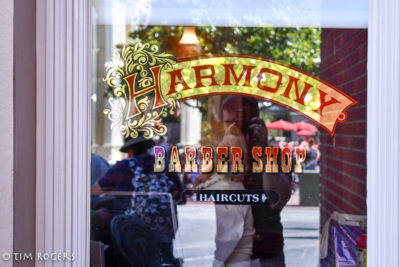 If you weren't aware, yes, there is an actual functional barber shop on Main Street U.S.A. in the Magic Kingdom. If you want to find it, as soon as you pass the train station, pull your eyes away from the castle and look left. In the corner back next to where the parades enter and leave from is the barber shop.
You are able to make a reservation at the Harmony Barber Shop 180 days in advance by going to the website or calling, basically the same as making a dining reservation. If, however, like me you made the decision a few days before your trip and there were not any reservations available, you still have a chance, and a good one at that.
A few days before the day I wanted to get a haircut, I stopped by the barber shop to ask someone if a walk-in appointment was a possibility and what I needed to do. The Cast Member told me the best bet would be to arrive right at park opening (specifically between 9:00 and 10:00 am) and they should be able to get me in.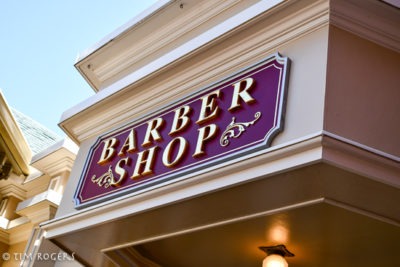 On the day itself, we were having an early breakfast at Crystal Palace, so I was already in the park and got down right as the barber shop opened, got a time about 2 hours later, and went off to use my FastPass+. Something to note here, the Harmony Barber Shop itself is really really small – just three chairs – so the amount of people they can get through in a day is limited. However, even when I came back, they were still finding times to fit people in later in the day, so it is definitely possible.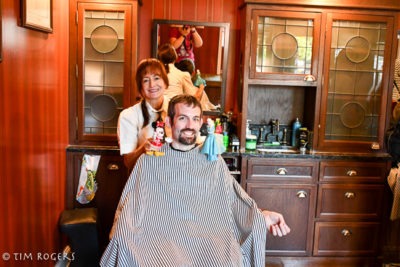 When it was time for my reservation, I checked in and almost instantly got called back. My hair cut is kind of boring, so the reason I did this is probably the least interesting part, but my stylist was great. Besides doing a good job on my hair, she also was playing along with me getting my "First Haircut (at the Harmony Barber Shop)" and pulled out some of the things they use for the little kids when they get their actual first haircut. She even let my wife have a go.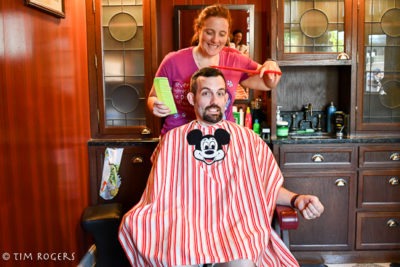 All in all, it was fun – I got to get my hair cut on Main Street, act a little silly, get a Mickey sticker, and all for about the same price I would pay for a haircut at home (adult haircut when I went was $19. If you want the special First Haircut package for a child, it was around $25 at the time). Even with the amount of times I have gone to Walt Disney World, its definitely fun to find new experiences that can be added to the list of recurring favorites.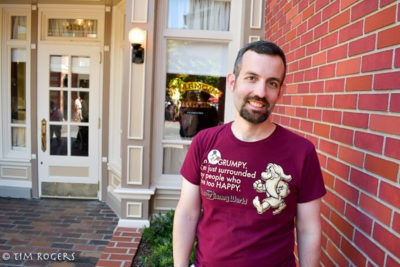 Have you gotten your hair cut at the Harmony Barber Shop? Let us know your thoughts of the experience in the comments, or on Facebook or Twitter!
Did you like this article? Make sure to share it with your friends! Check below for easy ways to share!
Want to visit the Walt Disney World Resort? Contact The Magic for Less Travel for more information and a free, no-obligation quote.

Incoming search terms:
https://www themouseforless com/blog_world/first-haircut-harmony-barber-shop-adult/