This post may contains affiliate links for your convenience. If you make a purchase after clicking a link we may earn a small commission but it won't cost you a penny more! Read our full disclosure policy here.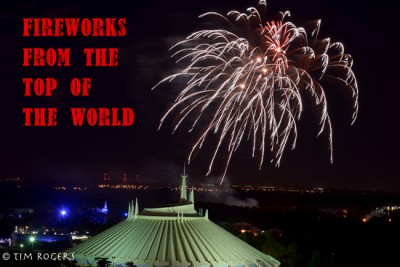 We have all heard the saying that "a picture is worth 1000 words." At its core, this points to the enormous amount of detail contained in every photograph, so much so that you would need pages to fully explain what is perceived almost instantly. However, to me, this phrase also means that each picture has a great story leading up to the moment of its taking. With this series, I hope to bring you some of those stories.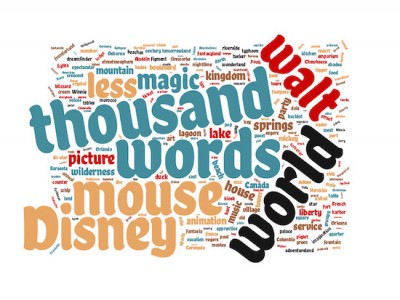 People love fireworks – and just being around them feels like something special. Baseball teams use them to celebrate homeruns and wins, we use them on the Fourth of July to celebrate America, and if your cousin's wedding ends with a fireworks display, it's something you'll be talking about for years.
As such, one of the things that people love the most about Walt Disney World is the quality and regularity of the nighttime spectacular fireworks displays. And while each park's displays are excellent, for me the gold standard of everyday Disney fireworks is Wishes at the Magic Kingdom. If anything, this story is about enjoying this great display from a slightly unconventional vantage point – the Top of the World Lounge.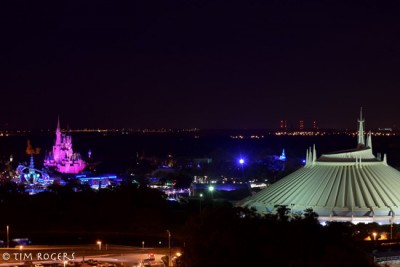 The Top of the World Lounge is located on the top floor of Bay Lake Tower, just a short walk from the front entrance of the Magic Kingdom. The lounge is open to Disney Vacation Club (DVC) members who are staying in a Disney owned and operated hotel, along with any guests staying on their reservation. Currently, the lounge opens at 6:00 p.m. and is available to DVC members every day, except July 3rd and 4th and December 30th and 31st.
To get to the Top of the World Lounge, members need to check in at the desk in the Bay Lake Tower lobby. There, Cast Members will scan your Magic Band or Key to the World card, and if no DVC member notation appears on their reservation, will need to also show a DVC membership card.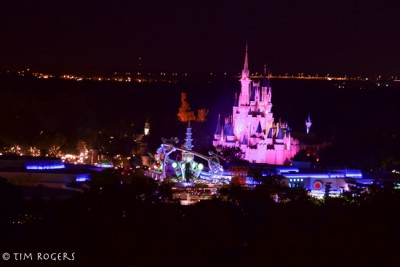 On this particular night, we arrived well before the scheduled start time for Wishes so we can grab a snack and drink before the fireworks. We ordered the Soft Pretzel Sticks and Dip, which was great, and while my drink was not memorable, my wife ordered the Tip Top Colada, which was one of the best drinks either of us had tasted on that trip, and probably well before that as well. This drink is described as Captain Morgan Original Spiced Rum and Pina Colada Mix topped off with a float of Midori. It sounds simple, but it really was great, and I would recommend it and the Pretzels to anyone visiting the lounge.
However much we enjoyed our snack, the reason to attend was to see the fireworks. When time was getting close, we went out to find a good spot on the rail and get the camera set up. A few initial technical notes for those more interested in the technical side of this: the camera I was using is a Nikon D3300 and knowing that I would be taking longer exposure pictures, I used a Gorilla Pod to securely set my camera up.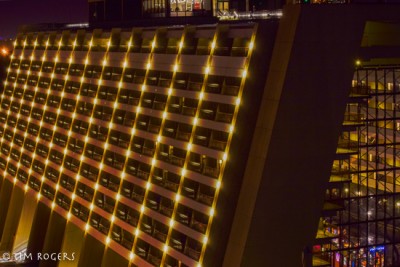 After finding my spot, I was able to take some preliminary pictures, including catching some of the end of the Main Street Electrical Parade in the Magic Kingdom and putting together an HDR (high dynamic range) picture of the Contemporary. We also got to see some of the Electrical Water Pageant.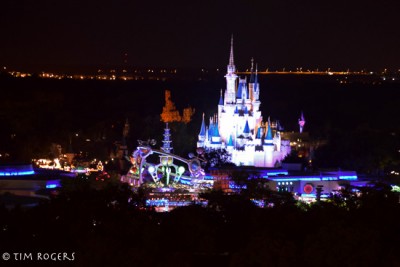 As you may notice in the shots of the Magic Kingdom, or might remember if you have been to the California Grill, the view from here is not centered on the castle as you might be used to, but instead is more over Tomorrowland. When Wishes actually starts, the viewing area for the Top of the World Lounge gets the sound feed piped in so you can get the full Wishes experience.
A few more technical notes: to actually capture the fireworks I used Manual mode and always had my lens set to a focal length of 55mm with an ISO of 200 and an aperture of f/11. Based on the results I was getting I adjusted the exposure length a few times, going from .8 seconds to 6 seconds.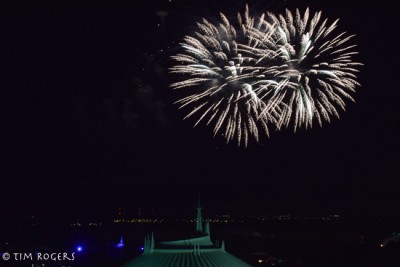 .8 Second Exposure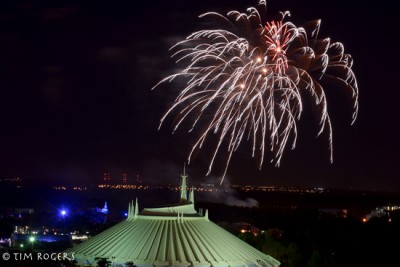 5 Second Exposure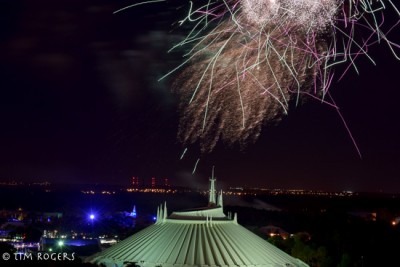 6 Second Exposure
I personally like to have a slightly longer exposure for fireworks pictures to capture the movement, but sometimes this can increase the amount of things that can go wrong (I'm not sharing the overexposed pictures or ones that are rather blurry, for example).
Another important note is I decided to set up my camera with a short timer so I could set it up but not actual touch it at the moment the exposure began in order to avoid as much camera shake as possible.
That night I ended up taking a bunch of pictures (as I am wont to do), and many of them didn't turn out at all. However, my preparation and set up did help me capture a few great moments, out of which this one, the inspiration for this story, was my favorite.
But because I couldn't resist at the time, here is a bit of a taste of what watching Wishes from the Top of the World Lounge is like.
Do you have a favorite fireworks spot at Walt Disney World? Share in the comments or show us your best picture on Facebook.
Incoming search terms:
https://www themouseforless com/blog_world/fireworks-top-world/