This post may contains affiliate links for your convenience. If you make a purchase after clicking a link we may earn a small commission but it won't cost you a penny more! Read our full disclosure policy here.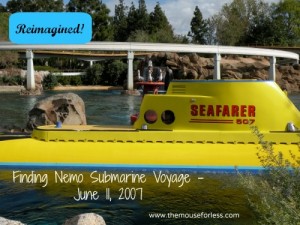 I have a secret.  I don't like it when attractions close.  I know that the parks are always changing and won't ever really be finished; however, it's hard to see an attraction close.  It's almost like a part of the family leaving.  The Submarine Voyage is one of those attractions that held a special place in my heart.  It was something that was truly unique.  I mean, how many places can you go and "ride" in a submarine?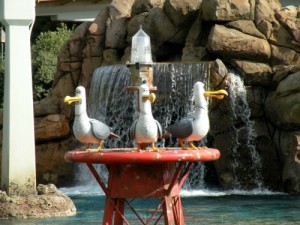 When I heard that the subs were being "reimagined", I realized how cool it would be to be able to share this attraction with my kids.  They liked the movie, Finding Nemo, so I figured they would really like Finding Nemo Submarine Voyage.  My kids did enjoy it the first time we rode it.  As we dove down, we learned that we were going to view an underwater volcano.  Soon the "sonar hydrophone" was turned on, and Nemo and his friends could be heard.  The technology of this attraction is similar to that used in The Seas with Nemo and Friends at EPCOT, but I prefer the subs.  On a side-note…  The Seas with Nemo and Friends is a reimagined attraction, too.
The next time we went, my son was scared by the darkness and noise in the sub.  It is good to remember that there is an alternate "viewing" area for those who are unable to ride.  Remember that these subs have a small opening, narrow stairs, and the seats are very close together.  Did I mention how dark it is?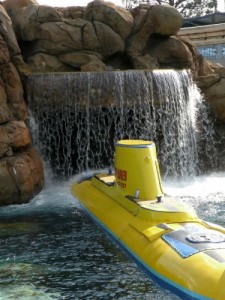 I enjoy watching the submarines "floating" through the lagoon.  It is a nice place to take a break and relax while standing by the lagoon.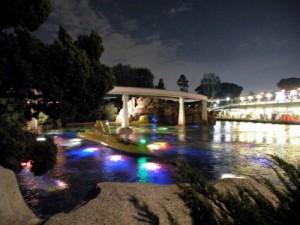 It is even more beautiful at night with all the lights in the lagoon.  The subs slip quietly through the dark.
I don't have any photos of objects in the water, but the attraction page on The Mouse for Less website has some pictures for you to see.  Have you been on both Finding Nemo Submarine Voyage and The Seas with Nemo and Friends?  Which do you prefer?