This post may contains affiliate links for your convenience. If you make a purchase after clicking a link we may earn a small commission but it won't cost you a penny more! Read our full disclosure policy here.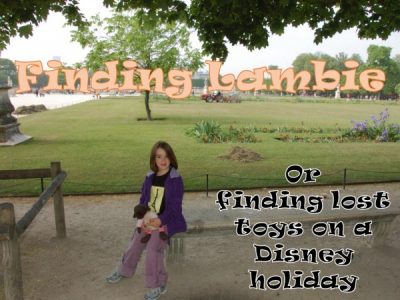 It is the traveling parent's nightmare. Your child's beloved, 'there's no possible way for me to sleep without him/her/it' special security item has gone missing.
You have scoured the hotel room – even going as far as looking under the bed…and don't you wish that you had never done that because now you will not be sleeping? You have unpacked and repacked every bag, piece of luggage, the stroller, and the rental car. This is when the frightening truth hits you:
Lambie is missing; really missing, as in gone.
Your child senses it and the waterworks and gnashing of teeth ensues.
Now Mom and Dad start the quizzing game in their sleep-deprived state. Did Lambie come to the breakfast room this morning? Quick call the desk. No luck. Okay, did Renee have Lambie when we left the hotel for Disney? Did we leave her on the bus? Did she go walk-about at the parks? Now what are we going to do?!?
And all while the little (or not so little) cherub squalls, 'But where is Lambie?!?'
It has happened to more than one parent and here are my tried and true methods of reducing the risk.
Know before you go:
Know who to contact:
Most tourist spots are aware and sympathetic to parents of children who have lost beloved 'pets'. For each location you plan to visit with your family during your holiday away from home, take a few minutes and compile the following:
Location
Address
Phone number to the switchboard (or lost and found if listed)
Email address for general information (or lost and found if listed)
The dates that you plan to be there
I can hear you asking, 'Why this is important?' Often I will use the 'computer technology always fails when you are stressed' excuse. The real reason? If you already have the contacts in a neat table, and you actually have to use them, they are easily accessed even if you don't have a computer, your teen has used all of your data limits, or your distressed child needs you to cuddle them while you track the wayward toy.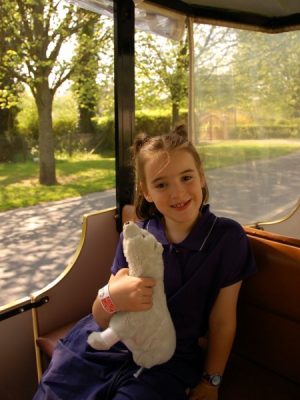 Label the important items:
My next piece of advice is the best I can give and the most useful. My daughter, now seventeen, has traveled around the world with my husband and me from the time that we flew from Australia to Disneyland to celebrate her second birthday. She has taken both national and international holidays, always in the company of Lambie and Polar. These two cuddly companions have, with the exception of a very stressful two-week holiday that Lambie undertook without us, always been in her bedroom or hotel room. The reason is not that Lambie hasn't slipped our grip. It's that both Lambie and Polar have been named when we travel.
Think about the best known traveling soft toy, Paddington Bear. As he sat on his suitcase in Paddington Railway station, his label read: 'Please look after this bear. Thank you.'
What should your label read? Ours say, "My name is Lambie/Polar and I am very loved. Please email: LambieIsLost@yourdomain.com to help me find my family. Thank you."
We use email because we never know if we will have phone coverage or not. In the US phone coverage is fairly good, so you might want to include a phone number as well.
Now, how do we attach this label?  That depends on you. At first, I used to use the ID bands that you can get for children.  Basically they are cloth-paper wristbands with the ID info on the inside. I would put them around the belly of the toys where they would not fall off and then dress them as usual. Later, I started to use hospital bands.
If you have a sewing machine which is able to sew embroidered tags, you could make one for the toys and then hand sew them on. You could also use a laundry marker on a scrap of fabric and sew that on or one of the school identification tags that are becoming popular for kids' clothing right now.
For blankets and other soft items, I would use a sewn in tag. For items which have a hard surface, such as sippy cups and pacifiers, blank address stickers (can be purchased in sheets from office supply stores) with your details printed on them.  For hats, a sharpie on the inside band works well (just make sure that you do not write on the part that presses against your child's forehead unless you desire those details in mirror image on your child's skin).
Soft Toy ID:
I used to make ID cards for Renee when we would go away.  They had the important details I would need to tell the police if she went missing. At the same time, I would make ID's for Lambie and Polar.  I included a description (including their size, color, and manufacturer) and a photo. I would make a copy for Renee to carry and for me to carry. This card worked well when I was identifying the toy to one hotel staff member.
Once you are there:
Ground rule – only one:
It's time to set down some ground rules. Renee was allowed one (!) friend or special security item. She was allowed to pick the item each day. Everyone and everything else was left in the room. We often would return for naps or at the end of the day to very interesting parties with the toys. This always amused my daughter and helped with her wanting to leave things in the room (We just had to get one of the adults into the room first.  When she was little this was easily done. One adult would take our cherub and stop off at the front desk or to look at something interesting (distraction) while the other adult went to the room to set up the fun. It did not happen every time, so it was always a fun surprise when it did happen.
If your cherub has selected a toy to bring with you, then make sure that you have a bag that will accommodate the toy on the attractions you have planned for the day. 'Sorry, my love, but the three-foot tall Mickey we picked up yesterday needs to stay here to get to know Polar.' You absolutely do not want to leave your child's toy in the stroller unattended.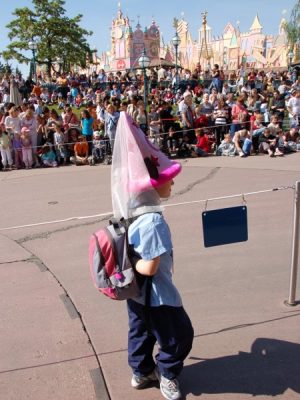 Keep track:
Keeping an eye out: this goes for shoes, socks, and jackets. Pick a time/situation for looking for your 'Lambie'. For me, I would check the toy at each ride entrance and exit. A lot of the time this was because I was putting Lambie in or taking her out of my backpack. This constant checking allows you to limit the location and time of where you child misplaced their item.
The Horrible Happens:
You have just gotten your kiddos into the stroller. Each with a small snack and a drink.  You look down and realize that your 'Lambie' is missing. If you notice and your child does not, do not, for the love of Disney, ask them if they have seen 'Lambie'.  This will only cause tears. Instead, look around the area, no Lambie, then go someplace with a shaded area and get the kids out to sit on a bench.  While you do this, search for Lambie. Make sure to look at your watch so that you know what time you noticed Lambie missing.
If possible, send one adult to the possible location where Lambie went missing. If she is not there, head to Lost and Found. Report Lambie missing, with the time, location, and your contact details. It is unlikely that you will hear from a Disney lost and found that day.  They usually try to match lost items in the evening/morning.  So you might be without Lambie for the day.
I hope that these ideas help with keeping your cherub's love with your family, but if now just remember:
Keep calm
Seek help
Keep checking back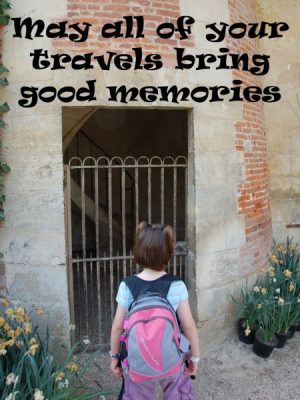 Have you ever lost a beloved toy on vacation? What tips do you have? Share in the comment section.
Incoming search terms:
https://www themouseforless com/blog_world/finding-lambie-finding-lost-toys-disney-holiday/