This post may contains affiliate links for your convenience. If you make a purchase after clicking a link we may earn a small commission but it won't cost you a penny more! Read our full disclosure policy here.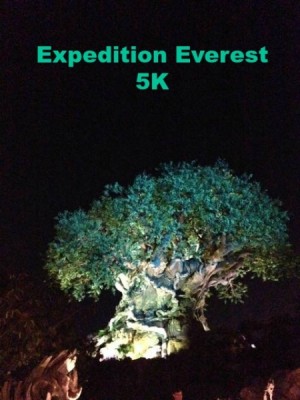 Today is National Running Day! To celebrate, we take a look at the Expedition Everest 5k all day!
On May 2, 2015, my family and I were able to participate in the final Expedition Everest 5K at Disney's Animal Kingdom. Since I was too pregnant to run, my mom, sister, and her fiance got to do all of the hard work while I attended the after party.
We registered for the 5k as soon as registrations were opened and were lucky enough to get spots for everything we wanted. After a couple of hours, all of the spots were filled for the race. We had confirmation emails later that day, and made sure to print out the necessary release forms.
On the day of the race, we proceeded to pick up our bib numbers, tee shirts, pins and the like from the Animal Kingdom parking lot. RunDisney had set up several tents in the rear parking area for pickups as well as a couple of tents for sale of various running items (Disney themed sneakers and running gear). The lines moved quickly and efficiently, and before we knew it, we had everything we needed for the race. We also checked out a couple of sample scavenger hunt clues, which were set up to give runners an idea of how the scavenger hunt section of the race would work.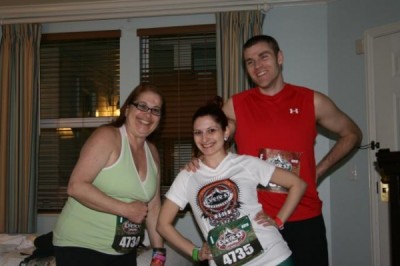 The race was scheduled to begin at 10:00 p.m., but all runners needed to be in the Animal Kingdom parking lot to corral by 8:30 p.m.. It should be noted that Disney provided bus transportation to/from the race only to those guests who stayed at participating hotels (Animal Kingdom Lodge, Caribbean Beach Resort, or Pop Century). Otherwise, you needed to arrange your own transportation.
Since we were staying at Old Key West, we rented a car for the weekend, just for this event. I wound up dropping the runners off at the parking lot and then returning to our hotel for a bite to eat since the party portion of the event did not begin until 10:00 p.m.
When I returned to Animal Kingdom, I was able to catch the last couple of corrals of racers taking off from the parking lot. It was fun to see the energy and enthusiasm on everyone's face, so I clapped and cheered for them. It was also nice to see so many runners dressed up in costumes and fun running outfits.
There were a couple of viewing areas set up right outside of the gates to Animal Kingdom and some places within the park where you could watch for racers. The race path took runners all around the parking lot, into the park, and then finished in the parking lot again, where participants began their scavenger hunt portion of the race.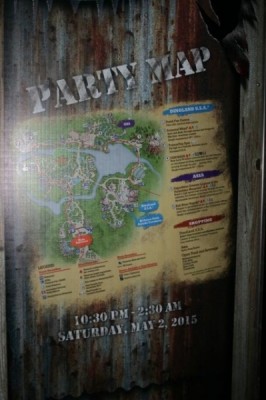 As for the party, there were lots of options and things to do within Animal Kingdom. The festivities were centered around Dinoland USA where rides were running and some concession stands were open for snacks and drinks. I loved being in Animal Kingdom after dark, since the park seems to take on a new energy, and it was wonderful to see (and photograph) the Tree of Life at night.
Expedition Everest, Kali River Rapids and all of the Dinoland USA rides were open for the party, and lines were not long (though this pregnant lady couldn't ride most of the offerings). Character interactions were also available with a rotating list of Mickey and his friends in their safari gear. Those lines were much longer since runners wanted to get some pictures with the characters in their finishing medals. The biggest spectacle though was the dance party set up in Dinoland USA, which featured a DJ, stilt walkers, and lasers. There was a party atmosphere which transformed the whole area from its normal carnival feeling.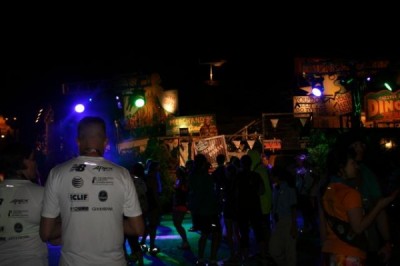 My family members caught up with me at the party and had rave reviews for their first RunDisney event. They proudly wore their medals for the rest of the night, though we did not make it until the end of the party. We are now trying to decide which event we will try next, and I'm hoping to get in on the running portion!
Have you participated in a RunDisney race before? Which is your favorite?