This post may contains affiliate links for your convenience. If you make a purchase after clicking a link we may earn a small commission but it won't cost you a penny more! Read our full disclosure policy here.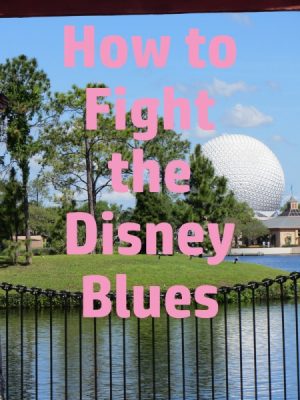 A year ago I was packing and preparing for our epic Walt Disney World vacation.  I was so excited, nervous and couldn't wait until we got there.  Now, a year later, I have the Walt Disney World blues.  I have no Disney vacation planned.  I am not sure when we'll be back.  And that has me missing the Disney magic something fierce this summer.  So what can we all do when we don't have a vacation planned?  How can we get through those blues?  Here are some ways I try to fight off the Disney blues.
Look back at old trips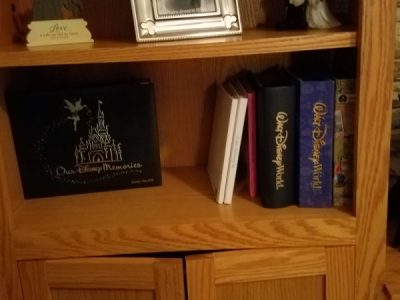 Our Shelf Devoted to Our Trips
One of the ways I try to fight those Disney blues is by looking back at our old trips.  I love photography and scrapbooking therefore we have numerous photo albums and photo books to look through.  For each trip, I have made a photo book using Shutterfly and I love looking back at those books.  These books bring back the laughs, joys and great memories that we had on each of our previous trips.  I also like looking through the photo albums.  The albums seem to have more of our in the moment type pictures which brings back some of those special, unique and spontaneous  times during the trip.
It is fun to think back on everything we were blessed to be able to do, see and experience on these trips.  Instead of focusing on what we aren't doing this year, it reminds me of how blessed we have been in the past being able to enjoy Disney magic.
Listen to music & movies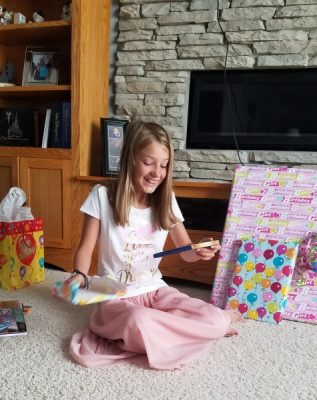 Our daughter excited about the new Beauty and the Beast
Another way to get rid of those Disney blues is by immersing yourself in all things Disney.  Watch all those amazing movies.  Dance to those favorite songs.  Watch videos of rides, shows and nighttime spectaculars.  I still have the beginning of Fantasmic as my ringtone and it makes me happy every time I hear it as it brings back those happy memories of us as a family watching the show together.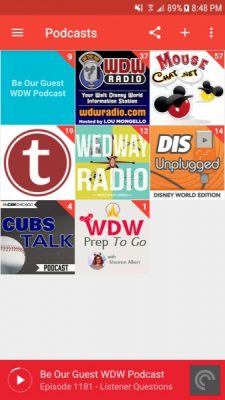 Podcasts I enjoy
Social media
Social media is a great tool when it comes to getting over your Disney blues.  From Facebook groups (click here to see the Mouse For Less Facebook Page) to Instagram there are numerous groups and Disney fanatics that you can follow along with their trips and experiences.  Even though it might not be as amazing as your own trip, it is still fun to see others enjoying the magic and might even give you more ideas for previous trips.
Podcasts are a great way to get over the Disney blues.  Listening to passionate people talk Disney brings a little bit of the magic straight to you.  I have also found that listening to podcasts makes me feel like I am in the know regarding changes and new experience at Disney so when we do go again, I am prepared. Shoutout to the amazing Be Our Guest Podcast that always keeps it positive and fun while they bring Disney magic to our homes.
Pretend plan trips
If you really need to break out of the Disney blues funk, I sometimes will hop on and pretend book trips.  I enjoy seeing what it would cost to stay at different resorts at different times of year with different package ideas.  I know many probably think might add to the Disney blues, but I love making resort, dining and room selections just to see what is out there.  And it also leads to my final tip to beat the Disney blues.
Start saving
After fake booking trips, I start figuring out our savings plan.  I know deep down, as I am sure many of you know as well, it isn't  if we will go back to Disney, but when will we go back to Disney.  This means we should start saving now so we are prepared and can spend a little bit on some extra magic when we get there.
Not having a trip planned to Walt Disney World can bring on the Disney blues especially if you know of people that are going.  Don't get stuck in those blues though.  Kick them to the side and start taking some steps to overcome those blues.  From social media to looking through old trip photos, there are some great ways to get rid of those Disney blues and focus on the magic you were able to experience.
What are ways you use to fight the Disney Blues? Share them in the comments. 
Did you like this article? Make sure to share it with your friends! Check below for easy ways to share!