This post may contains affiliate links for your convenience. If you make a purchase after clicking a link we may earn a small commission but it won't cost you a penny more! Read our full disclosure policy here.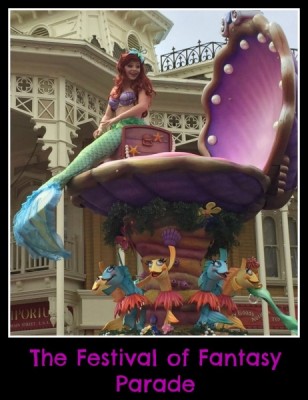 For me, no visit to the Magic Kingdom is complete without watching the Festival of Fantasy Parade. In the past, I always skipped the parade in hopes of catching a shorter line at one of the rides, but from the first time I saw this parade, I was hooked.  Disney has really done an amazing job of incorporating music, bright colors, and some of the most creative floats you will ever see.  If you are looking for an opportunity to see some of your favorite characters, this is it!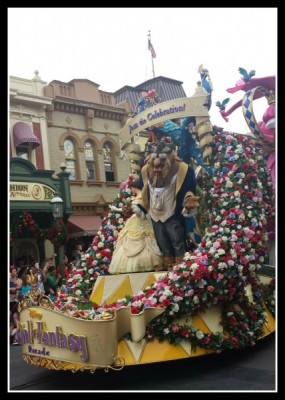 Beauty and the Beast wave to the crowd
Scoping out the perfect spot to watch the parade is a good idea if you have children or are "vertically challenged" like me.  The floats are massive, so you will be able to see no matter where you are, but the closer to the front you can get, the better.  Plus, if you want to snap some great pictures, you don't want people's heads or Mickey balloons in the way of your shots. Using the Fastpass option for the parade or choosing a spot to watch about 30 minutes early can be helpful.
I like to park myself on Main Street near the entrance, but that is just a personal preference.  I like this spot because you can see several floats at once as they travel around the circle.  This is a popular area though, so stake your place out early. Frontierland, where the parade begins, is another favorite of mine.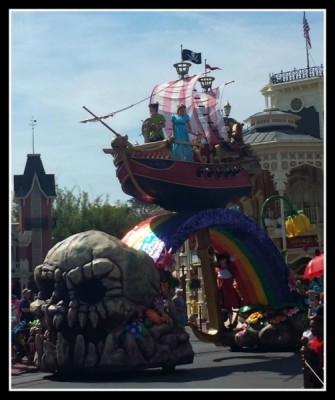 Peter and Wendy ride high in the sky
The parade typically runs once each afternoon (3:00 p.m.) so keep that in mind as you are planning your day around Fastpasses and dining reservations.  The best part about it is that there is a little something for everyone.  If you are a fan of the classic characters, princesses, or are looking for a bit of excitement, you will find it here.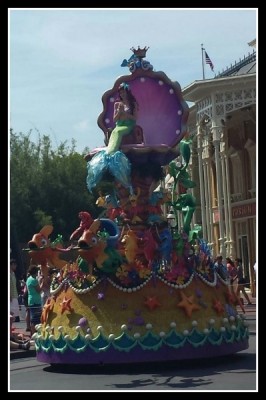 The Little Mermaid
There's lots to love about the Festival of Fantasy parade, but here are some of my favorite aspects:
I love the Tangled float!  While Rapunzel waves to guests from the front, Flynn Rider and friends swing back and forth on large sledgehammer structures.  All of this motion and action make this tribute to Tangled visually stunning and exciting.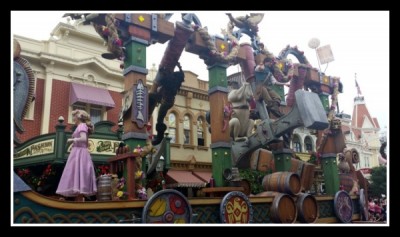 Rapunzel and Flynn Rider
I also enjoy seeing Anna and Elsa.  Maybe I still have a little bit of "Frozen fever" or maybe I just love that no matter how hot it is outside, Anna, Elsa, and Olaf certainly look cool as they pass by.
Anna and Elsa
One of the most elaborate "characters" in the parade is the steampunk inspired Maleficent dragon. This massive, metallic structure towers over guests as it rolls down the street.  The most incredible part?  The dragon breathes real fire!
Another reason that I prefer to watch the parade on Main Street is because it is very open and the fire usually occurs several times as the dragon moves by. It will not breathe fire when there are lots of trees around, so in my experience, you get the best view if you avoid areas with a lot of trees.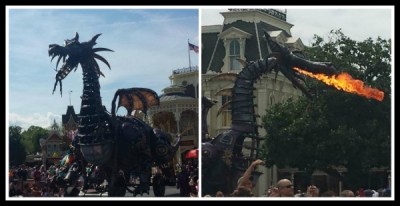 Maleficent Dragon
Each time I watch the parade, I find something new to love about it.  I think that is why, time after time, I find myself stopping to watch even if I didn't plan to.  I hope that you will enjoy it as much as I do!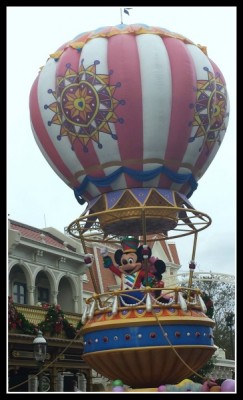 Mickey and Minnie wave farewell
Have you seen the Festival of Fantasy parade?  What is your favorite part?