This post may contains affiliate links for your convenience. If you make a purchase after clicking a link we may earn a small commission but it won't cost you a penny more! Read our full disclosure policy here.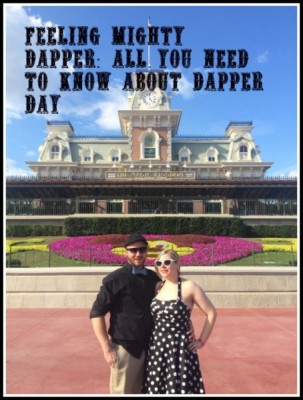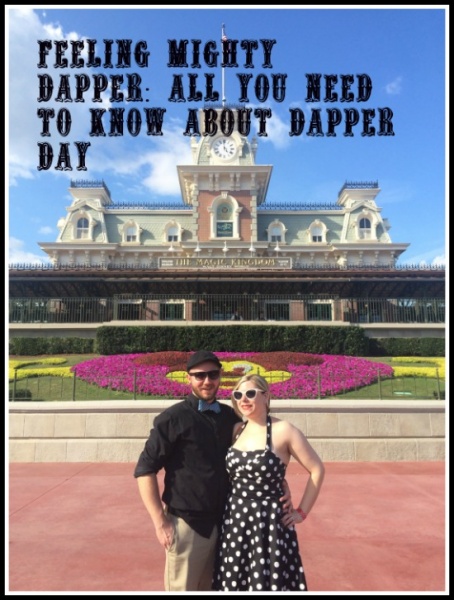 As a longtime Walt Disney World Annual Passholder, one of my favorite times to visit the Magic Kingdom is for Dapper Day. For those of you not familiar with Dapper Day, it is an unofficial event held at the Disney parks where everyone celebrates the tradition of "stepping out in style." Park guests participating in Dapper Day come to the parks in their Sunday best.
Most styles are vintage-inspired, but they do not have to represent any specific era—I've seen everything from 1920's flapper styles, to steampunk, to 50's housewives, to 70's hippies. Some guests even take their outfits to the next level and dress in a Dapper Day Disneybound, which is an outfit inspired by your favorite Disney character.
I've gone to Dapper Day for two years now and I've seen some amazing Dapper Day Disneybounds. My favorites include a vintage-inspired sailor Donald, and a Victorian-styled Haunted Mansion employee.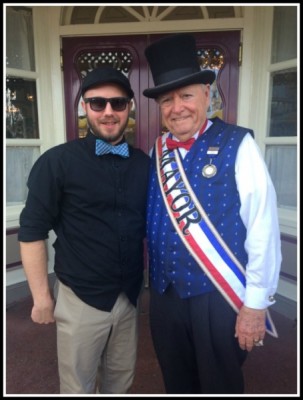 There are several chances for you to catch Dapper Day. They take place twice a year (fall and spring) at Walt Disney World and Disneyland in California. Disneyland Paris also hosts Dapper Day once per year in the fall. The event originated at the Disneyland parks in California in 2011 and have since been expanded to Florida and Paris.
California's Dapper Day event includes a two-day expo, which features booths selling vintage and contemporary clothing and accessories, bath and beauty products, and much more. The Dapper Day Expo also hosts a Styling Suite, for those wishing to get their hair and makeup done, as well as a photobooth and sketch studio for those wanting to commemorate their dapper styles. While Walt Disney World does not currently have a Dapper Day Expo, there are rumors floating around that there may be one for the Fall 2015 Dapper Day.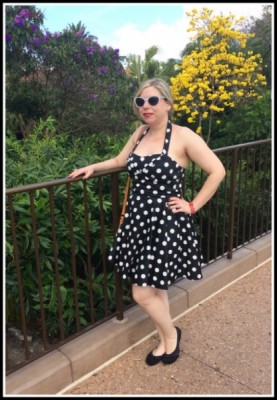 As mentioned above, Dapper Day comes around twice a year at Walt Disney World. The Spring Dapper Day takes place at the Magic Kingdom, typically sometime in March, whereas the Fall Dapper Day takes place at Hollywood Studios in late-September/early October. While I have not attended a Fall Dapper Day yet, I definitely plan on attending this year to experience this awesome event in a new park.
I have attended the Spring Dapper Day at the Magic Kingdom in 2014 and in 2015 and I am blown away by how much this event has grown in just one year. At last year's Dapper Day, there were a good number of people dressed for the event, but this year, the event had to have at least doubled or tripled in number. The Magic Kingdom was literally taken over by guests dressed up for Dapper Day. It made me so happy to see so many Disney fans come together and dress their part for a truly memorable day in the parks.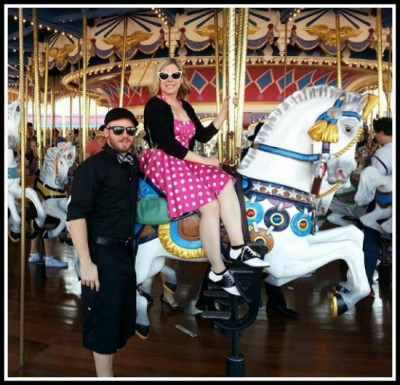 Dapper Day also hosted a few official meet-ups in the park, including the Wedway Runway on the Peoplemover at noon, the Liberty Belle Bon Voyage at 2:00 p.m., Island Escapades on Tom Sawyer Island at 3:00 p.m., the Dapper Derby at Prince Charming's Carousel at 8:00 p.m., and After Dapper Drinks at Mizner's Lounge at the Grand Floridian from 9:00 p.m.-midnight.
While I didn't attend all these events (12 hours in a tight vintage dress is just not in the realm of possibility for me) I did go to the meet-up on the Peoplemover, as well as the Liberty Belle Bon Voyage.
Participating in both of these events truly showed you just how many people love Dapper Day. The line for the Peoplemover snaked all through Tomorrowland and practically to the line for Space Mountain. I've been to the Magic Kingdom on some busy holiday weekends and I have never seen the line that long. Of course it is the Peoplemover and the line still moves fast, but my jaw dropped as I had never seen so many guests try to ride the Peoplemover all at once. It was the perfect way to glide into the future together.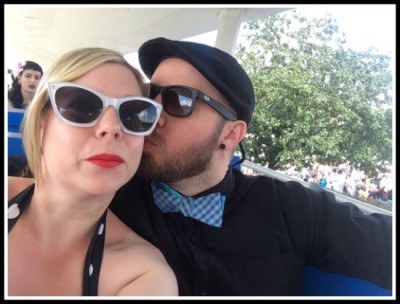 The Liberty Belle Bon Voyage was even more incredible. We attended this meet-up last year and enjoyed seeing the steamboat packed with dapper guests, but this year it took the cake. We lined up early to get on the Liberty Belle, and saw that there was a line all the way to the Haunted Mansion entrance to ride the boat.
While we made it on the first trip aboard the Liberty Belle, it took THREE trips for all the Dapper Day guests to get a chance to ride the steamboat. While the Liberty Belle took its trip around Liberty Square and into Frontierland, I was amazed at all the park guests who stood along the waterway and watched as a boat completely FULL of dapper-dressed folks sailed by. All the guests waved and clapped for us…I felt like I was a celebrity.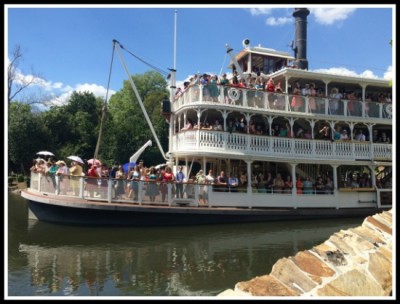 After a couple of the official meet ups, my fiancé and I enjoyed the rest of the afternoon riding some of our favorites, as well as checking out the beautiful new Hub. I can't say enough good things about the expanded Hub. It is so spacious and relaxing and I loved seeing dapper folks and families just sitting in the grass and having a grand time.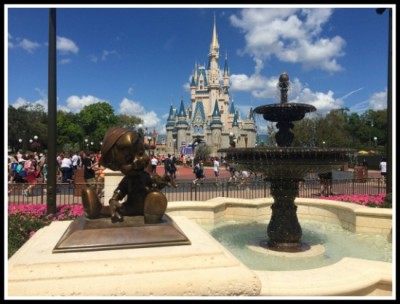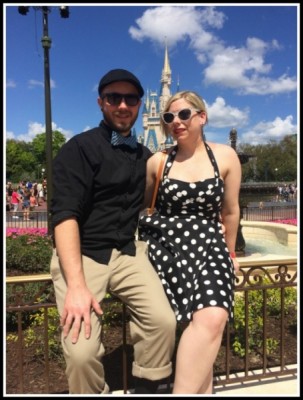 Dapper Day is a wonderful event that I can't recommend highly enough. If you're into vintage style or even people-watching, Dapper Day is a great time to visit the Magic Kingdom. I can't wait to attend the Fall Soiree at Hollywood Studios, which will take place on Saturday, October 3rd and have the opportunity to meet more dapper folks.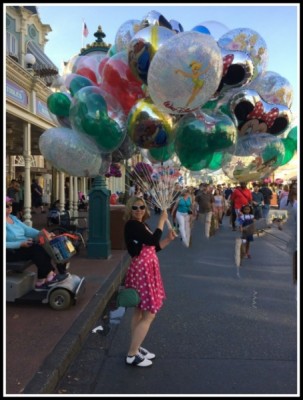 Have you ever thought about attending any of the Dapper Day events?