This post may contains affiliate links for your convenience. If you make a purchase after clicking a link we may earn a small commission but it won't cost you a penny more! Read our full disclosure policy here.
By Ann Dunnington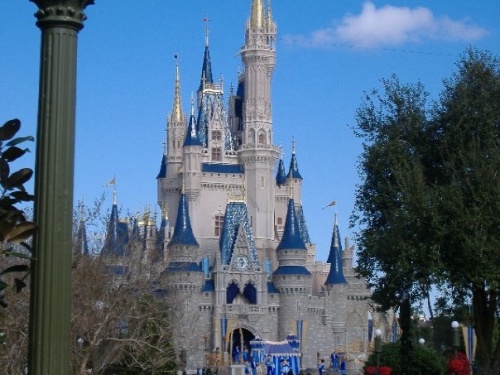 It's that time of year.  Walt Disney World has already been feeling temperatures in the 90s, and summer is still a few months away!   If you're anything like us, weather at "the world" is on your mind when you're doing your trip planning.  If you're going to most magical place on earth during the summer months, there are some things that you can do to keep your cool, and enjoy your trip a little bit more.
Packing the Essentials
When you travel down to sunny Lake Buena Vista, packing the essentials is a must!  Sure, almost every gift shop on Disney property has suntan lotion, headache medicine, bandages, etc., but these items can cost a pretty penny. We don't like to check luggage when we fly, so we bring lots of items in small sizes.  Take a look at our summer essentials packing list.  Hopefully this will give you an idea of what you might want to bring on your next trip, and the list can be adapted for any time of year:
Sunglasses
Hat
Long-Sleeved White T-shirts or Cardigans (Light Weight)
Shorts
Socks (Moisture Wicking)
Underwear
Athletic Shoes (2 pair, well broken-in)
Sandals (Flip Flops)
Foldable Slippers or Thick Socks (for the room)
Cotton Pants/Capris (Light Weight, Light Color)
T-Shirts (Moisture Wicking, Light Color)
Bathing Suit, Cover Up
Pajamas
Light Jacket (Light Color, Waterproof)
Disposable Poncho (Dollar Store)
Umbrella (Travel Size)
Sunblock
After Sun Aloe Gel
Body Glide/Mole Skin/Adhesive Medical Tape (Blister Prevention)
Bandages
Vitamins/Medicine (Headache, Cold, Tummy, whatever you use at home)
Small Soft-Sided Cooler (for Lunch/Snacks/Water in Parks)
Travel Size Laundry Detergent/Laundry Bag/ Quarters
Zip Top Bags (Gallon Size, Quart Size)
Toothbrush/Toothpaste/Floss
Face Wash/Makeup/Face Routine Items
Shampoo/Conditioner
Shower Gel
Deodorant
Razor
Eye Drops
Bug Spray (I have never needed to use this, but it's good to have just in case)
Black Tea Bags (to put on bug bites to help them go away- ok, I'm a hippie, I'll admit it)
Over the door organizer for all of the bathroom items
Phone/iPod/Charger/Travel Power Strip
Batteries
Wallet (with ID, Insurance Cards, Credit Cards, Cash, Disney Gift Cards)
Reservation Numbers
Park Bag (Backpack)
Snacks
Hand Sanitizer/Sanitizing Wipes
Insider tip:  if you forget something at home, there are a number of grocery and convenience stores off property that carry everything from flip flops to after sun lotion.  If you don't want to venture too far off the beaten path, the Hess Gas Stations on Walt Disney World property carry the essentials as well, for a very competitive price.  We have purchased toothpaste, water (big gallons and individual sizes) and snacks at these small shops and have never once felt like their prices were higher than what we would pay at home.  If you are renting a car, before returning to the airport to drop it off, fill up your gas tank at one of the on-property Hess stations.  They offer very competitive gas prices, and are generally a better deal than the gas stations close to the airport.
Keeping Cool in the Parks
The general advice you get from Walt Disney World veterans is to get to the parks early, leave after lunch and go back to your hotel for a swim, then come back to the parks around dinner time and enjoy until park closing.  I'm not going to say that this advice is incorrect, as we normally follow this advice ourselves.  But for those that are going to the parks without the intent of going back to the room, there are a few spots in the parks that are great "cool off and rest" areas.  Here are a few of our favorites:
Magic Kingdom
Tomorrowland Transit Authority Peoplemover
Carousel of Progress
Hall of Presidents
Haunted Mansion
Pirates of the Caribbean
Mickey's Philharmagic
EPCOT
Spaceship Earth
Ellen's Energy Adventure
The Seas with Nemo and Friends
Living with the Land
O Canada Movie
Impressions de France Movie
Reflections of China Movie
Mexico Pavilion/Three Caballeros Ride
Disney's Animal Kingdom
Finding Nemo: the Musical
Festival of the Lion King
Conservation Station
Queue of Dinosaur! (although the ride itself isn't really relaxing…)
Disney's Hollywood Studios
One Man's Dream
Art of Disney Animation
Great Movie Ride
AFI Post Show (after the Backlot Tour)
Voyage of the Little Mermaid
If the sun/heat have you feeling ill, the first aid and baby care areas of the parks are great places to go.  The Cast Members in these areas are always so helpful and there is a Registered Nurse onsite if you feel that you need medical attention.   We have also sought refuge from the sun in the resort lobbies of the hotels that are near the parks.  It's amazing what a little air conditioning and relaxation can do for your day.
Here are a few more tips:
HYDRATE!  Drink water, not soft drinks.  You can get a cup of ice water for free at any counter service restaurant.  Coconut water is a good, natural source of electrolytes, and fruit is a water-packed food that is easy to carry around.  Don't forget, eating is just as important as drinking water when you're out in the heat.   Most of the time, heat-induced illness can be prevented with a glass of water, some shade, and a healthy meal.  Sucking on ice chips is a good way to hydrate and cool off, too.  We like to do this while waiting in ride queues.
Wear sunscreen every day.  There is nothing worse than being sunburned on your trip, then having that on your mind while you're trying to have fun in the parks (or sleep at night).  Light, long sleeved shirts are great to wear in the middle part of the day when the sun is at its peak.
Speaking of the sun being at its peak; think about touring the parks with the following in mind:  the middle part of the day is the hottest.  Save this time to visit the indoor attractions like Carousel of Progress, Hall of Presidents, Ellen's Energy Adventure, or Innoventions. This is when you'll be happy that you have that long sleeved shirt with you!
Walk through the shops along Main Street in the Magic Kingdom or Hollywood Blvd. at Hollywood Studios.  The shops are air conditioned and connected, so doing this can keep you out of the heat for a little while.
Bring a wet washcloth and ice in a zip top storage bag with you to the park.  It will feel amazing to wipe down your head and the back of your neck, trust me.  Then, rinse it out in the bathroom and put it back in your zip top bag.  Repeat as needed.  Don't forget to re-apply your sunscreen after using it!  While I think mister fans are great, they're clumsy to carry around, so we prefer this method for that reason alone.
If you have younger children, bring a change of clothes and let them splash in the splash pads that are scattered around the parks.
A Typical Day
A typical day for us when we're at Walt Disney World during the summer months is as follows:
7 am – Up and at 'em!  Get ready for the day.  HYDRATE!
8 am – Quick breakfast in the room, pack up snacks, water, and lunch for the cooler.  HYDRATE!
8:30 am – Hop in the car, head to a park.  HYDRATE!
9 am – Park opening!  Bee-line to the headliner attraction and grab a Fastpass.  Tour the park as usual.  HYDRATE!
11:30 am – Find a cool spot to have an early lunch (packed).  HYDRATE!  Continue touring park.
2 pm – Go back to the hotel for a swim, shower, or nap and do laundry if necessary.  HYDRATE!
4:15 pm – Time to head back out!  Table Service reservation at 4:45pm (somewhere).  HYDRATE!
6 pm – Back to park touring for the rest of the evening.  HYDRATE!
Notice how important it is for us to drink water all day long while at the parks?  We also DO take advantage of Extra Magic Hours if offered.  It's so much cooler (relatively speaking) touring at a time that the sun is not at its peak.
If you had a long day and don't wish to return to the parks for the evening but you don't want to turn in for the night either, we have enjoyed catching some jazz music in the lobby of the Grand Floridian, watching "Wishes" from the Polynesian Resort Beach and eating some ice cream from Seashore Sweets at the Boardwalk.  These are all very relaxing activities that we like to do to wind down the day, and in all honesty, they're some of our most cherished Walt Disney World memories.
So, my best advice is to know your limits, be prepared, and listen to your body.  If you feel like you need a break, take one.  Don't try to push yourself too far just because you're at Walt Disney World.  It IS a vacation, after all!