This post may contains affiliate links for your convenience. If you make a purchase after clicking a link we may earn a small commission but it won't cost you a penny more! Read our full disclosure policy here.
In 2005 I was planning my family's first trip to Walt Disney World and was trying to find the least expensive options for us.  A friend of mine told me about the free dining promotion.  I had never heard of that promotion, but it sounded great.  We jumped at the chance and booked our vacation at All-Star Music so that we could take advantage of the free dining offer.
For you to understand how excited I was about the opportunity to eat at Disney World for free, you should know a little bit about my background.  When I was growing up, my family did not have a lot of extra money.  We seldom ate out, unless our grandparents took us.  When we did eat out, we children knew better than to ask for dessert.  I remember how beautiful the Jellos and pies at K&W Cafeteria looked, and a few times my grandfather bought a Jello for my sister and brother and me to share.  The mentality of eating as frugally as possible carried over into my college years, and served me well as a graduate student.
As a mother of two boys, I continue to have a frugal attitude towards prepared foods.  My husband and I keep the purse strings fairly tight in this area of our finances.  We drink water at restaurants and almost never order a dessert.  Our choice of entrée is often based more on price than taste.  Needless to say, we were very excited about the idea of free dining.  I could barely imagine being able to eat almost anything I wanted in Disney World, and I was so eager to say "yes" when my boys asked for a novelty ice cream.
Our first table-service meal was at Wolfgang Puck's in Downtown Disney.  I felt like a queen!  I could pick anything I wanted off that menu including an appetizer and a dessert!  And oh, what a dessert!  I ordered chocolate fondue and shared it with my 2-year-old.  It was a beautiful thing.  My 4-year-old ordered the build-your-own-sundae off the kids' menu.  It was on a plate shaped like a painter's pallet with ice cream, sprinkles, and chocolate sauce as the "paint."  My husband enjoyed a towering tiramisu.  Our bill for two adults and one child (my youngest was under 3, so he did not count as a guest, but there was always more than enough food to share with him) came to $117, but we paid nothing.  (In 2005, the tip was also included in the free dining plan.)  That meal marked the beginning of a beautiful friendship with Disney's free dining promotion.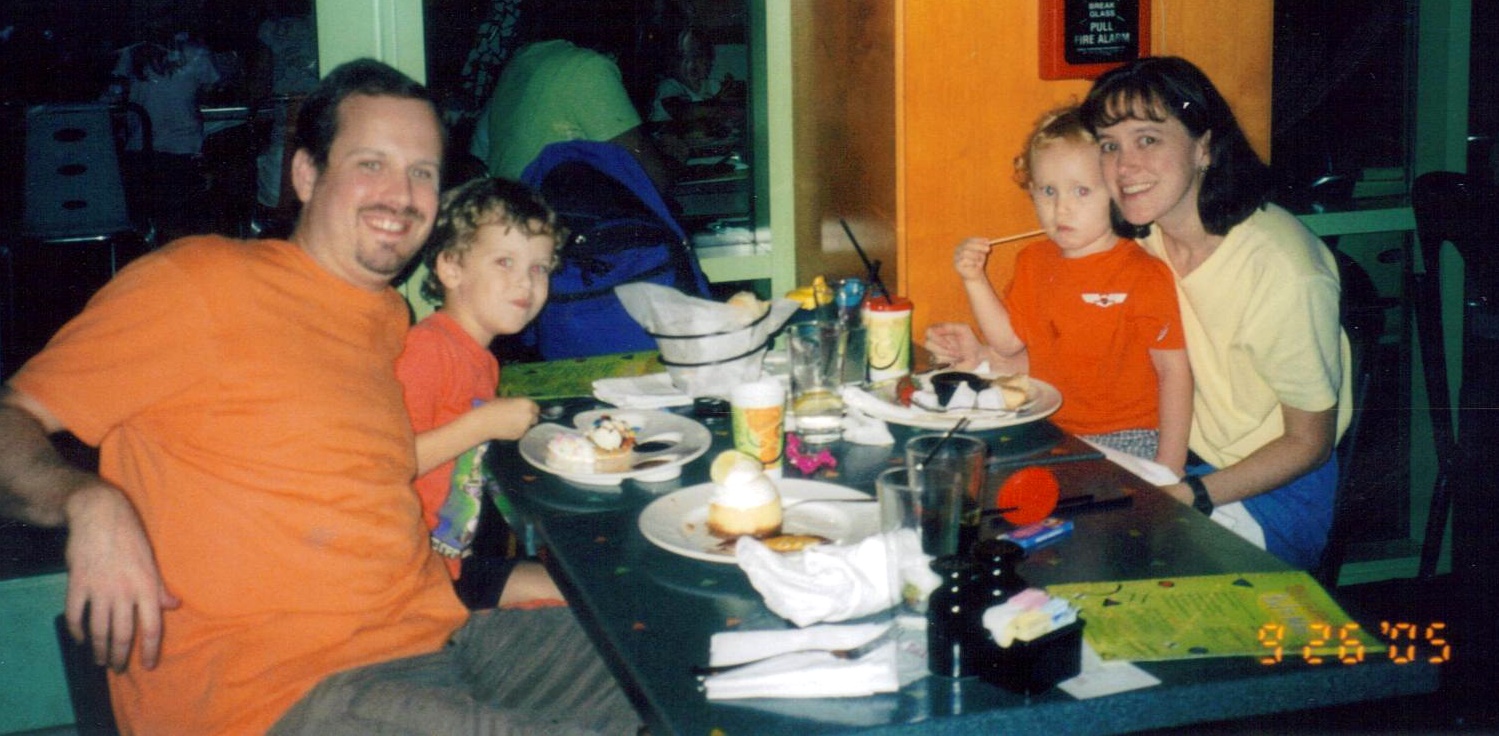 We have enjoyed the free dining on every trip since then.  Although the dining plan has changed over the years (e.g. appetizers have been dropped, tip is not longer included, value resort guests must pay an upgrade to get the standard dining plan instead of the quick-service meal plan), we continue to book our vacation to take advantage of free dining.  Without free dining we might have done one character meal per visit, but with it we have had trips where we have enjoyed a character meal everyday.
We have had so many wonderful food experiences—character meals, non-character restaurants, counter service meals, and snacks—that I can no longer imagine a trip to WDW without the food.   Free dining opened up a world of Disney food for us, and we love it!