This post may contains affiliate links for your convenience. If you make a purchase after clicking a link we may earn a small commission but it won't cost you a penny more! Read our full disclosure policy here.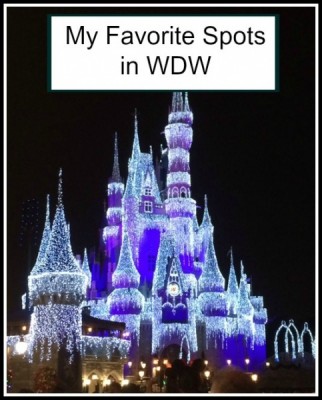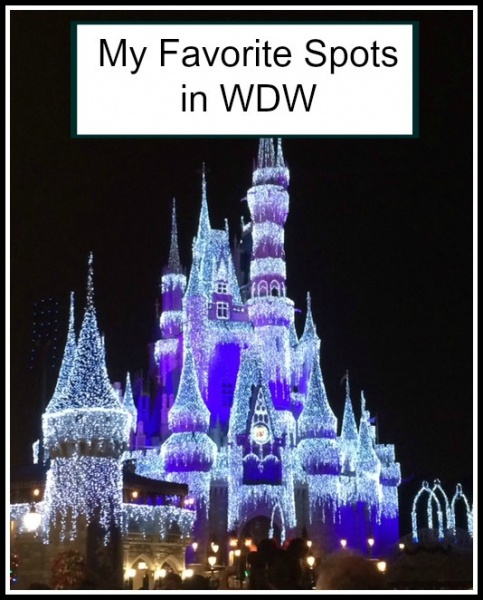 Walt Disney World is the most magical place on earth. I don't know about you, but I'm constantly counting down to my next Disney vacation, daydreaming about watching fireworks, smelling popcorn on Main Street U.S.A., and hearing the distant scream coming from Test Track. When I think about Disney, a few spots come to mind immediately. To help cure your remaining winter blues, I'm bringing you some of my favorite spots at each of the Walt Disney World Parks!
Magic Kingdom: 
Main Street U.S.A. 
I know, it's exactly what you'd expect my favorite place to be, but can you blame me? Main Street U.S.A. is iconic Disney. From the fantastic soundtrack to the perfect streetmosphere (the mayor is my favorite!), Main Street U.S.A. is the definition of Disney for me. You can spend hours exploring the many details of the building exteriors (check out the windows for names of notable Disney contributors), and there's plenty of great shopping to get your souvenir fix!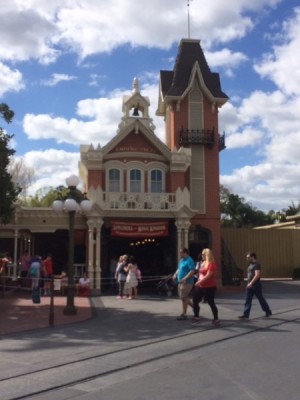 You won't go hungry on Main Street U.S.A., either! Home to Tony's Town Square Restaurant, The Plaza Restaurant, Casey's Corner, and The Plaza Ice Cream Parlor, this is the place to be when you need a bite. Whether you want something as simple as a pastry or ice cream cone, or you prefer a nice plate of chicken parmesan with a great view of the afternoon parade, Main Street U.S.A. is the perfect spot!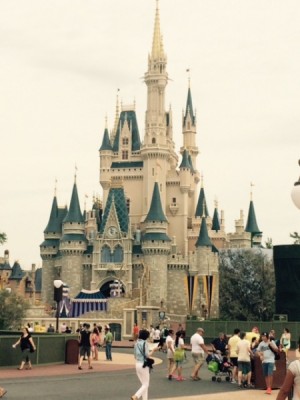 Runner Up: Under the Sea- Journey of the Little Mermaid. 
Head back to New Fantasyland to check out one of my favorite new attractions. Having grown up in the '90s, I'm a big Ariel fan, and this attraction doesn't disappoint. It's a slow-moving ride that tells you the story of The Little Mermaid, complete with some of the classic songs and a little bit of romance. And even better: This attraction doesn't seem to draw a huge crowd, so the lines are usually pretty short!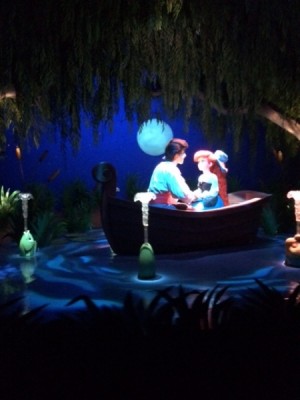 Epcot:
The France Pavilion, World Showcase.
The France pavilion is my favorite spot in all of Epcot. Wander inside one of the shops, or down one of the winding roads and you'll feel like you just arrived in Paris! Grab a seat on one of the many benches and watch the street performers, or grab an autograph with Marie from The Aristocats. It's easy to feel enveloped in the French environment here!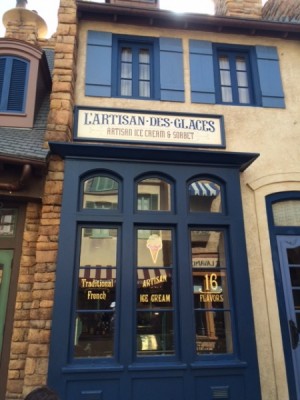 If you like to eat, this is the place to go. The France pavilion in the World Showcase boasts some of the best pastries I've ever had. Head to the Boulangerie Patisserie for a tartine or a chocolate chip brioche, or if ice cream is your thing, they've got you covered! Head next door and grab a scoop of lemon ice cream or a macaron ice cream sandwich (!!!) at L'Artisan des Glaces. If you're looking for a special dinner, enjoy some French cuisine at Monsieur Paul, named for the Michelin Star-winning chef, Paul Bocuse.
Disney's Animal Kingdom:
The Pangani Forest Exploration Trail.
The Pangani Forest Exploration Trail is a "hidden gem" at Animal Kingdom. Tucked back in the African forest, this "self-guided tour" allows you to meander through the wilderness and get up close and personal with some amazing animals. Along the trail, you'll encounter meerkats (Timon from the Lion King), zebras, birds, exotic and colorful birds, hippos, and my favorite, gorillas. The gorillas and hippos come right up to the observation glass, allowing you the opportunity to snap a quick photo and marvel at their beauty! Another nice thing about the trail? Much of it is shade-covered, providing a little relief from the hot, Florida sun.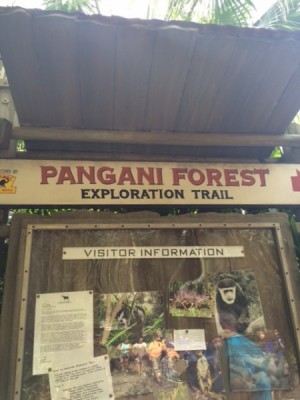 Great animal experts are available along the trail to provide you with trivia and interesting facts. They're able to answer your questions, so you can head home from vacation with a little bit of African animal knowledge!
Runner Up: Winged Encounters- The Kingdom Takes Flight.
This is something you don't want to miss! Occurring sporadically throughout the day, you can catch a glimpse of a flock of macaws flying overhead. Ask a cast member when this show is going on, since times aren't posted anywhere. This is a really special experience, and you'll be glad you made time to work it into your busy schedule, trust me!
 Disney's Hollywood Studios:
Streets of America.
I'm a New Yorker, so naturally, anything that reminds me of my favorite city has to make my list of favorite places. It's really easy to immerse yourself in the "New York feeling" that the Streets of America creates. Take your time walking down the streets, peeking in windows and looking down alleyways for hidden Mickeys and little Disney tidbits. Listen closely for subway sounds, and grab a pretzel to munch on. Though this isn't an "attraction," per se, it's a great place to enjoy all of the magic that Disney can create; don't forget to take a selfie with the "skyline" behind you! You'll want to do this soon though. The Streets of America will be closing for good after April 2!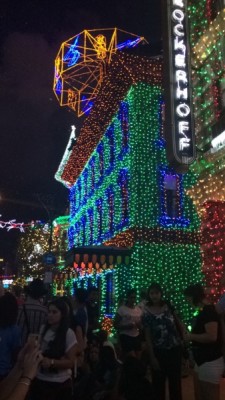 The Streets of America, covered in thousands of Christmas Lights.
Runner Up: Star Wars Launch Bay.
I can't mention Disney's Hollywood Studios without bringing up something Star Wars. The new
Star Wars Launch Bay
is a blast; be sure to get a picture with Kylo Ren, and Chewbacca when you visit! They also have a great souvenir selection here; you can bring home autographed memorabilia and other awesome keepsakes.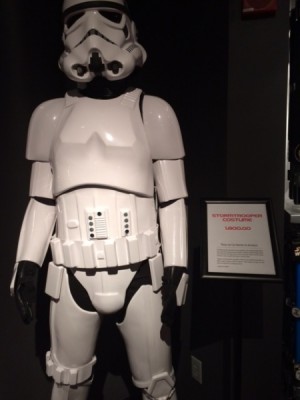 Now it's your turn. What are your favorite spots to visit in each park?