This post may contains affiliate links for your convenience. If you make a purchase after clicking a link we may earn a small commission but it won't cost you a penny more! Read our full disclosure policy here.
it's a small world during the holidays
I am one lucky lady. I am fortunate enough to live in the City of Angels, a mere 45 drive in good traffic (which it never is, by the way) from the Happiest Place on Earth. Because of this, my trips to Disneyland are much more frequent than the average human's. And these frequent trips mean that while throngs of people are rushing to hit all the headliner attractions, I can sometimes stop to take a break in a lesser known spot. Here are some of my favorites.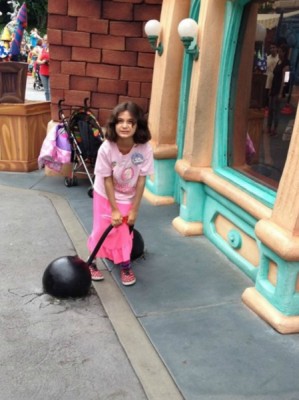 DOWNTOWN TOONTOWN
Mickey's Toontown in Disneyland is a visual delight, a place where you can imagine the characters actually living and working. Downtown Toontown is a small interactive section where the young and young at heart can wander at will, pushing doorbells, opening mailboxes, and answering telephones, just to see what will happen. If you have young kids, this is a great place for them to blow off steam.

PIXIE HOLLOW
My daughter has been Tinker nuts since the tender age of 3, and few of our Disneyland visits do not involve a visit to Pixie Hollow. Here, guests are invited to shrink down to pixie size to meet Tinker Bell and one of her fairy friends. In the past, we've met Terrence, Periwinkle, Fawn and Silvermist, who is my favorite. (Yes. I am a grown woman who has a favorite fairy. Don't judge me.)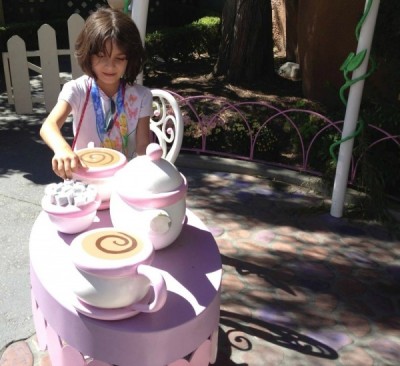 MINNIE'S BACKYARD
Over the years, the meet and greet location for Minnie Mouse in Toontown has changed slightly. We've met her on her front porch. We've also met her in her backyard. I'm not sure exactly where she is meeting guests nowadays, but Minnie's backyard is a lovely quiet spot. A tea party has been set up, and it's a cute place to stop and take photos, whether or not Minnie herself is in attendance.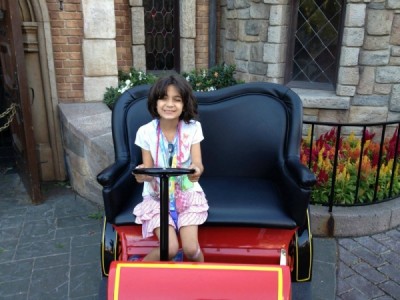 MOCK RIDE VEHICLES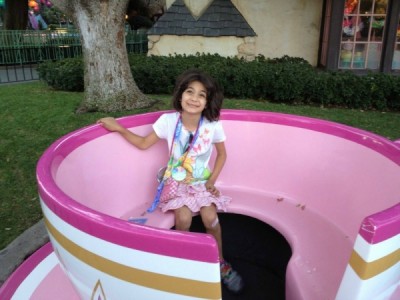 All the cute, with none of the dizziness!
Always wanted a shot of you having a Wild Ride like Mr. Toad? Your husband can't get a shot of you spinning in a tea cup without getting dizzy? No problem! In Fantasyland, you can find versions of both those ride vehicles off to the side of the rides themselves. This is a fun place for a photo op.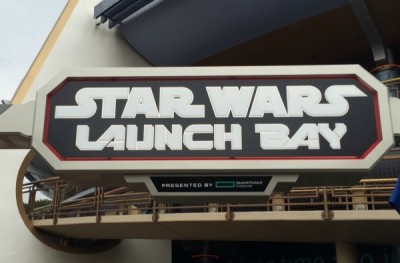 STAR WARS LAUNCH BAY
In 1976, I took my first ever trip to Walt Disney World. In 1977, I saw this obscure film in the movie theaters – you might have heard of it, called Star Wars. The impression that these two events had on my young self cannot be overestimated. So, of course, Disneyland's Star Wars Launch Bay, in Tomorrowland, is a must visit for me. I love seeing the props, costumes, and artwork from one of my favorite movies.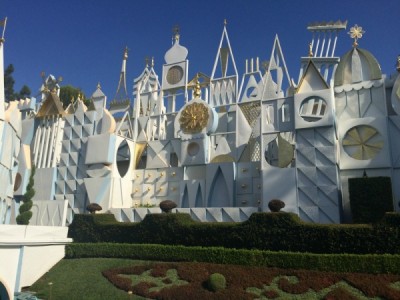 IT'S A SMALL WORLD PLAZA
Even if you hate the ride, even if the song makes you nauseous, you simply have to visit it's a small world plaza. The gleaming white structure is so grin inducing, so whimsical, and so gosh darn pretty that I have to stop here every time. This is the same attraction that graced the 1964 World's Fair in New York. If you manage it, visit here twice – once in the daylight, when the white structure is bathed in the glorious California sunshine, and once after nightfall, when the structure is beautifully lit. And for a bonus – the structure gets a Christmas makeover every holiday season.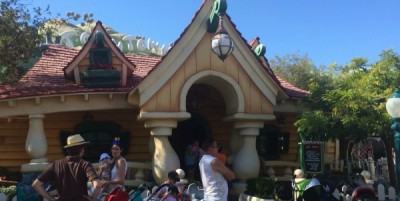 MICKEY'S HOUSE
Mickey's House in Toontown is one of the most elaborately themed meet and greet queues around. It's indoors, which takes you out of the blistering sun in the late summer and early fall, and also out of those all too rare downpours in the winter. Everything here is designed to be climbed on, touched, and explored. Kids will giggle and point at the gophers who are stealing Mickey's carrots in his garden, while adults will laugh as they notice the book titles in Mickey's library. At the end, the whole family gets to meet Mickey himself. But there were many times when my pre-school aged daughter didn't even want to stick around to meet the Mouse – she just wanted to check out his stuff.
What is your favorite spot to hang out and experience at Disneyland? Share in the comments!