This post may contains affiliate links for your convenience. If you make a purchase after clicking a link we may earn a small commission but it won't cost you a penny more! Read our full disclosure policy here.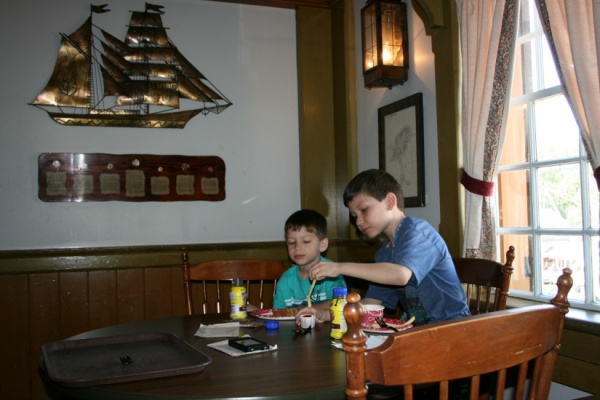 I know that when you think about Disney World, your first thoughts are usually for the rides, the characters, the parades, and the fireworks.  Then of course you decide where to stay.  Pretty soon it is time to make those table service restaurant reservations and select your FastPasses.  And that's it…now you countdown to your Disney vacation…
But wait!  Our family eats breakfast in the room, but what about lunch?
Today, I hope you give a little thought to where you might enjoy eating your lunch.  A burger is a burger, you might say.  Chicken nuggets are the same everywhere, you might suppose.  Stopping for lunch at home is usually just about eating some good and quick food, but there are other things to consider when choosing a spot to eat at Disney World.
I would like to start by sharing my families' favorite spots to have our lunch at the Magic Kingdom and in future posts will share our favorites from the other parks.  Whether you are on the dining plan or not, these spots have something for everyone.
Columbia Harbour House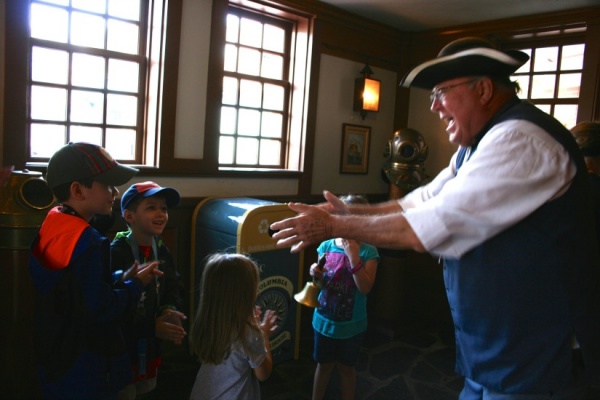 Columbia Harbour House is nestled in Liberty Square right at the edge of Fantasyland which works out perfect as our lunch spot as we usually go straight to Fantasyland in the morning and are ready to venture elsewhere by lunch. They serve a selection of seafood sandwiches, fried seafood baskets, and non seafood selections (the kids can still get their chicken nuggets).  My favorite is the Lobster Roll…like a lobster po'boy…yum!  But the food isn't even the best part!
The lines at the front and seating downstairs can make this place seem a bit crowded and after spending a crowded morning in Fantasyland, my crew is usually ready for some down time and have had a bit too much stimulation on the senses.  We need to recharge.  So head up the stairs and you will enter what may be the quietest place to eat in the Magic Kingdom.  You can get a great window seat, enjoy your lunch, and people watch those walking by outside.  The decor is nautical, complete with wood floors and a ship's wheel.    You have a great view of everyone walking back and forth between Fanstasyland and Liberty Square, the line for Haunted Mansion, and those about to get on the Liberty Square Riverboat.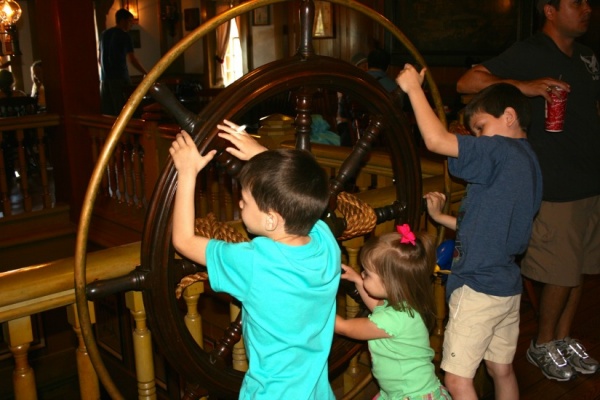 Tomorrowland Terrace Restaurant
Tomorrowland Terrace is located at the front entrance to Tomorrowland and offers some wholesome food choices like pastas and salads and your burger and nugget options too.  The carrot cake at the Magic Kingdom is so moist!  As you enter Tomorrowland, the Tomorrowland Terrace is down the walkway to your right (it's also a great place to run to the bathroom when you are waiting for fireworks in your prime spot, and your preschooler says she has to go…right NOW!).  Order at the counter, fix your burger at the fixin' station and then head to the best part of the restaurant…outside on the covered veranda to enjoy your food with a view.  The veranda offers ceiling fans, shade, and an excellent view of Cinderella's Castle.  There is plentiful seating indoors on a hot day, but I think the best part about this spot is the view.  I have never done it myself, but they also offer a Fireworks Dessert Party with reservations.
(Editor's Note: The Tomorrowland Terrace is typically only serving guests during busy periods of the year. However, if you are visiting in the non-peak times of the year, you can always grab a snack and take a seat and enjoy the great seating area. Personally, I love to grab a Starbucks coffee or ice cream from The Plaza Ice Cream Parlor over here and just relax!)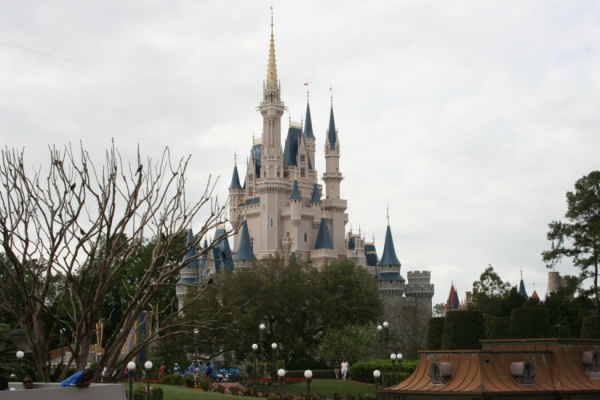 Pecos Bill Tall Tale Inn and Cafe
Pecos Bill's is at a great spot between Frontierland and Adventureland.  It sports Southwest decor and honestly makes the list because sometimes you just need some Chipotle Ranch dressing to remind you of home.   So it isn't TexMex per se, but their Southwest Chicken Salad hits the spot in a pinch.  My husband likes the (not quite Texas) Barbecued Pork Sandwich.  The kids like the backless stools and pretending they are shooting each other across the table somewhere in the wild west…do they ever run out of energy?
I can honestly say that we haven't eaten everywhere…YET…(Be Our Guest is on my list to try next time), but these are our current favorites and not necessarily for the food.  Whether it be for a quiet place to recharge, a view of an iconic castle, or your love of ranch dressing, these three picks have something for everyone.
What is your favorite Magic Kingdom Quick Service location to stop and dine in?