This post may contains affiliate links for your convenience. If you make a purchase after clicking a link we may earn a small commission but it won't cost you a penny more! Read our full disclosure policy here.
If I could pass for a teenager, my favorite hangout would be the Oceaneer Club where the Millennium Falcon, a console equipped with more than 1,000 LED lights, hundreds of buttons, switches, and special effects, is the centerpiece of a recreational area for kids ages 3-12. Words cannot describe this marvel of Disney Imagineering. Unfortunately, I am not a teenager, so I cannot spend hours with the Millennium Falcon. Fortunately though, there are several open houses when grownups can get a glimpse of what await kids at the Oceaneer Club, and at the adjacent high-tech Disney Infinity video game room.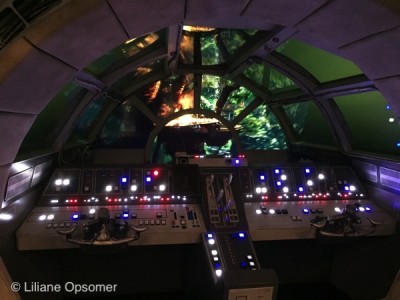 Six Favorite Hangouts
However, there are plenty of other great hangouts that do not require travel to a place far, far away onboard the Disney Dream. Here are 6 of my favorites:
My favorite place to start the day was the verandah of my stateroom. Equipped with comfy patio furniture, I started each morning watching the sunrise over the ocean while enjoying an early breakfast.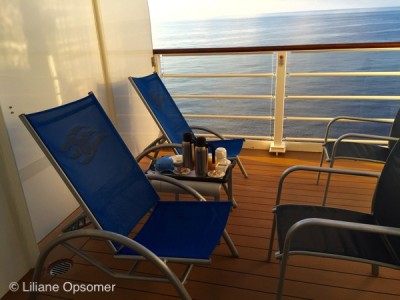 Next I liked spending time at Senses Spa on Deck eleven. Senses Spa offers all amenities you would expect from a spa but, even if you do not go for a costly treatment, you can enjoy, for as little as $16, all the Rainforest Room has to offer.
Included in the $16 day-pass is access to the dry sauna, the hot steam room, scented showers, and room with heated loungers, as well as two hot tubs overlooking the sea. For an extra $11, you can purchase a Do-It-Yourself scrub. Choices are Vanilla Orange, Chocolate Peppermint, Lavender Herbal or Tangerine.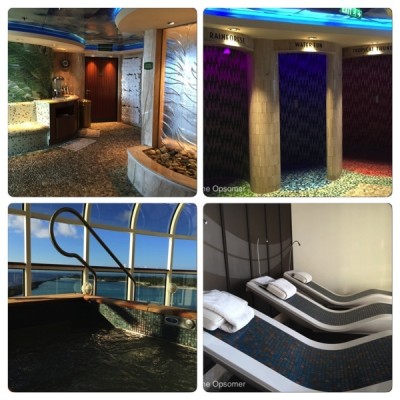 New at the Senses Spa is the Senses Juice Bar, where you can indulge in healthy, made-to-order fruit and vegetable smoothies.
When it comes to sunbathing I love Quiet Cove on Deck 11. The adult-only area offers a freshwater pool, a swim-up bar, and jetted hot tubs overlooking the Ocean, as well as plenty of chaise lounges for relaxation.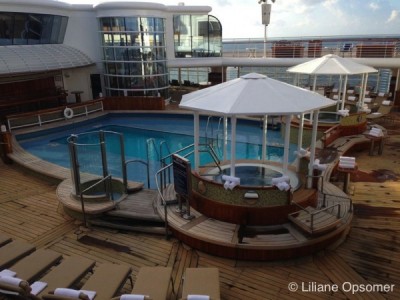 New on Deck 13 is Satellite Falls, where adults can soak up the sun in loungers or relax in the shade under a circular splash pool surrounded by a rain curtain.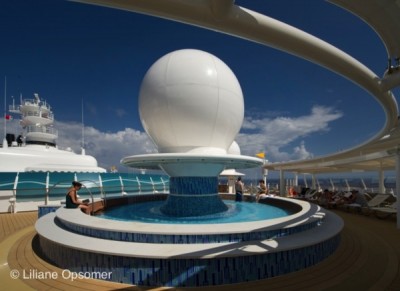 Deck 13 is also home to a Disney-themed miniature golf course. The course features 9 interactive holes emphasizing various golfing lessons—with a goofy twist. I have never been into golf, but miniature golf is one of my favorite things to do and the course on the ship was never crowded. The deck also has a basketball court that can be transformed into a volleyball court, as well as Foseball and Ping-Pong tables.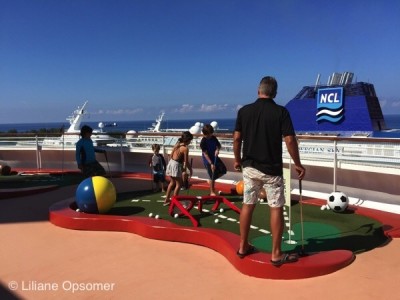 If you are a Kitchen Sink fan, you will agree that the new Wreck It Ralph-themed Vanellope's Sweets and Treats shop is the place to be.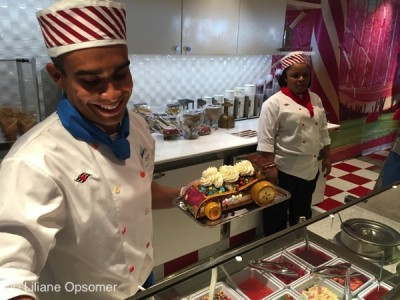 The three-scoop, five-topping Von Schweetz's Race Kart Sundae served in Vanellope's very own race car is an eye catcher but so are the wonderful smaller treats the shop offers. Do keep in mind that the new gelato shop's treats do cost extra, but they are very delicious.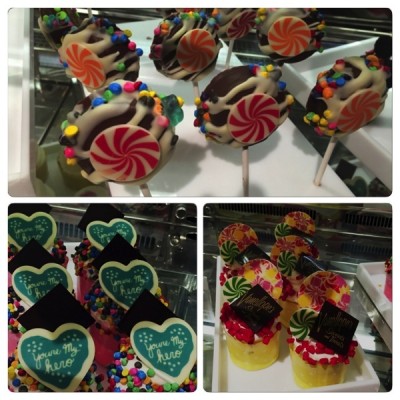 If you love tiny bubbles I suggest an evening at Pink. The lounge serves Champagne, Champagne cocktails, sparkling wines—plus mixed drinks, single-malt whiskeys and cognac. I loved sipping the Trio of Champagne: a glass each of, a Moët Vintage 2000, a Moët Imperial, and a Moët Ice.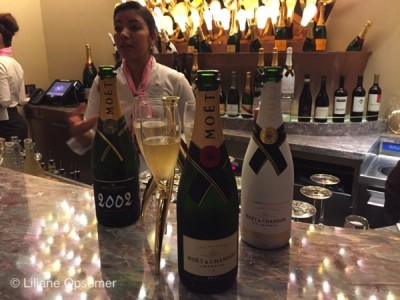 Disney Cruise Line offers four beautiful, classically themed ships for guests to explore. Cruisers can choose from a variety of itineraries including the Bahamas, Caribbean, Alaska, and the Mediterranean. Book your next Disney Vacation with The Magic For Less Travel and check out Disney Cruise current discount codes and savings here.
For a complete review of all ships, activities, and port itineraries also consider The Unofficial Guide to Disney Cruise Line 2016, available January 5, 2016.
Have you recently been on a Disney Cruise? What are your favorite hangouts? We would love to hear from you.