This post may contains affiliate links for your convenience. If you make a purchase after clicking a link we may earn a small commission but it won't cost you a penny more! Read our full disclosure policy here.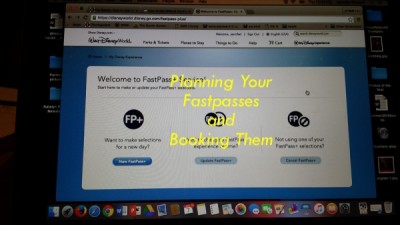 Our Price Family Vacation is quickly sneaking up on us as we are now under 60 days.  Some of my past blogs have discussed how I have gone about planning for all eight of us as well as how we are spreading the Disney magic as we wait.  This week we hit our 60 day mark making it time to reserve our FastPasses.  When my husband and I went in 2014, Disney was just starting the process of pre-booking FastPass+ and I wrote about the process.  Well two years later, I thought I would update readers on how I planned out our FastPasses for 8 people ranging in ages.
Which Park
The first thing I had to determine prior to making FastPass+ reservations was which park will we be in each day and then if we are hopping parks, which park do we want to make our FastPasses for.  As we had already made advance dining reservations, overall our parks were already determined based on these reservations, but we still had to talk through a few days where we didn't have Advance Dining Reservations scheduled to decide which park would be our first choice.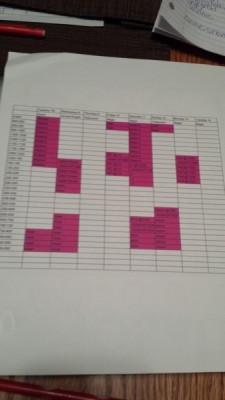 Mark off times that won't work
 Time
The next thing that had to be determined is what times would work best for making FastPasses.  Like I mentioned earlier, we have Advance Dining Reservations scheduled already so I crossed out around two hours around each of our reservations as not ideal for FastPass+.  After crossing off these times, I then went through and wrote down if the park has Extra Magic Hours (early or late) and if the park has any entertainment we want to take into considerations (parades, fireworks, shows etc).  Narrowing it down this way made it easier to see exactly which times would work best for us.  We personally like to book our FastPass+ earlier in the day as we don't like to be scheduled as much in the afternoons and evenings and we also like to have the opportunity to book more after lunch.  Remember, if your last FastPass isn't until 6:30 p.m. or later, you can't book additional passes until you have used the original one. That's something to consider in the planning process, because Guests have the ability to book a fourth rolling FastPass after their initial three have been used. Now that we have timing down, it was time to start choosing what we want to use them for.
 Choosing rides, shows or entertainment
With eight people going ranging from a six-year-old who is scared of a lot of things to grandparents who are willing to try anything once, we had to have some family chats regarding a few things.  I first asked each person what their top three must dos at each of the four main parks were then I also asked if there are rides that they did not want to ride.  I gathered all of this information and looked for common must dos (Splash Mountain, Big Thunder Mountain, Expedition Everest were all on most of our lists) and started to write those down as options for FastPasses.  I also looked at if any of these would not be good for our little man (Dinosaur in Disney's Animal Kingdom and Space Mountain in Magic Kingdom) and made notes of this and looked at what else he could do instead.  I also made lists of all the rides in each of the four parks and used them to mark down when I thought we could ride them and if we were going to use FastPass+ to ride it.  Doing this helped me see if we were missing any of the big rides.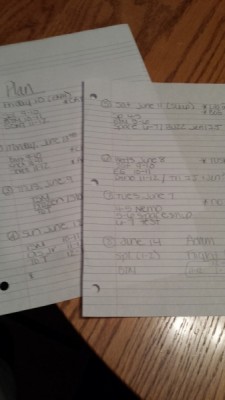 Prioritizing our plans
 Prioritize
Not all FastPasses are equal; therefore, once I had a list of what we wanted to book I then thought about what would be the most in demand (Seven Dwarf Mine Train) and made a list of my order of booking from hardest to get to easiest to get.  Once all of this was decided it was time to book.
So how does this process work?  Like I said the process has recently changed as Disney made some adjustments to the process.
Those adjustments include:  1.  You aren't required to book 3 FastPasses if you choose not to 2.  You can choose the ride and a specific time instead of being forced to choose the automated ones and then go in and change the time as needed.
However, since my 60 day window was prior to these changes, this is how my process went.  I could make reservations starting 60 days ahead of time because we are staying on Disney property during out trip.  I could make reservations for all the of the days that we are staying as well.  Reservations come available at midnight EST unless a park is staying open later than midnight Orlando time.  Then you have to wait for the park to close.
After a few moments fighting with the computer, I was able to sign in and get booking.  You make your FastPasses in the My Disney Experience either online or on your phone using the app.  Once, you are signed in, you go to FastPasses and get ready to go.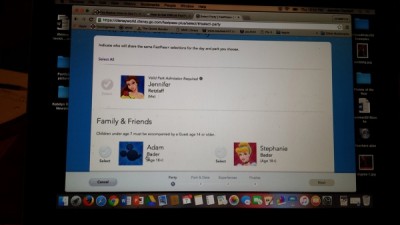 Choosing Your Party
The first thing it will ask you to do is to choose your party.  There is a select all button if you are just booking for the whole party this is the easiest way to go.
Choose your park and date
The first step is choosing what park you would like to go to followed by choosing which date you would like to attend that park.  Again, you don't have to do it in order of your trip but can choose which date you think will be the hardest to get.  I jumped to the Friday of our trip as we will be in Magic Kingdom and I wanted a FastPass+ to Seven Dwarf Mine Train and knew it would be difficult to get.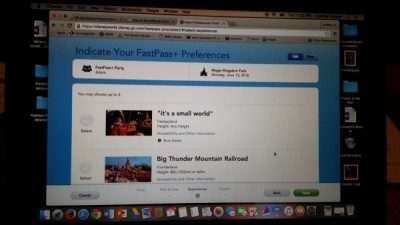 Choose Three *this will be changing in the future
Once you have chosen your park and date you get to select your ride preferences.  In Animal Kingdom and Magic Kingdom you can choose any three that you want to; however, in Epcot and Hollywood Studios rides are tiered so you are able to choose one from the first tier and two from the second tier.  After you have selected your ride options, Disney will then generate options.
Choosing your options
 Pick an Option
Disney previously generated four options for you to choose from giving you a variety of different times.  These could then be modified and adjusted to the times of your liking. Now you can select what time you want to ride the attraction and Disney will let you know if there is availability at that time.
 Make Adjustments
After choose three and picking a time option, you are then able to adjust and modify as needed.  You can do a variety of things such as change time, change ride, and adjust who is riding. This part took me the longest and with the new enhancements, I am glad to see that this tedious process has been adjusted.
 Finalize and Make More
Once you have made all the adjustments you would like, you can finalize and click done and then head back to the main screen to do it all over again.
With the new system, guests are able to combine steps 3, 4, and 5 by choosing a specific ride and then being able to choose a specific time as well.  I think this will be an amazing adjustment to the system as it took me so long to adjust all three of our passes for all of our days.  I think Disney has made great improvements to the system.
Overall the process can take some time, but once you make your FastPass+ reservations, your vacation will run that much more smooth.