This post may contains affiliate links for your convenience. If you make a purchase after clicking a link we may earn a small commission but it won't cost you a penny more! Read our full disclosure policy here.
By Erica Colmenares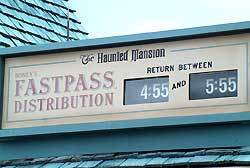 When I started researching for this article, I decided to go to the Mouse's Mouth, and see what the Disney site said about the FASTPASS. Here's what I found:
Disney's FASTPASS service is sure to help you get the most enjoyment out of your day at the Walt Disney World Resort! This free Guest Service saves your place in line, allowing you to venture off and experience more of the wonders of Walt Disney World — before returning to board your attraction with a minimal wait.
Now, if you are a WDW vet, that's probably an intelligible paragraph. But Disney newbie might be left with one or two (or ten) questions. Maybe even the very ones we answer below!
What is FASTPASS exactly?
FASTPASS (FP) is a great system that lets you "eliminate the wait" at the most popular attractions. What it does is hold you a place in a virtual line, for later in the day, so that you can enjoy yourself around the park instead of physically waiting in line. Then, you return later for your ride. Nothing feels better than being able to bypass the wait and cruise straight through the FP line.
Eliminating waiting sounds good. But how does it work?
Let's say you want to go on an attraction, but you don't like the look of that line. In front of the attraction, there will be two clocks. One clock shows the standby wait time for the attraction. A second clock shows the return time for the FP tickets being distributed at that time. So maybe it's 10 a.m. at Space Mountain. There's a standby wait time of 75 minutes, and the FP clock notes that tickets are available for noon – 1 p.m. Here's your chance to "eliminate the wait." Find the FP distribution machines, which are always clearly located in the immediate vicinity of the attraction. Take your park pass, insert it into the FP Machine, and, like magic, out pops your FP ticket (as well as your park ticket- don't forget to retrieve it as well). Take a look at the pass. It will give you a time window during which you can return to the attraction. In our example, you'd see something like "Enter any time between 12:00 p.m. and 1:00 p.m." Bring the FP ticket back to the ride during that time frame and get in the "FASTPASS Return Entrance," jumping past the standby crowds and hitting the attraction with a ten minute or less wait (actual waits may vary).
Ehrm, what's a standby line?
That's Disney-speak for the regular queue, the one that everyone is standing in to get on the ride. Any attraction that has the FP option will have two queues, one for "standby" riders, and the other for FP holders.
How much do I have to pay for each FASTPASS?
Nothing…nada…zip…it's one of the ways that Disney goes out of their way to improve their guests' experiences. Including yours!
How many FASTPASS tickets can I get in a day?
In general, you can get another set of FPs when the time-window for the set opens up or in two hours, whichever comes first. These times vary, but that's a good rule of thumb. You don't have to guess, though. Each FP ticket should have a printed line telling you when your next FP-opportunity is available. Something like: Another FASTPASS ticket will be available after 11:05 a.m.
During busier seasons, the wait time between when you can get FPs is often longer. That's because the FPs themselves are going quicker, so the 'virtual line' is longer. Thus, the lag-time between when you get your ticket and when your ride time comes around is longer.
Is FASTPASS on all attractions?
The FP service is limited to the busiest attractions, so don't go looking for the machines at "it's a small world" or One Man's Dream. Currently, Disney's FP is offered on the following Walt Disney World attractions:
Magic Kingdom: Splash Mountain, Space Mountain, Jungle Cruise, The Many Adventures of Winnie the Pooh, Buzz Lightyear's Space Ranger Spin, Peter Pan's Flight, Big Thunder Mountain Railroad, "Mickey's PhilharMagic;" Stitch's Great Escape!
Epcot: Test Track, "Honey, I Shrunk the Audience," Living With The Land, Maelstrom, Mission: SPACE, Soarin'
Disney-MGM Studios: Rock 'n' Roller Coaster, Tower of Terror, Star Tours, "Voyage of the Little Mermaid," "Indiana Jones Epic Stunt Spectacular!" "Lights, Motors, Action! Extreme Stunt Show"
Disney's Animal Kingdom: DINOSAUR, Kali River Rapids, Kilimanjaro Safaris, "It's Tough to be a Bug," Primeval Whirl, Expedition Everest
Wait – there are shows on that list! How can shows have the FASTPASS?
You will mainly run into shows with FPs at the Disney-MGM Studios. Instead of reserving you a place in line, your show FP will reserve you a spot in the theater. As indicated above, "Voyage of the Little Mermaid," "Indiana Jones Epic Stunt Spectacular!" and "Lights, Motors, Action! Extreme Stunt Show" all are FP-enabled. For Indiana Jones and LMA, the FPs are for specific show times. So if you grab an Indiana Jones FP, the FP show time will be printed on the ticket. Same for LMA. For "Voyage of the Little Mermaid," the FP window is only ten minutes (instead of an hour). This is also true for "Honey, I Shrunk the Audience" at Epcot's Imagination Pavilion.
What if the FASTPASS machine is not working or I'm having trouble?
First, there are several machines for each FP attraction, so try another machine. Also, there are usually Cast Members around all FP areas who will be able to assist you if you run into problems, or have questions.
What if I miss my FASTPASS schedule return time?
It very much depends upon the Cast Member working the attraction. Most are very understanding and will still let you on if you are a few minutes late, however they don't need to do this, so don't give them a hard time if they won't let you on.
We're arriving late in the day. Will there still be FPs?
There is a limit to the number of FP tickets distributed in a day. Sometimes very popular attractions (think Soarin' or Expedition Everest) will be out of FP tickets by mid-afternoon. Once they're gone, there is no other choice but the standby line. So, plan accordingly!
Can I go into a park and get FPs for my whole family, first thing in the morning?
A ticket has to be used for admission on that day in order to get a FP. So, for example, Mom can't get up early, grab everyone's admission tickets and go get FP tickets for Soarin'. Every admission ticket must have been put through the front turnstile before the distribution machine will generate a FP.
OK. But what about if my whole party's in the park? Can I get FPs for them all?
Yes, and this is a great idea! Just be sure you get everyone's tickets before you trek over to the FP-ride of choice. And make a plan for meeting back up. Remember, every person who is entering the attraction by the FP entrance will need their own FP. Even if that person isn't planning on riding, but just wants to keep the riders company through the queue.
Are FPs always available?
At times when park attendance is low, the machines may be covered and not available for use. During these times, though, the standby lines are usually not very long. Also, FPs do run out. By mid-day, the hot-ticket attractions may be out of their FPs, and late afternoon, other attractions may be distributing their final FPs for return times in the evening. Once an attraction's FPs are all distributed for the day, the distribution machines are covered up until the next morning.
What other ways minimize waits if the standby line is long and the FPs are gone?
The Single Rider lines are another option to avoid waits at certain attractions. Currently, there are Single Rider lines at Expedition Everest, Test Track and Rock 'n' Roller Coaster.
If I decide I don't need an FP, after I've gotten it, can I give it away?
What a sweet idea! Although technically FPs are nontransferable, we've given away FPs we didn't need on many occasions. The recipients are always so grateful- it's a nice way to spread the magic.