This post may contains affiliate links for your convenience. If you make a purchase after clicking a link we may earn a small commission but it won't cost you a penny more! Read our full disclosure policy here.
By Brad K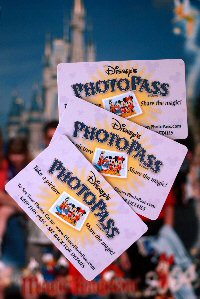 We've had some questions about just how Disney's PhotoPass works. So we cornered Brad K, who knows the ins and outs of PhotoPass. Here's what he shared.
Q. Can you tell me what PhotoPass is?
A. In a nutshell, the service is a network of photographers spread all over the four main parks at Walt Disney World, as well as its two water parks. PhotoPass photographers are also available at both parks at the Disneyland Resort and at the World of Disney store in New York City. Currently PhotoPass is not available on the Disney Cruise Line ships, but that may change relatively soon. Getting your photo taken is absolutely free with no obligation to purchase. So, other than a little time, you don't lose anything by trying it – and you don't need to make any financial decisions for up to two months after your vacation!
Q. How does it work, though? Do the photographers give you a tracking number for your photos?
A. The first time you have your photo taken, you will get a PhotoPass card. The card has a unique 16-digit alphanumeric code on it that the PhotoPass photographer scans in via a barcode that will link all the photos s/he takes to that individual card.
The card's code is more important than the card itself, so get a record of your code in some way in case you misplace the card: take a digital photo of it with your own camera, write the number down, send it via a text message, etc.
Part of the genius of the system is that there is no limit to how many cards you can have and combine at a later time. That means if your group separates, each group can have its own card, which can be combined with everyone else's later on. Also, should you forget the card in the room or lose it (glad you wrote the number down now?), you can ask for a new card.
As they are taken, photos at Walt Disney World are wirelessly transmitted to the PhotoPass system. This means photos can sometimes be ready to be viewed in the parks within minutes, although sometimes it can still take up to 24 hours to view them online.
Q. Where are the PhotoPass photographers?
A. Finding PhotoPass photographers can sometimes be tricky, as their numbers can fluctuate in response to crowd levels. Disney publishes maps of the four major theme parks with icons noting popular PhotoPass spots. Generally speaking, you can find them on the walkways where the park's icon is in full view as a backdrop. In the Magic Kingdom, there are a few up and down Main Street, by the rose garden and even on the bridge to Tomorrowland. At the Animal Kingdom, they are in front of the Tree of Life. In Epcot, you should practically be tripping over them as soon as you enter the park. At Disney-MGM Studios/Disney's Hollywood Studios, popular spots include Hollywood Boulevard with the Sorcerer Hat in the background and Sunset Boulevard with the Tower of Terror in view.
Other places you can find them include:
Character Meet & Greets – As a rule of thumb, it'll be great to find PhotoPass photographers at the Meet and Greets, but if you have your own camera, you may not want to leave it behind – just in case.
Private Photo Session at the Grand Floridian – The session includes around 40 photos taken around the picturesque resort and its beach. Pricing is either $49.95 for a PhotoPass card containing your photos, which can then be added to your disneyphotopass.com account, or $124.95, which will get you a PhotoCD with your images. If you choose to get the PhotoCD, you can save your receipt and CD and exchange it later on during your vacation for a new PhotoCD containing all of your PhotoPass images. If you have pre-purchased your PhotoCD (see below), you can add this private photo session by paying a $25 sitting fee. Call 407-824-1700 to make arrangements or for additional information.
Test Track in Epcot – Currently Test Track is the only attraction to feature PhotoPass technology. After exiting the attraction, guests can locate their ride photo on a bank of monitors and insert their PhotoPass card into a slot (which has an indicator that momentarily turns from red to green upon successfully crediting the photo to the card) to claim it.
Bibbidi Bobbidi Boutique – Guests receiving the royal treatment at Bibbidi Bobbidi Boutique in the World of Disney store at the Downtown Disney Marketplace also may take full advantage of PhotoPass. During the makeover, a photographer should be on hand to document the experience. In addition, there is a BBB photo studio, located near Marketplace Guest Relations, where divas can indulge in their own modeling shoot with all photos going directly to PhotoPass.
Q. I've heard there are special enhancements or tricks that the photographers do to make the photos magical. Can you tell me about that?
A. Of course – it wouldn't be Disney without some magic. Once you have your Disney PhotoPass photos loaded onto your account, you can enhance them with Disney borders and character autographs, personalizing them the way that suits you.
The PhotoPass photographers can also work some extra magic into your photos.Sometimes, characters can find themselves magically superimposed on your photos. The photographer will have you pose in such a way as it looks like you were really interacting with the character. For example, at the Magic Kingdom, guests may pose at the direction of their PhotoPass photographer and see a little extra pixie dust added to their photo (think Tinker Bell). Or a photo taken near Pirates of the Caribbean may magically feature Captain Hook. At Animal Kingdom, guests have found themselves cradling the future king, Simba, in their Tree of Life photos. And Stitch…well, guests innocently sitting on a park bench can find themselves sitting next to a not-so-innocent and very hungry Stitch.
If you're interested in these photos, be sure to ask the PhotoPass photographer. Sometimes they surprise guests with them, but the only way to guarantee you'll get one is to ask. Note that during busier times, it's possible they may not offer these special photos. Also, because it's not an entirely automated process, it's been known to happen that the respective character didn't find their way into the image. In that case, check in with the PhotoPass service center or use the contact form on disneyphotopass.com and it can usually be rectified.
Q. What other additional tips can you share about PhotoPass?
A. Use your own camera – When possible, use your own camera as a supplement, especially during photo ops. Don't rely on the photographer to capture all the magical moments. During group shots, ask the photographer or accompanying Cast Member to use your camera as well. The more photos you take, the greater the chances you'll get one worth keeping.
Ask for multiple photos per pose – You may be amazed how different two photos can be when taken in the same second. Potential problems multiply as more people squeeze into the image; it's possible someone may be blinking, looking away, etc. The more photos you take, the better your chances of finding a more suitable photo.
Record your PhotoPass card numbers – This one merits repeating. Have a digital camera? Take a photo of the card number. Have a cell phone? Text it to yourself. Blackberry? Email it to yourself. It's possible to recover photos if you lose the card, but avoid the headache by taking this extra step now.
Q. OK. So after all the photos are taken, and I've gathered all our PhotoPass cards, what's next?
A. If you'd like to view the photos on site and optionally purchase prints or another PhotoPass product, you can do so by visiting the camera centers located towards the entrance of any of the four main parks (Exposition Hall in Magic Kingdom, the Camera Center at Epcot, Cover Story/The Dark Room at Disney-MGM Studios and Garden Gate Gifts at Animal Kingdom). For assistance with PhotoPass purchases and questions, you can also visit County Bounty in MK's Toontown, Guest Relations at Downtown Disney and the PhotoPass kiosk located on the second floor of the Grand Floridian Resort.
Alternatively, you can view photos online by creating an account athttp://www.disneyphotopass.com. You can create the account at any time, even before your vacation if you wish. Even if you don't have access to the internet on your vacation, this will allow you to share your adventures with your family at home as long as they have the account information. Of course you will have to guide them through adding your cards manually, but at least even if you lose the card from this point on, the photos have been claimed and saved.
An important thing to note regarding disneyphotopass.com, however, is that you are time limited to how long your photos are available online, so keep this in mind when you make your decision. You have 30 days to claim the photos by adding the card number to your account and the photos will then expire and be deleted 30 days from that point. Once photos are deleted from the PhotoPass account, chances are dramatically slimmer that they can be restored. But if you provide ample time, you can request an extension on the photos (note that if photo is set to expire 6/12, it will expire at midnight at the start of 6/12, so your last real day is 6/11).
Q. What different PhotoPass products does Disney offer?
A. Quite a few. Here's a list:
PhotoPrints – Individual prints can be purchased either while at the parks or online. Very often, discounts are made available on the disneyphotopass.com site. Current pricing is as follows:
5×7 – $12.95
8×10 – $16.95
5×7 + 4 wallet size (all same photo) – $19.95
PhotoCD – This is the most popular and overall most cost-effective option. For the cost of $124.95, you will receive all of your PhotoPass images (this does not include photos you have uploaded to the website or Disney stock photos) on CD, as well as a license that you can print out and take with you to any digital photo processing center to order prints of any size at a drastically more affordable price than individual prints from Disney. You will get a copy of every PhotoPass image in your account, no matter how many CDs they consume. Each CD will contain a maximum of 300 photos (each CD containing multiple folders with 20 images each), so if you have 480 images in your account, you will receive it on two CDs.
PhotoMovie – Create your own DVD slideshow complete with Disney background footage of the parks, Disney music, Disney Characters and creative transitions for $49.95 (additional copies of the same DVD on the same order are $19.95 each). You can have up to seven chapters, any of which can be one of the four main parks or a "Beyond the Parks" theme, which is primarily one of the Disney Resorts (your choice). Each type of chapter allows for 7-16 of your PhotoPass photos, Disney stock images or your own photos you've uploaded to the website.
PhotoBook – This digital scrapbook comes at two pricing levels. The less expensive level, at $49.95, lets you use only images you have uploaded. The higher level, at $69.95, lets you incorporate your PhotoPass photos as well as Disney stock photos. There's also a difference in the covers, which is covered in detail on the disneyphotopass.com site.
Q. Whew, those are pretty steep prices. Are there ways to save on PhotoPass products?
A. Sure! Here goes:
PhotoPrints – Very often there is a discount available on PhotoPrints ranging in the 20-25% range. Look for the special offer when signing into your disneyphotopass.com account or check the Special Offers tab.
PhotoCD – There are a couple of big ways to save on the PhotoCD. First is by pre-purchasing PhotoCD before your vacation. By doing so, you will save $25 off the price of a PhotoCD. The best part is, it's satisfaction guaranteed. If, after your vacation, you decide you no longer want to purchase the PhotoCD, you can get a refund (restrictions apply, see site for full details).
PhotoBook – If you purchased or are planning on purchasing the PhotoCD, you can use your PhotoPass photos in the PhotoBook and still purchase the less expensive option of PhotoBook. Simply purchase the PhotoCD and then upload the PhotoPass photos you wish to use in the PhotoBook and select photos from the My Uploaded Photos section, effectively saving you $20.
If you'd still like more information, check Brad K's Almost-Definitive Guide To Disney's PhotoPass or the official Disney PhotoPass site.