This post may contains affiliate links for your convenience. If you make a purchase after clicking a link we may earn a small commission but it won't cost you a penny more! Read our full disclosure policy here.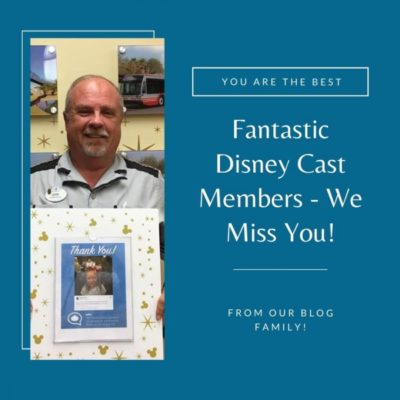 The Disney Cast Member is the heart and soul of the Disney experience. Our Mouse For Less bloggers contributed these stories about fantastic Disney Cast Members. We thank you all, we miss you and we hope to see you soon.
A Disney Cast Members Calms a Child's Fear
When Kristina Valcarce brought her anxiety prone daughter to experience Avatar Flight of Passage for the first time she prepped the child as best she could. She explained the ride mechanism and promised to hold hands the whole way. But, when it was time to ride the Cast Member advised them to keep her hands on the mountain banshee throughout the ride. This made her daughter get very upset. The Cast Member came over to her and very gently said "Look at me. Look at me," and then she bent down and calmly explained how the ride worked, how it was perfectly safe, and that if she closed her eyes "it will all go away." She must have spent a solid minute just talking to her. It calmed her daughter down right away, and wouldn't you know it, SHE LOVED THE RIDE. That is a grateful mom and a great Cast Member.
Saved by a Disney Cast Member
When Toy Story Land first opened, Tim Rogers and his wife had the opportunity to experience the new attractions before his family joined them on their trip. Arriving in the morning they ate at Woody's Lunch Box and then rode Alien Swirling Saucers. While exiting the ride there was one of those spontaneous downpours where everyone runs every direction. As Tim's wife was putting on her poncho she realized her wedding ring was missing! As they retraced their steps Cast Members pitched in on the search. Some from Woody's Lunch Box starting to go through the trash without being asked. Eventually, the entire team at Alien Swirling Saucers would run out between every ride and search the vehicles. Amazingly, one of the managers found her ring. There are so many people who helped that day, Tim did try to do the #castcompliment on Twitter, and one of them got recognized a few days later! But he mentioned that he'd like to express gratitude to all of them!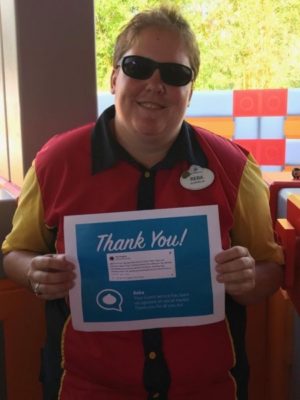 Disney Cast Members who take being Member of the "Cast" seriously
Being the Cast Member handing out Zip-Loc bags for your phone is pretty boring according to Kristen D. One Cast Member, instead of just asking "Ziploc?", put her own spin on things. "Got a phone you'd like to keep dry? Take a Ziploc! A pretzel you're saving for later?" she'd ask. "Grab a Ziploc? Do you have hopes and dreams that you'd rather weren't dampened by the brackish waters of Splash Mountain? Ziploc!" The hopes and dreams got to Kristen, who turned back and grabbed a Ziploc. The Cast Member got very excited and started clapping while singing "she's got a dream, she's got a dream" leaving Kristen and her family laughing. Thanks for that!
DawnS thanks John the bus driver who came to Disney by way of Atlantic City. John got Dawn and her family places in style. He did fun facts and trivia the entire trip. It made for a great start to their day and earned John recognition through a Cast Compliment.
You can't mention entertaining Cast Members without mentioning Yehaa Bob! KellyN recognizes Bob Jackson (Yehaa Bob) for being a phenomenal entertainer at Disney's Port Orleans Riverside resort. In addition to being a talented musician, Kelly says that Bob connects and interacts well with his audience. Bob has provided folks at the resort with many belly laughs and great memories. While Kelly can't wait to see him again you can see him put on occasional live concerts on Facebook.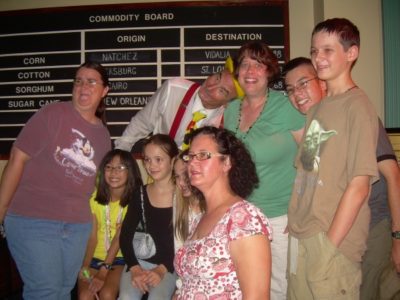 Sometimes it's the Little things a Disney Cast Member Does
One of Sunny McMurry's favorite Cast Member interactions occurred when they took their youngest daughter for a solo trip when she was around five years old. The trip was anything princess and anything she wanted to do (princess stuff just doesn't happen when her older brother and sister come with). Upon our check in at Wilderness Lodge, she asked to stop and shop at the gift shop. As we walked around, the Cast Member responsible for greeting people approached her and presented her with an autograph book and Mickey pen. It was incredible and unexpected and a great way to start the trip! Thanks!
When KellyN was on a group trip to the Animal Kingdom they all dressed in matching Disney Bounding outfits as a team building exercise. An Animal Kingdom Cast Member spotted us and arranged for the group to get a photo with Kevin from "UP" along with his pals Russell and Dug. They had fun they had posing for the pictures along with these movie stars. Thanks to an alert Cast Member they have great photos and fantastic memories!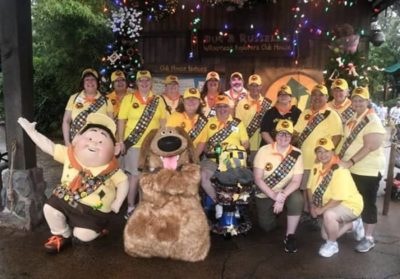 Our own great Cast Member memories
Throughout our Disney World experiences we have been fortunate to encounter many great Cast Members. Be it the cleaning person who gave us directions, the store clerk who magically produced underoos from below the counter or the waitstaff who arranged for meals that fit a restrictive diet. But one of our favorite memories was meeting Honest John and Gideon at Epcot's Italian Pavilion just when the World Showcase opened. Honest John and Gideon put on a show for just the three of us. The highlight was when Honest John passed his cane through his ears. It was silly, it was fun and it was something that they didn't have to do. That over 30 years ago and we still remember. We thank all the Cast Members who made our Disney experiences special.
If you want to learn how to thank a Disney Cast Member check out this advice from the Moms Panel.
What are some of your favorite Cast Member stories? Let us know yours in the comments, or on Facebook or Twitter!
Did you like this article? Make sure to share it with your friends! Check below for easy ways to share!
Want to visit a Disney Destination? Contact The Magic for Less Travel for more information and a free, no-obligation quote.