This post may contains affiliate links for your convenience. If you make a purchase after clicking a link we may earn a small commission but it won't cost you a penny more! Read our full disclosure policy here.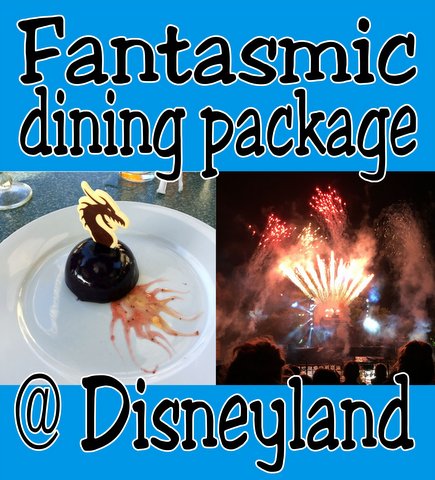 Disneyland's Fantasmic reopened this summer after a long hiatus for Star Wars: Galaxy's Edge construction. With the new version of the show comes increased demand for the limited viewing space along the riverfront. We planned to see Fantasmic during a very busy week, so we made a reservation to try out the Fantasmic dining package at Disneyland.
You can make reservations 60 days in advance for the two restaurants that host the package meals. The famed Blue Bayou option also includes a foam seat cushion, for a higher cost. River Belle Terrace still gets you into the same Fantasmic seating area and a full delicious meal indoors or outside. We picked River Belle Terrace on this trip. They still had walk-up availability for the package that day, but I would not count on that.
The Food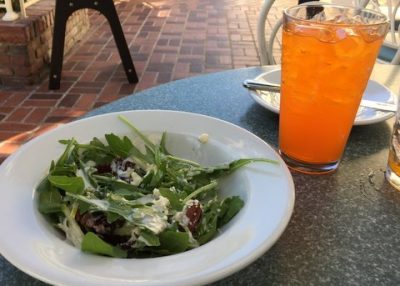 Salad along with my husband's frequently refilled beverage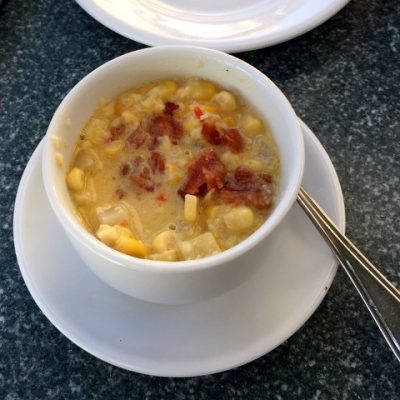 Each Fantasmic meal package includes an appetizer, entree, drink, and dessert. The menu is more limited than the regular offerings but includes plenty of favorites. We began with a salad and the corn chowder, both of which were well-executed.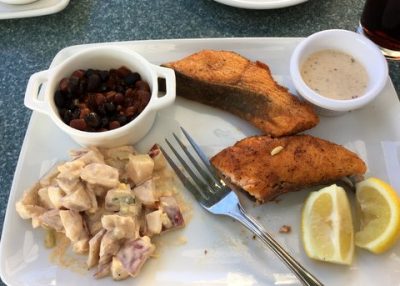 I ordered the "catch of the day," which turned out to be a tasty arctic char.  At first I didn't think I would be able to eat it all (after my chowder and anticipating dessert), but it was well-seasoned and I inhaled the whole portion! I ate most of my baked beans but only some of the potato salad.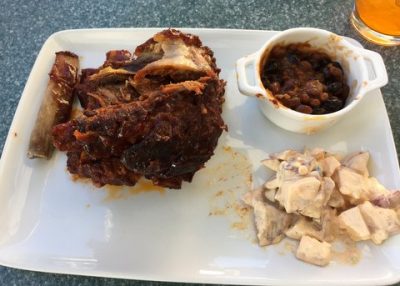 My husband ordered the pork spareribs and really liked them. The meals all come with baked beans and another side. Both of us thought the potato salad was a little frou-frou, but we weren't worried about going hungry.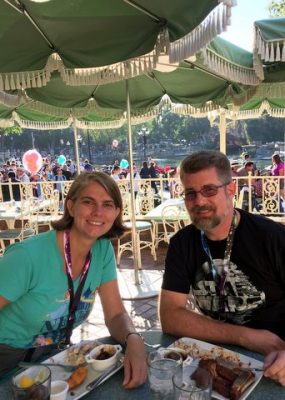 The setting — outdoors along the Rivers of America — felt upbeat but relaxing. We could see the hubbub but stayed out of it. We told our server we wanted to take our time and he obliged.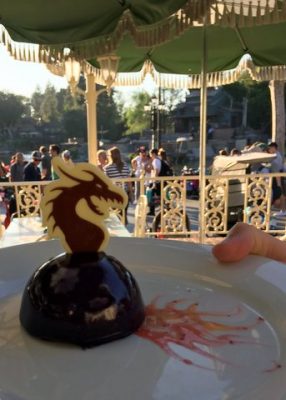 Someone in every party should order the Maleficent dragon, if only for the pictures. But the dessert is worth it for the flavor too — a complex blend of chocolate base, spicy blackberry/chocolate ganache, and orange/vanilla sauce. It doesn't sound like it should work but it really does. Needless to say I savored all of this.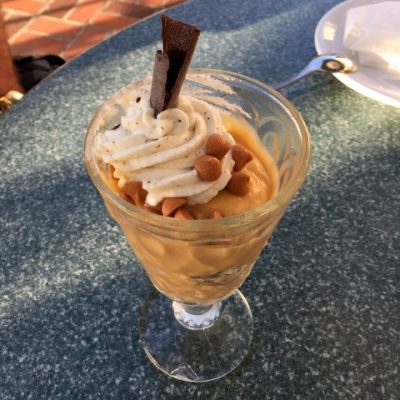 If you're not a Maleficent fan, your other dessert options include strawberry shortcake and butterscotch pudding. My husband's butterscotch pudding was a generous portion.
Up to $75 Disney Gift Card!
Deal
Book a Disneyland package of $1500* or more and receive a $25 Disney gift card. Packages of $3000 or more receive a $50 Disney gift card. Packages of $5000 or more receive a $75 Disney gift card. Gift cards are accepted at many Disneyland Resort locations and can be used to pay for shopping, dining, and so much more. We are sure you will find a way to put this to good use!   Read More
More
Less
The View and Value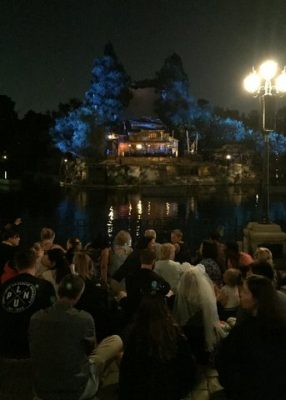 Our view for Fantasmic, almost directly centered
Regular FastPasses are available for each showing of Fantasmic, but they have a very off-center view. The Blue Bayou and River Belle Terrace dining packages get the center area and allow guests to sit down for the show. FastPasses and anyone else on the fringes are required to stand. That makes this package a great choice for visitors who are unable or unwilling to stand in the FastPass return area, before the show, and during it, all of which could total well over an hour.
For monetary value, the Fantasmic Dining Package is a spectacular deal for a theme park. The value of all of our food averaged out to about $5 less than each package's cost. So we paid only $5 to have a central seated view of Fantasmic, plus we gained back about an hour of valuable park time not languishing in the FastPass return area. Instead, we spent the hour riding Big Thunder Mountain Railroad with MaxPass and Pirates of the Caribbean, strolling up to the check-in area near the Harbour Gallery kiosk half an hour before showtime.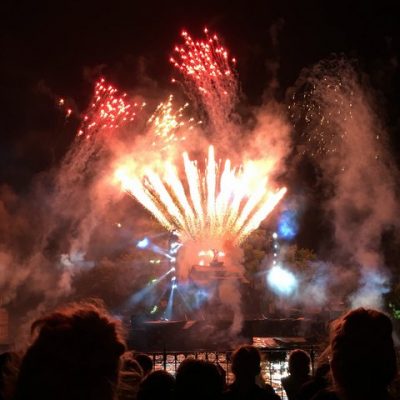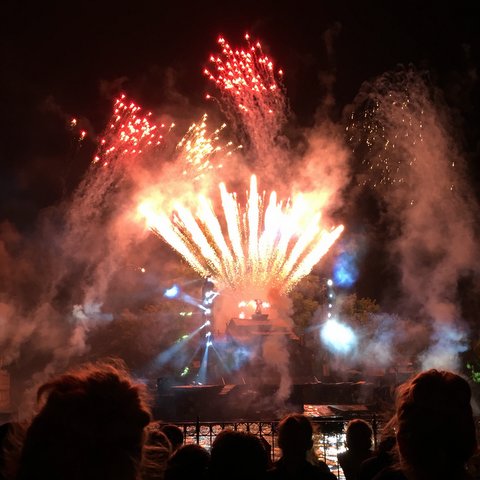 A great view of a Fantastic Fantasmic
If you don't like the menu options or pricing for River Belle Terrace or Blue Bayou, Disneyland offers a less expensive on-the-go package from Hungry Bear restaurant. Word is that they will allow you to order off the regular menu and not just the Fantasmic choices. I don't think the upcharge for the FastPass is quite as favorable as we had at River Belle Terrace, but the combination of lower price and different options may satisfy larger groups or picky eaters.
While we don't always spring for such an elaborate meal, I felt the combination of food, atmosphere, and value made this a fabulous option. If you want to have a nice dinner and plan to watch Fantasmic, combine the two and get a Fantasmic dining package at Disneyland!
Have you experienced the Fantasmic Dining Package? What did you think of it and its value? Share your thoughts in the comments.
Did you like this article? Make sure to share it with your friends! Check below for easy ways to share!