This post may contains affiliate links for your convenience. If you make a purchase after clicking a link we may earn a small commission but it won't cost you a penny more! Read our full disclosure policy here.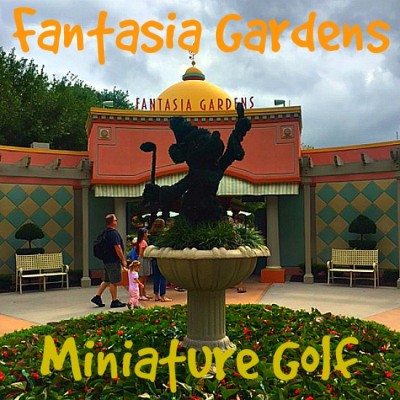 If you're looking for some fun (and a challenge!) on your next trip, be sure to visit the Fantasia Gardens Miniature Golf course near the Swan Hotel!
We all know that a trip to Walt Disney World is completely packed full of park time and great restaurants – but if you're looking for something more relaxing to fill a couple of hours the Fantasia Gardens Miniature Golf Course is a perfect choice!  Especially if you've gotten some free mini golf coupons with your Walt Disney World vacation package.
Getting There: The Fantasia Gardens Miniature Golf Course is located near Disney's Swan Hotel, which makes getting there extremely easy.  Just hop on a bus from any park to the Swan (or even one of the other nearby Epcot resorts) and walk toward the road (away from the Crescent Lake waterways) and you'll be there in no time!
The Courses: There are two courses to choose from at Fantasia Gardens – the Gardens Course and the Fairways Course.  The hours for each are slightly different but you probably won't notice!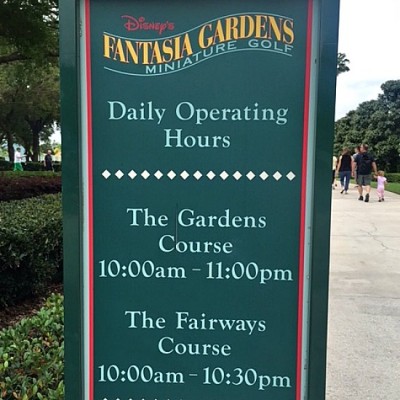 Fantasia Gardens Operating Hours – April 2016
The Gardens Course is closest to your standard miniature golf course, but Disney-style!  This course is themed, predictably, like a golf course you'd see in Fantasia.  Sorcerer Mickey is in control here and he's summoned stone versions of several of the Fantasia characters to guard the golf holes.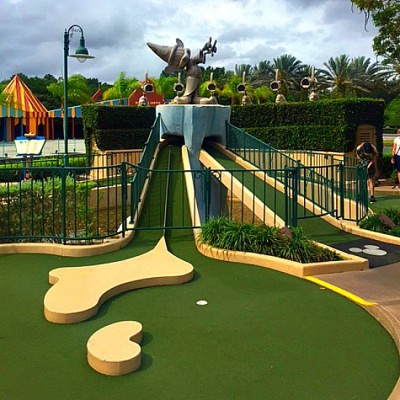 Watch out!  Sorcerer Mickey and his Broomsticks will get you (wet!)
The Gardens Course is, honestly, my favorite miniature golf course I've ever played (and I play a LOT of mini golf!)  It's one of the more challenging mini golf courses I've ever played – I actually hit the fence in the picture above more than 3 times – in a row.  Each hole has its own obstacles and they're all very different so you'll be on your toes all the way through!
The Fairways Course is something completely different!  It is, very literally, miniature golf.  Meaning it's a miniature version of an actual golf course.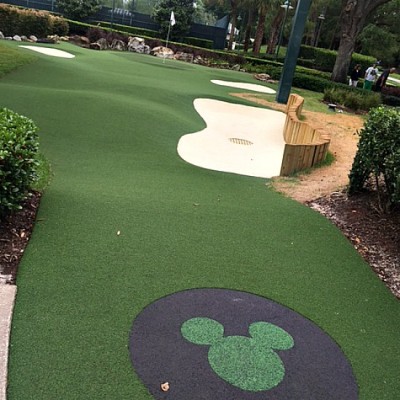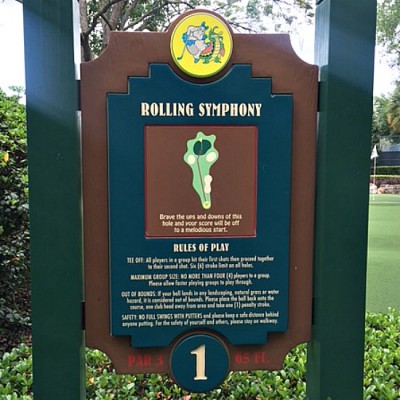 With "sand" traps and everything!
On the Fairways Course, the holes don't have the traditional miniature golf obstacles, but you'll find sand traps, water hazards and plenty of slopes on the greens – so this course is especially fun for people who love to golf but don't want to take a whole day out of their vacation to visit one of the "normal" Walt Disney World golf courses for 18 holes.
Which Course Should I Do?
The holes on the Fairways Course probably won't appeal to most children nearly as much as the Gardens Course, so keep that in mind before you visit.  However, that also means that the Fairways Course is usually far less crowded than the Gardens Course!  And, at Walt Disney World, who doesn't love to skip lines for anything you can.  This course is always the first choice of my husband, who loves to golf on actual golf courses regularly.
However, my first choice is always the Gardens Course!  I like to say that I need the extra obstacles to really challenge myself (although that might be a little sarcastic).  As I mentioned above, the Gardens Course is my favorite miniature golf course ever because I find it more challenging than most other miniature golf courses but it's not so hard that kids or occasional mini golfers to enjoy – so it's really up to you to decide what would work best for your family!
If you've booked a Magic Your Way vacation package, you will get 4 free miniature golf passes – make sure you use them if you have time in your vacation!  You don't often get things for free at Walt Disney World and a visit to one of the miniature golf courses is well worth it!  If you don't have free passes, the price is very reasonable (currently $14 for adults and $12 for kids) and is, in my opinion, a great value for an hour of fun!  And if you're really into miniature golf, you can visit both Walt Disney World mini golf courses and get a discount (read our overview of Winter Summerland here).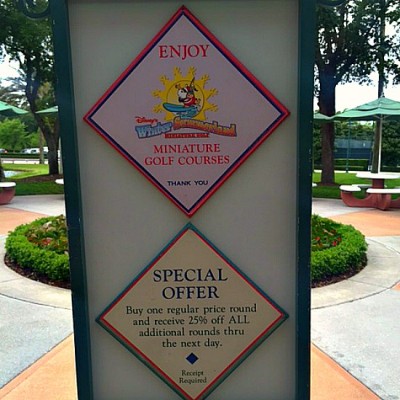 Have you ever done the Fantasia Gardens Mini Golf Course? Share your thoughts in the comments section.
Incoming search terms:
Disneys Fantasia Gardens Miniature Golf Course language:en
easiest way to get to fantasia gardens minature golf