This post may contains affiliate links for your convenience. If you make a purchase after clicking a link we may earn a small commission but it won't cost you a penny more! Read our full disclosure policy here.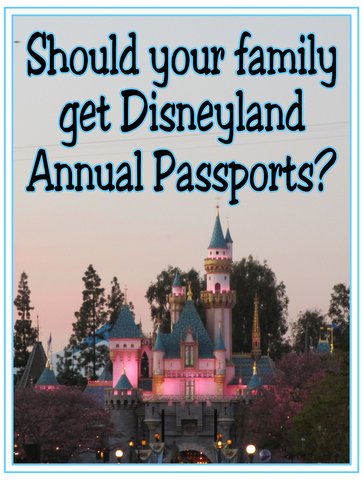 Even if you don't live right in the shadow of Space Mountain, it's every Disney fan's wish to someday hold a magic ticket — an Annual Passport. In our first annual pass article, we covered how to work the discounts of holding one Annual Passport to save you money at Disneyland, even if you only visit once. Now it's time to really dream big: what if you had family Disneyland Annual Passports?
First, let's clarify that this article is less about saving money and more about maximizing value — buying Annual Passes to Disneyland takes more than a mouse-sized amount of money. Currently, a Deluxe Annual Pass will set you back $619 — that's $2476 for a family of four! But with a little planning and pixie dust, you can turn that investment into a whole year of Matterhorn-sized memories!
If you live outside of Southern California, I would recommend this option most to a few groups of people:

If you go to Disneyland twice during the year and purchase three-day parkhoppers both times, it will cost you $630 per person. Three two-day parkhoppers are even more pricey. If you can work around a Deluxe Annual Pass' blockout dates (mostly spring/summer Saturdays and big holidays), you'll save money already.

Disneyland no longer offers a six-day ticket for U.S. residents. If you come from a great distance, or want an extended visit to the Happiest Place on Earth, you're better off with an annual pass, especially when you factor in food and souvenir discounts during a long stay.

Your "year" starts the first day you use an annual pass. Could you plan your yearly summer Disney vacation for the last week of July this year, and an earlier week in July 2018? Or an after-Christmas visit one year and before Christmas the next? You'd have two years of vacation activities paid for with one set of family Disneyland Annual Passports.

A year with an annual pass could get you into the spring Food & Wine Festival and the summer Pixar Fest. In the fall, come back for rides on Haunted Mansion Holiday and Space Mountain Ghost Galaxy, and discounts on Mickey's Halloween Party. And who could resist the unmatched Christmas season offerings?

Do you visit family nearby (with a place to crash for free)? Do you have business in the area? Conventions in Anaheim? Would you want a day or two at Disneyland onto a San Diego or Hollywood vacation? Any of those could add a few extra Disney days to your "once a year" trip.
Of course, all of these visits will benefit from all of the hotel, food, tour, and souvenir savings we outlined in Part 1.
But how?
ShopDisney seems to be all out of magic wands, so how to pay for all of this? Annual passes could be a showstopper family present, with the first trip scheduled before the kids go back to school in January, or for spring break. Asking grandparents for Disney gift cards or to sponsor one Annual Passport could be a very memorable gift. You could buy annual pass vouchers one at a time as you have the funds; they can be activated through the end of the year you buy them.
If you are the type of family that would love to visit Disneyland more often, take a few minutes to think about how buying family Disneyland Annual Passports might work into your vacation plans. You might find that you'll be singing along to "Zip-a-Dee-Doo-Dah" and "Yo Ho, Yo Ho" more often than you thought!
Has your family had Disneyland annual passes? Did you feel they were a good value for your family? Share your tips in the comments of how it worked for you.

Did you like this article? Make sure to share it with your friends! Check below for easy ways to share!