This post may contains affiliate links for your convenience. If you make a purchase after clicking a link we may earn a small commission but it won't cost you a penny more! Read our full disclosure policy here.
by Tech. Sgt. Kevin Wallace
CJTF-101 Public Affairs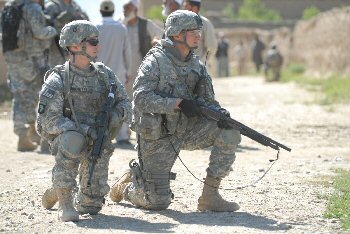 Staff Sgt. Steven Ferretti and Sgt. Tyler Fernlund, entry control point Soldiers based at Bagram Air Field, Afghanistan, stand guard duty. Despite a weak economy and soaring fuel prices, service members are still traveling and taking vacations while on rest and recuperation leave. (U.S. Army photo/Spc. Scott Davis)
BAGRAM AIR FIELD, Afghanistan (August 18, 2008) – One by one, heels snap together as hundreds of service members, with their rifles slung in front of their torsos, assume the position of attention and salute the flag-draped caskets traveling down Disney Drive on Bagram Air Field, Afghanistan.
Disney Drive, named for Spc. Jason Disney, who died after suffering injuries at Bagram on Feb. 13, 2002, is the air field's main thoroughfare and is the site of Fallen Comrade ceremonies, which are almost a daily occurrence here this summer.
Sadness can be overwhelming and soldiers need to get away from it even if escaping means spending money in a time when the economy is faltering, said Master Sgt. Eric Elliott, a barrel-chested soldier on his 16th combat deployment.
Elliott said he has seen too many fallen companions pass by in the somber ceremonies. "I've been through hell and I need my two-week R&R [rest and recuperation leave] with my sweetie and kids," said Elliott.
To escape his solemn memories of Bagram's Disney Drive, Elliott is taking his family to a more joyful Disney. He bought tickets to the Walt Disney World Resort in Orlando, Fla., so "I can spend quality time with my family and get my head together before returning to this rat race of a war again," he said.
Despite a weak economy and soaring fuel prices, U.S. troops are still traveling and taking vacations while on R&R.
"Taking a vacation is very helpful to families because it allows the family to get to a neutral spot to spend maximum time together," said Maj. Karen Meeker, Combined Joint Task Force-101's deputy chaplain.
The chaplain suggested service members should "spend the maximum amount of time with their immediate family without distractions. A vacation normally proves to be valuable for most families."
Despite an uncertain economy, some companies still are offering military discounts or even free tickets.
The Anheuser-Busch company extended its "Here's to the Heroes" campaign and offers free admission for a service member and three family members at any of its parks. Troops and their families can spend a complimentary day at: Busch Gardens in Virginia or Florida, any SeaWorld park, Adventure Island in Tampa, Fla., Water Country USA in Williamsburg, Va., or Sesame Place in Pennsylvania.
Shades of Green, a morale, welfare and recreation hotel on Disney World property, offers discounts to troops if they visit while on their R&R leave. According to its Web site, Shades of Green offers a 20 percent discount on rooms and other accommodations to troops serving at least 12 consecutive months in the war zones.
Like Elliott, Spc. Desmond Marks plans to take his wife and child to Orlando to spend part of his R&R at the Magic Kingdom.
"I just can't wait to get away from this place and recharge," said Marks, CJTF-101's webmaster, who is serving his first overseas deployment.
Marks agreed that soldiers can't let a weak economy deter them from enjoying their brief time at home. Most junior enlisted soldiers do not have money to blow and Marks is no exception.
Marks planned his vacation with his budget in mind and he intends to stay at his father-in-law's time-share property in Orlando. He also plans to drive to Florida instead of flying to save money, he said.
An Army officer, 1st Lt. Nathan Perry, agreed with Marks and warned of the hazards of going into debt over a vacation.
Soldiers have alternatives to running up a hefty tab for a family trip, said Perry, a prior-enlisted soldier from the Mississippi National Guard.
Soldiers could go camping or partake in a multitude of other inexpensive trips and still recharge their batteries, said Perry. "I made it through college with little money going on these sorts of trips."
In addition to the price of the vacation, soldiers have to plan for transportation costs too, said Perry. As gas prices continue to rise, service members make adjustments accordingly.
The Information, Tickets and Tours Office on Dover Air Force Base, Del., reported sales this summer have been good but also said it is selling more tickets for local parks and events.
Not as many airmen are taking long-distance trips, said April Stover, a Dover AFB ITT agent.
"We ordered 300 tickets for Hershey Park, [Pa.,] sold out and had to re-order more," said Stover, explaining that Dover-based airmen can't afford the price of airfare or gas and opt to vacation closer to Delaware.
Whether they take an elaborate vacation or just go camping, soldiers need to take advantage of their two-week R&R period in the middle of a God-forsaken 15-month deployment, said Elliott.
"Three words sum up my idea of how important R&R is: life, limb and wife," he said. "If it doesn't kill me, seriously maim me or cause my wife to leave me, I'll find a way to make it happen."
Elliott explained a soldier never knows when he may get blown up or if he will make it home again.
"If I can foster a last memory of me and my family at Disney World, then I will damn sure make it happen," he said. "I never know when it may be my turn to be paraded down Disney over here – life is way to short to not enjoy what time you have."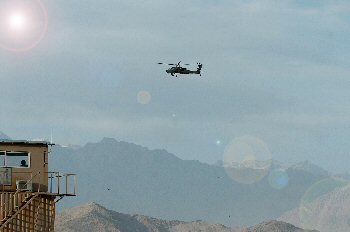 Apache attack helicopter soars over Bagram Air Field, Afghanistan. Combined Joint Task Force-101 Soldiers and Air Force, Navy and Marine Corps individual augmentees support daily missions across Afghanistan and, according to many, do not let a weakening U.S. economy deter them from getting away from it all and taking vacations during their rest and recuperation leave. (U.S. Army photo/Tech. Sgt. Kevin Wallace)
For more news and information about CJTF-101, please visit www.cjtf101.com