This post may contains affiliate links for your convenience. If you make a purchase after clicking a link we may earn a small commission but it won't cost you a penny more! Read our full disclosure policy here.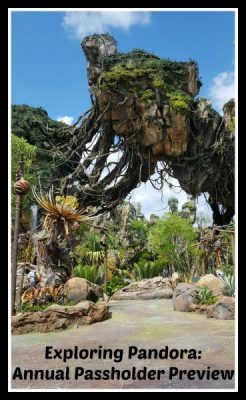 I have been a Walt Disney World Passholder for a long time and have enjoyed many perks over the years.  This year though, Passholders were offered the best opportunity yet: preview days of the Pandora-The World of Avatar!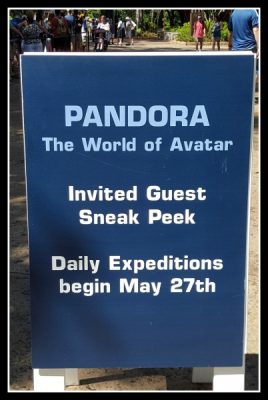 My preview day finally arrived and as I waited to enter Pandora, my heart was racing. What was I so excited about though? I only saw Avatar once and thought it was ok, but definitely not my favorite. I barely even remembered the movie. Was I even going to like Pandora? Deep down, I knew that I would because I had faith that the Disney Imagineers had created an experience that would appeal to all guests, whether they have seen the movie or not.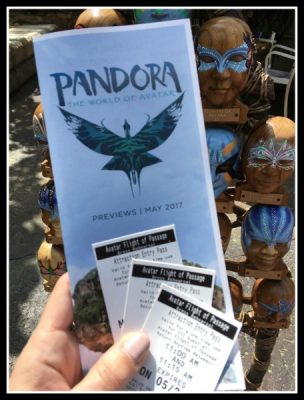 Here We Go!!
As I crossed the bridge to enter Pandora, I was immediately impressed by the floating mountains. They are massive!  I am still not sure how the Imagineers were able to make them look like they are suspended in the sky.  I am sure that there is some really great engineering behind what makes them float, but I am content to call it Disney magic and leave it at that.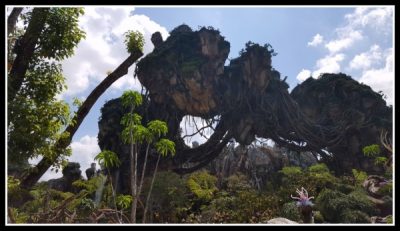 The Massive Floating Mountains
When this expansion was first announced, I wondered how well Pandora would fit in with the rest of Disney's Animal Kingdom. As I looked around at everything though, any concerns I had were quickly erased. Animal Kingdom is all about nature, plants, and animals.  Pandora has all of these things. Even if they aren't the animals and plants that we are used to seeing on a daily basis, Pandora has its own array of amazing plants and creatures for guests to enjoy. Disney has also found ways to tie in the overall conservation theme of Animal Kingdom, so it fits in very well with the rest of the park.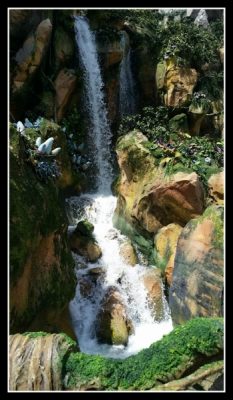 The Beauty of Pandora
The attractions are another big draw for guests. When I first heard about the attractions that were coming to Pandora, the Na'vi River Journey is the one I could not wait to ride. The concept art showing bright, colorful, bioluminescent plants really excited me. Plus, I love a good boat ride!
The Na'vi River Journey turned out to be even more spectacular than I imagined. What I love most about this attraction is that every bit of the ride fits the theme. Every. Single. Inch. You are surrounded by stunning plants and unique creatures. There are no blank walls anywhere. Whether you look to your right, left, up, or down, everything is glowing in remarkable colors.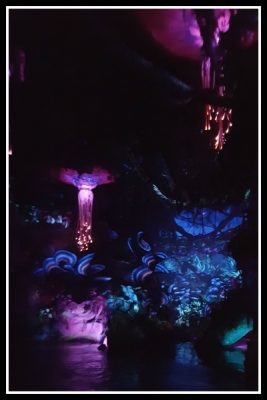 Bioluminescent Rainforest
As you near the end of your journey, you encounter the Shaman of Songs. This is the most intricately designed animatronic that you will find in all of Walt Disney World. She is truly amazing!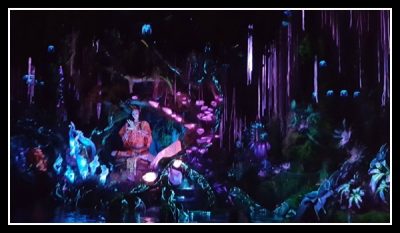 Shaman of Songs
Because I was so excited about the Na'vi River Journey, I wasn't really focusing on the opportunity to experience Avatar Flight of Passage. I'm not the biggest fan of simulator rides, so I wasn't even sure I was going to like this one.  Perhaps that is why it completely took me by surprise and absolutely blew me away!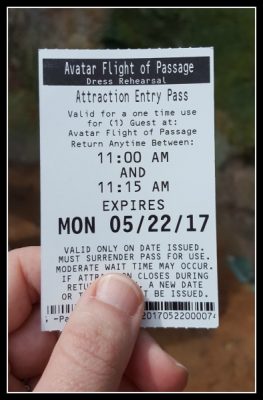 FastPass for Flight of Passage
I wasn't sure what to expect as I walked through the FastPass queue to Flight of Passage. "Like Soarin'…only better" was one of the explanations I had heard and I didn't really know what that meant. After experiencing this attraction, I can see why this is a hard attraction to describe, but we'll get to that.
After walking through the queue, you are escorted to a chamber where the first part of the pre-show takes place. Your guide on the screen then explains how Ikran, a.k.a. Banshees, live in rookeries and that humans are not able to venture into those areas…but Avatars can. Long story short, we are going to "link" to an Avatar for this unique journey.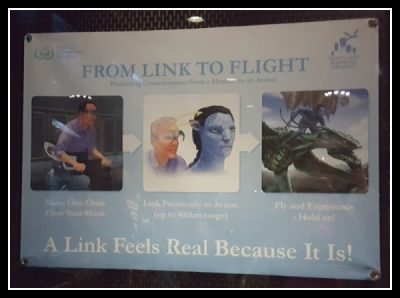 Next, you move to a room where you are given a pair of glasses to wear. You are presented with a little more information on what to expect and then it's time to take flight!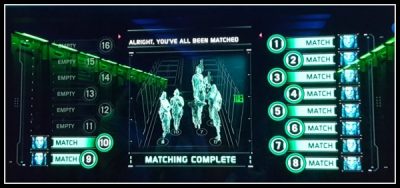 Linking to an Avatar
Once you store any bags that you may have, you find the link chair that corresponds to the number you were given. These seats are kind of like a motorcycle or bike with no wheels. I felt a bit awkward at first, but got used to the seat once I settled in.
From moment you take flight until the end of your journey, you will feel like you are really flying over the world of Pandora. Even though I knew I was sitting on a link chair, I could really feel the sensation of flying on a living, breathing Banshee.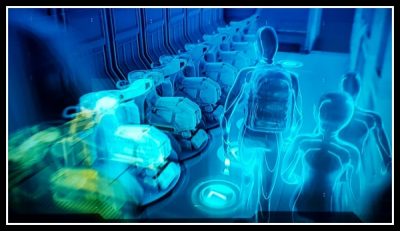 Learning How Link Chairs Work
One thing I don't usually like about simulator attractions is that they often feel cramped and stuffy. Even though you are locked safely into your chair on Flight of Passage, the room feels more open and it is easy to forget that there are people all around you, not just next to you.  (If you can tear your eyes off the screen for a second, take a look around and you will see what I mean.) Also, because you are "flying", there is constant wind in your face. This may help for those who sometimes experience motion sickness.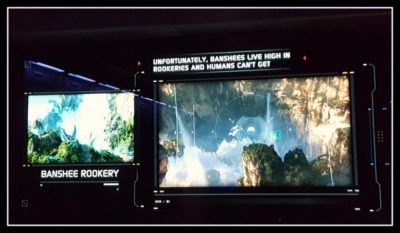 Flying with Banshees
This attraction definitely moves more than Soarin', but the movements were not jerky. There are some intense moments where you swoop through the sky, but also parts where you are gently soarin' (sorry, couldn't resist) over Pandora. It's a gorgeous and thrilling ride!
The preview was a FastPass only event, but we did get the opportunity to walk through the Avatar Flight of Passage queue after riding. I imagine that when Pandora officially opens that this attraction will have long wait times, but if you have to be stuck in a queue, this is definitely the place you want to be!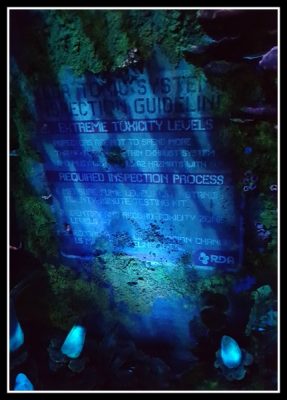 There is so much to look at in the queue! The amount of detail is unbelievable. I wanted to spend a lot longer here than the 15 minutes I spent walking through. The queue is just a spectacular as the ride itself. The highlight of this long winding walk to the ride is a life-size Avatar floating in his tank, waiting to be released out into the world. The Cast Members we met referred to him affectionately as "Hank in a Tank" and "Avatar in a Jar," but told us that his real name is Hans. He was amazing!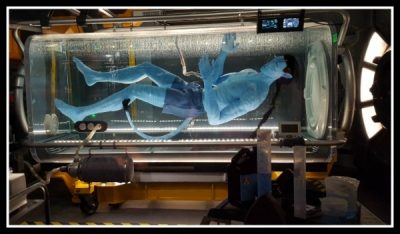 Hans Floating in his Tank
In true Disney fashion, the exit will lead you directly into the gift shop. I took a look around and immediately found my favorite collectible–pins. No matter what souvenir you are looking for, you are sure to find it here.
After that, we headed to the Banshee Rookery to check it out. If you want your own Banshee to take home, this is where you need to go to "bond" with and adopt a Banshee.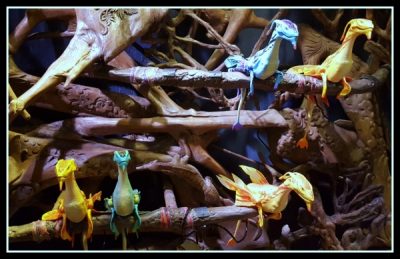 Banshees Waiting to be Adopted
These little guys are a lot of fun. The Cast Members in the Rookery can teach you how to hold and handle your Banshee. My little Banshee sat on my shoulder, flapped his wings, and moved his head. Of course, you have the controls to make all of this happen, but from a distance, it looks like the Banshee moves on its own. I decided not to take my Banshee home with me, but I had a great time playing with him in the store.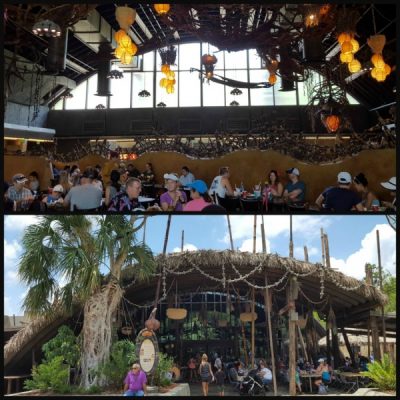 Indoor and Outdoor Seating at the Satu'li Canteen
After spending the early afternoon exploring, we were definitely ready to eat, so we stopped by the Satu'li Canteen to checkout some of the exotic offerings. The menu was different and interesting. Even though there were several things I wanted to try, I just had to order the cheeseburger pod because I knew I wasn't going to find that anywhere else. I opted for the kids' meal portion. I also went for the blueberry cream cheese mousse because it was just too pretty to pass up.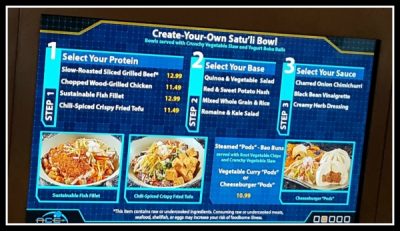 Satu'li Canteen Menu
I did not read the full description of the cheeseburger pod and was really surprised when I took my first bite and realized that this thing tastes exactly  like a cheeseburger. Including the toppings! There were hints of ketchup, mustard, pickles. All of it. I loved it!
The pod was served with root chips and grapes. My only complaint about the chips is that some of them were really crunchy, almost to the point of being hard to chew. Others, I think were made from sweet potatoes, and were light and crispy. I would have liked to have had more of these and skipped the super crunchy ones.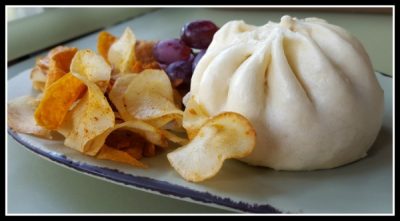 Cheeseburger Pod and Chips
The blueberry cream cheese mousse was delicious. It was fluffy and creamy. It had the flavor of cheesecake, but the texture was not as dense. I would definitely order it again.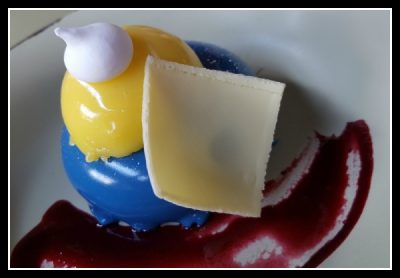 Blueberry Cream Cheese Mousse
We had a large party, so the others with me ordered a wide variety of meals. We got every option from the kids' menu and all of the kids seemed happy with their choices. A few in our group also ordered the Satu'li bowls. We liked that you could customize what you wanted in your bowl. My husband ordered the chicken and rice and we both thought that it was yummy.  Not as unique as some of the other choices, but good.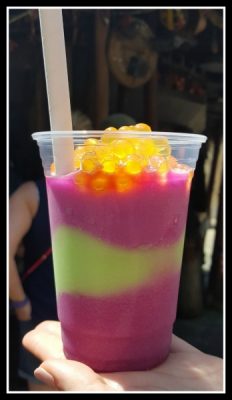 Night Blossom (Non-alcoholic)
After lunch,  I grabbed a Night Blossom from Pongu Pongu to sip on as we walked around. It was cool and refreshing, definitely different, but a bit sweet for me. I gladly shared because it was just too much sugar for me to finish all of it. We also tried the lumpia. I loved the combination of pineapple and cream cheese in this snack.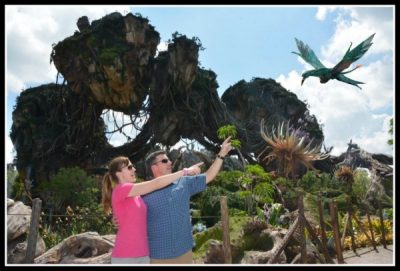 It's a bird, it's a plane, it's a…Banshee!
We stopped for Photopass photographers and posed for various photos. We even had the chance to take a Banshee Magic Shot. After some photos, it was really starting to get hot outside and we began to wrap up our visit to Pandora. I will confess that I did not want to leave. My day on Pandora was absolutely perfect!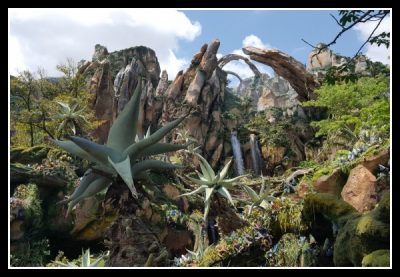 The Breathtaking Beauty of Pandora
The only thing I did not get to see was what the world of Pandora looks like at night. As much as I wanted to see it in the dark, I am a little glad that I didn't. It leaves something really spectacular for me to look forward to on my next visit and I cannot wait!
Are you looking forward to visiting Pandora – The World of Avatar? Share in the comments what you're excited about in the comments.