This post may contains affiliate links for your convenience. If you make a purchase after clicking a link we may earn a small commission but it won't cost you a penny more! Read our full disclosure policy here.
EPCOT is a wonderful park to visit if you wish to learn about and see certain countries but do not have a big enough wallet to pay for all of that traveling. Mexico, Norway, China, Germany, Italy, the United States, Japan, Morocco, France, the United Kingdom, and Canada are the nations you will find there, each having a very educational environment.
Being homeschooled, my brothers and I study a country of EPCOT before each trip to Disney World. One year, we studied Mexico where we learned about its culture, products, and food. We love Cantina De San Angel, a quick service restaurant. It has delicious entrées, and the churros, long cinnamon-covered bread sticks, are the best. However, they have changed the restaurant since we last visited EPCOT in 2009. I hope they have not taken away the churros! On another trip, we ate at San Angel Inn, but it did not have tasty food or churros.
We studied Norway two years ago. Before the trip, we learned about this country in our history class. We studied a great deal about Vikings. We also made some fun projects such as a drinking horn and a stave house. Seeing the actual stave church with weapons and models of boats inside of it in Norway at EPCOT was cool, but we were disappointed that the huge Viking boat was missing. A cast member told us it had rotted.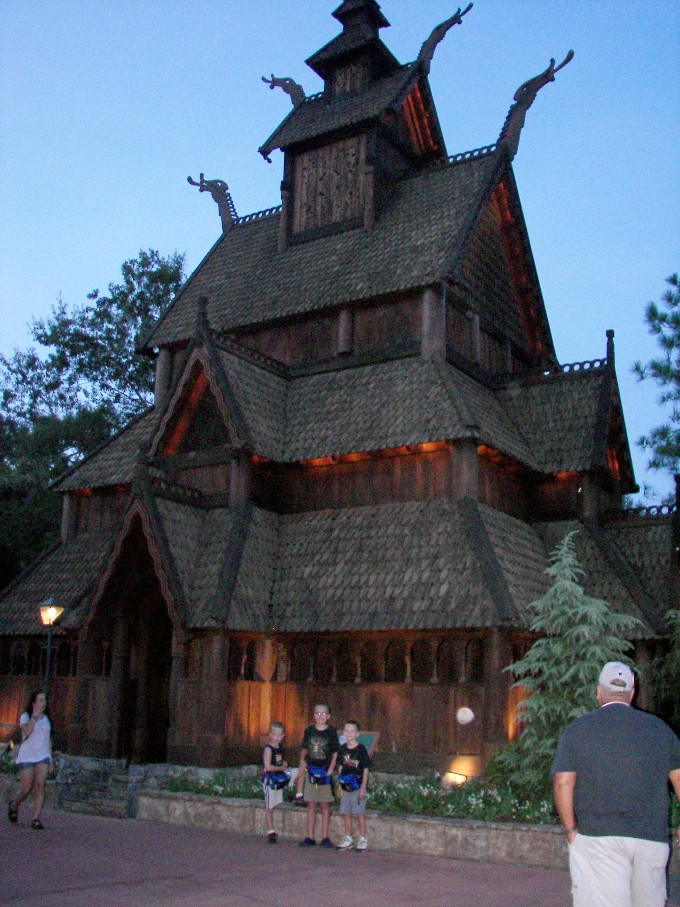 My favorite country of all the nations I researched was Morocco. I learned interesting facts about its history, culture, works of art, food, and more. I even listened to its national anthem.  In the World Showcase, I noticed how Morocco was just like the description I had read. It had blue, gold, and white tiles almost everywhere in the country. There was also a fountain and tents set up. Inside the stores and restaurant were many rugs, some even for sale.
The World Showcase represented Morocco perfectly. That is, almost perfectly. There was one Hidden Mickey that definitely would not be in the actual country. Hanging on a door were three plates that made a set of Mickey ears.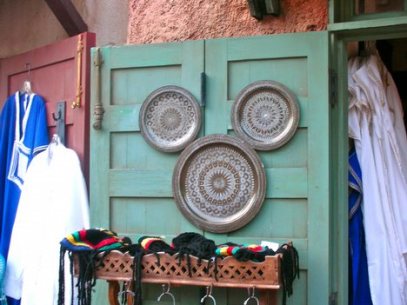 We visited nearly every store in Morocco to learn more about the culture and what Moroccans manufacture. Of all their products, I liked the instruments most of all. I found many types in one of the stores. My favorite was the bamboo flute, which I purchased. The cast member from Morocco wrote my name on it in Arabic, Morocco's language. (The people who work in the World Showcase are always citizens from the country they represent.) I still have my flute and play it occasionally. The next year when we passed through Morocco, I bought a second instrument at the same store.
My family and I ate at Restaurant Marrakesh, the sit down restaurant of Morocco. I was only nine that first time and had to eat a kid's meal. However, we went again in 2009, and I enjoyed an adult meal. I chose lamb based off the taste of Mom's entrée the previous time. It was delicious. It tasted like steak but a little less chewy and with a tad bit more flavor. (Basically, it was better than steak.) I ate my full helping, wishing I had more or I could eat it somewhere else. It was surely a great meal.
I am now twelve years old and in 7th grade. For the past few trips, my family has remembered to study a country of EPCOT and plans to do it for every vacation to Disney World. Though all the countries are fun to study, I have never have and most likely will never have more fun with the project than I did with Morocco.