This post may contains affiliate links for your convenience. If you make a purchase after clicking a link we may earn a small commission but it won't cost you a penny more! Read our full disclosure policy here.
By Teresa Pitman
Animal Kingdom Lodge not only makes a great home base for guests exploring the parks, it's well worth exploring all on its own – even if you aren't staying there. With free tours and many daily activities, as well as African wildlife in the savannahs outside, you can have a full day of entertainment without spending a cent on park admissions.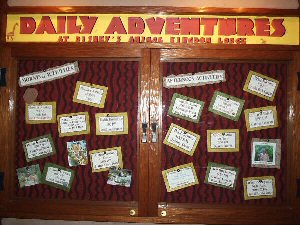 Bulletin Boards in the lobby (on the same wall as the main entrance) and near the entrance to Boma will have updated lists of the activities for the day. While I've focused here on the events for adults, there are many possibilities for children – they can learn animal tracking, hear African folk tales and music, or do some crafts, for example.
Until I took the Art Tour with Kenneth, a Cast Member from Botswana, I didn't realize how much authentic African art was displayed around the Animal Kingdom Lodge lobby. There are almost 400 pieces in the public areas and more than 4,000 items in the guest rooms. On the wall just inside the main door, for example, is a three-paneled carved stone wall-hanging with a sign encouraging guests to "please touch." Kenneth explained to us that these panels would have been hung on the doors of a tribal chief's home, and that people would touch them for good luck on arriving or leaving. More panels would be added as time went on, and the pictures illustrate local history or significant events.
Another example – in a glass case near the middle of the lobby you can find copper wires made into bracelets and artwork. These wires were left behind by western corporations building in Africa and the local communities turned them into wearable jewelry and used them as a form of money. Other glass cases display artwork with religious and spiritual significance. Kenneth also told us the story of the igele, a kind of large ceremonial mask which, in his words, is "as tall as a giraffe and as wide as an elephant." This impressive piece is on display in the far end of the lobby.
For another view of Africa, the Sunset Savannah room has a collection of photos and African artifacts from the collection of a remarkable couple – Osa and Martin Johnson. Osa married Martin when she was just a teenager and accompanied him on his travels through Africa where he filmed and photographed the people and the wildlife. Their story is told in her autobiography "I Married Adventure" – you can buy a copy of the book in the Zawadi Marketplace (where you can while away some more time just browsing through the merchandise).
After you've feasted your eyes on the art of Animal Kingdom Lodge, you may be ready for another kind of feasting. A free Culinary Tour is offered daily in the late afternoon (check the notice board to confirm times). Our guide, Moty, took us first to Jiko, where a cast member explained the design of the restaurant and some of the specialty items on the menu. She mentioned that they are also proud of their vegetarian options and that Jiko is listed on many vegetarian websites. We were given some dips and breads to taste as we listened and asked our questions.
Across the hall, at Boma, we had a tour of the buffet, again with explanations about the contents of each dish and its origins. Boma is also an excellent choice for vegetarians with a number of meatless options – but the carnivores among us are not excluded as several meats with some unusual sauces are also offered. Our tour ended with some very tasty dessert samples.
A great way to end your day at Animal Kingdom Lodge is to spend some time watching the animals in the savannahs from one of the outlook areas. Cast members will be happy to answer your questions about the wildlife and at night may have night-viewing binoculars you can use.
We all know that Disney is an expert at bringing a theme to life, but I think the company truly outdid itself in Animal Kingdom Lodge.