This post may contains affiliate links for your convenience. If you make a purchase after clicking a link we may earn a small commission but it won't cost you a penny more! Read our full disclosure policy here.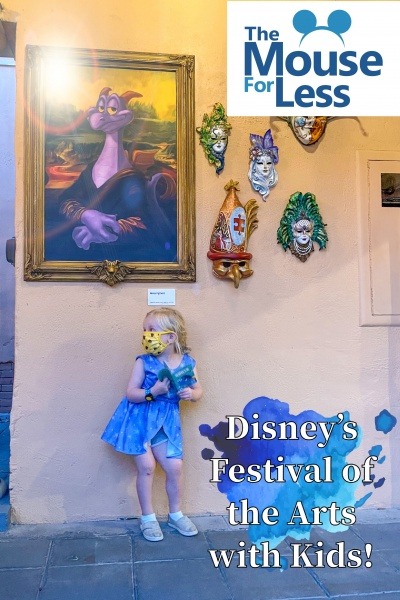 The EPCOT Festival of the Arts is back! Our family of Disney veterans has been to many a festival at EPCOT. Most of these trips have been without kids so we have been free to roam the festival activities with little distractions, save our curiosity. However, this trip was a girls trip with myself, my mom and my daughter, who was three at the time. This trip, we had to be a little bit more savvy with our time to make sure all generations enjoyed the experience! We hope to share our tips and tricks for doing EPCOT Festival of the Arts with kids so that you and your little ones can enjoy the experience as well!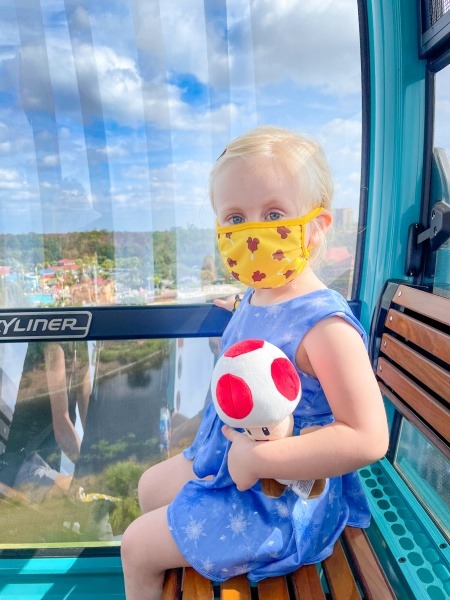 We started out our day with a trip on the Skyliner which is my daughter's favorite "ride!" You get some great views of EPCOT as you come in. We wanted to make the trip to EPCOT as exciting for her as possible. Apparently we succeeded as now that we are home, the only park she can name by name is EPCOT (and she tells everyone about it)!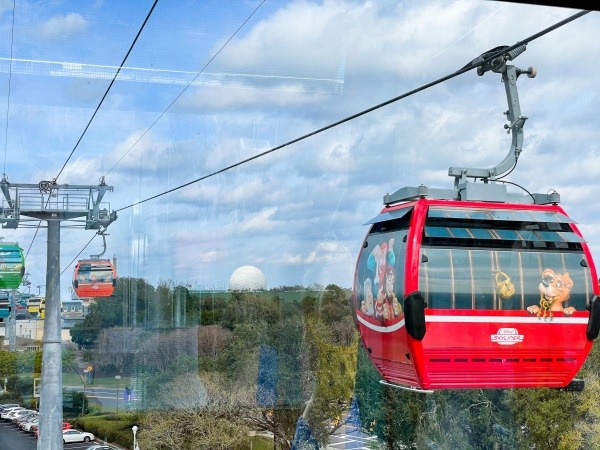 Upon arriving at the International Gateway, there is a small store to your left when you enter that is a great place to buy the "Figment's Brush with the Masters" scavenger hunt ($7.99). Also, be sure to grab yourself the Festival Guide as it tells you the locations of all food booths and experiences. It also lists the menus and notes any food preferences or allergies you need to know about. 
We timed our day so that we arrived at EPCOT when it was my daughter's nap time. We fed her an early lunch at our resort so that by the time we got to EPCOT she would fall asleep in the stroller and we could eat our "lunch" by going to the festival stations that were not associated with a pavilion at a country. This included those booths in the Showcase Plaza like Deconstructed Dish and those in World Showplace by the Canada Pavilion.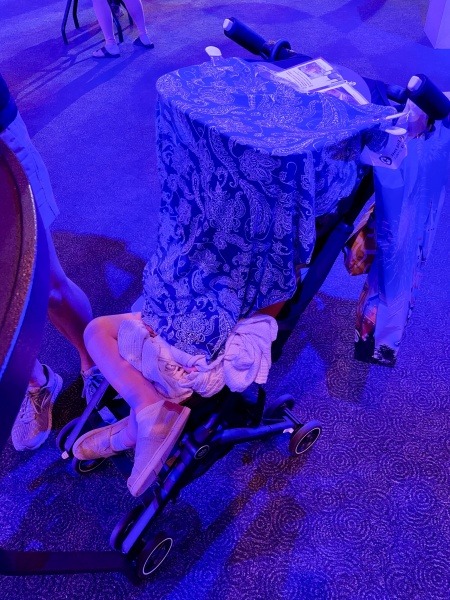 I especially loved getting to compare my Ratatouille I made at home with the festival's version (hint: the festival's definitely won out)!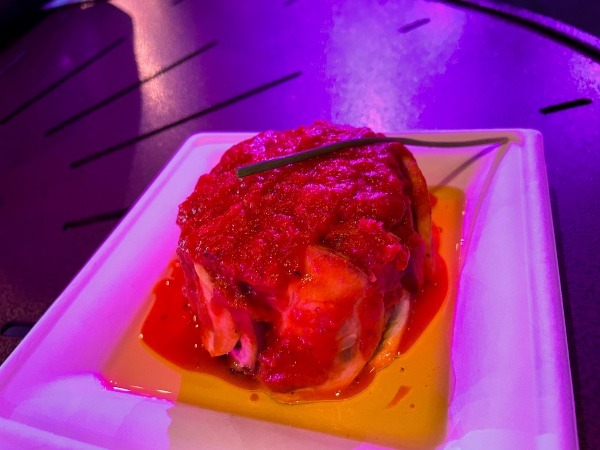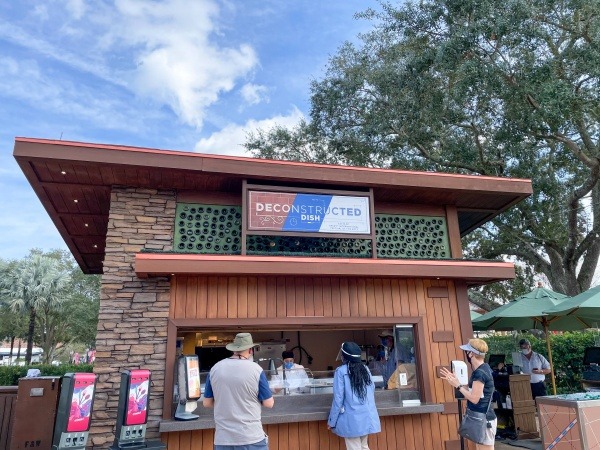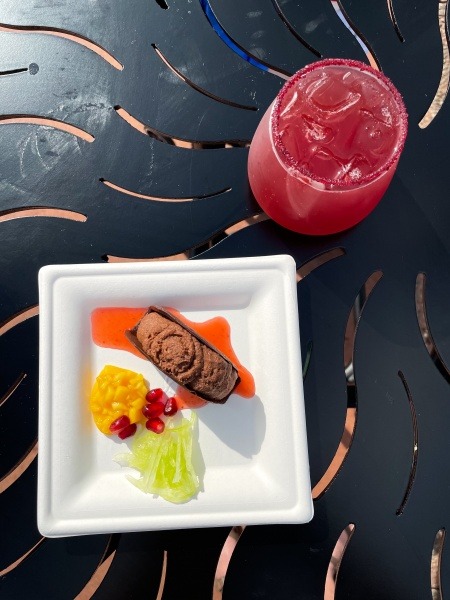 By the time we had our fill for lunch, we were by Mexico and my daughter woke up. We made sure to do some rides with her at this point and it wasn't too much of a walk to Test Track. It was her first time riding this attraction as she just recently met the height requirement and it turned out to be one of her favorites! Adding in some fun like this wasn't just for the toddler; it made the festival much more enjoyable for the adults as well!
We then started the "Figment's Brush with the Masters" scavenger hunt! The premise of the hunt is pretty simple. As you go around World Showcase, you look for the art pieces you see on the back of the map with the stickers. They are somewhere in each country's pavilion and can be outside (say, in a window) or inside any of the number of shops.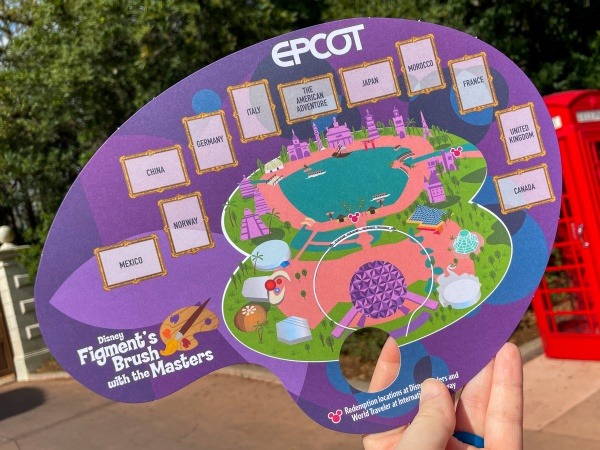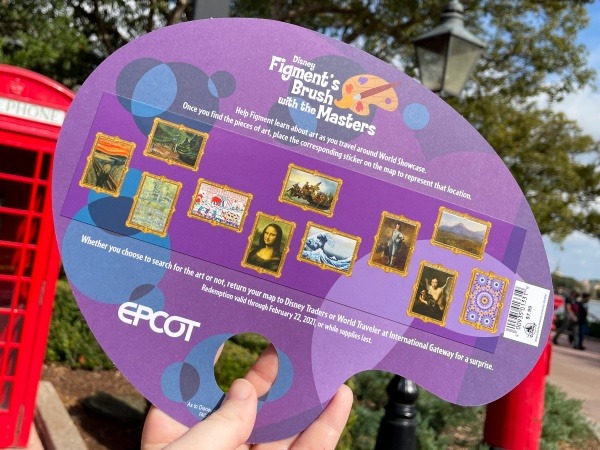 What you will soon discover on your adventure is that Figment has added himself to the paintings that are hanging in the World Showcase pavilions!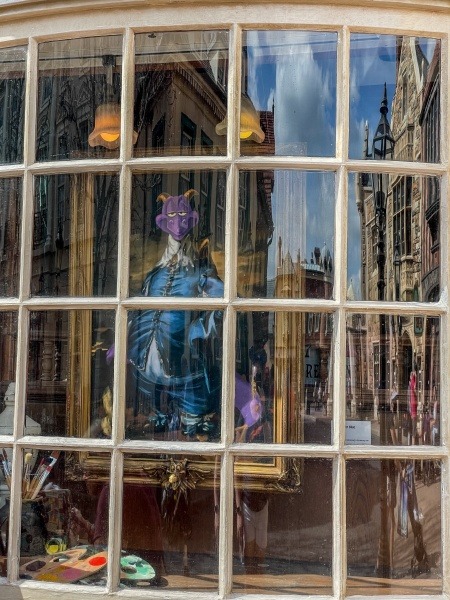 My daughter loves "treasure quests." This is her toddler speak for anything that requires a map, searching for things and stickers so this activity was right up our alley! We had so much fun wandering through the pavilions to find the paintings. She loved seeing how Figment made the painting "silly" and we got to talk to her about each artist that made the paintings (basically taught her the artist's name and which country they were from). She not only really got into the game, but us adults did too! I love how Disney creates these activities that are fun for all age groups!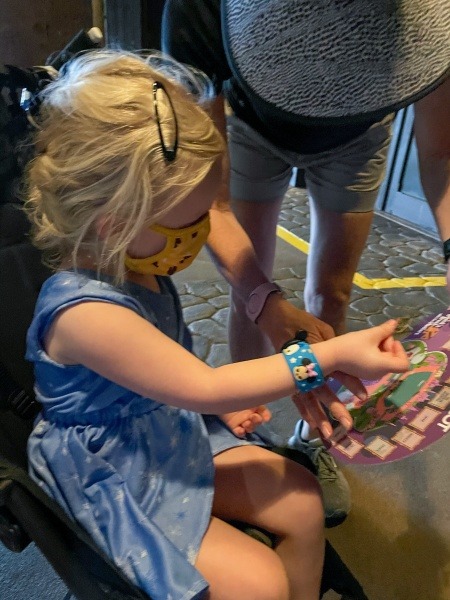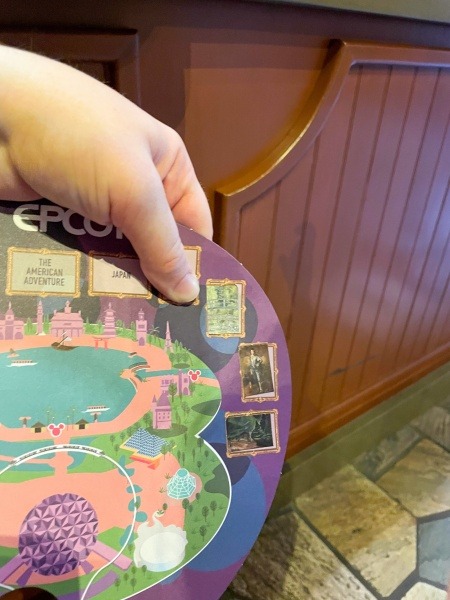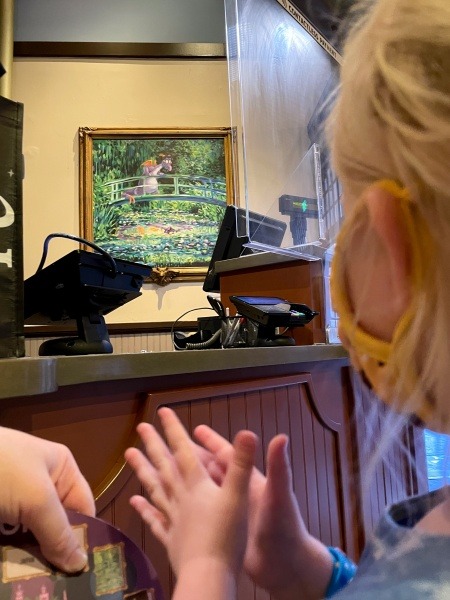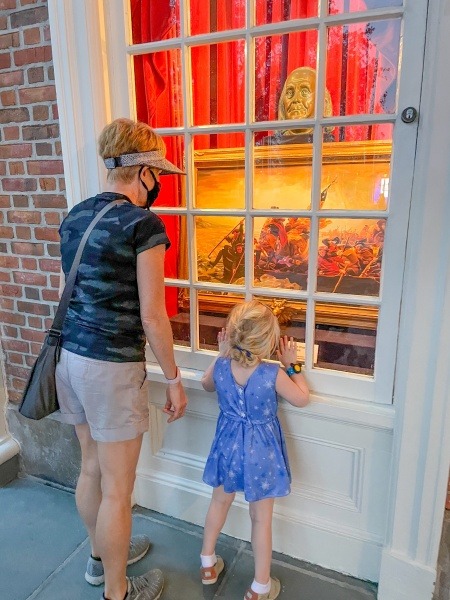 While we were searching for the pictures, we made sure to sprinkle other fun into our time as we went around World Showcase. My daughter loved jumping into the 3D picture booths with me!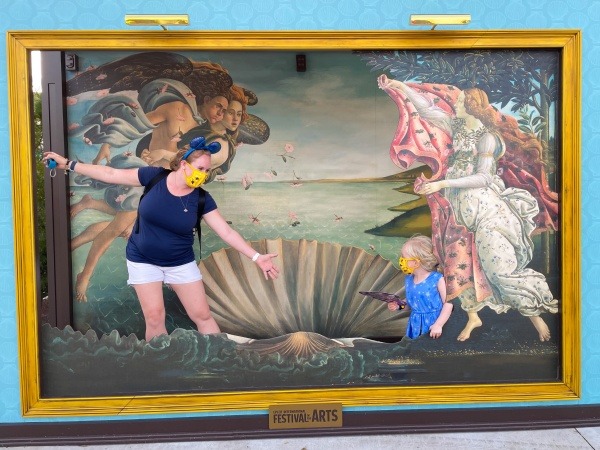 We also offered for her to try whatever food we bought from the food booths. This was hit or miss as my daughter is not a fan of trying new foods but she was a good sport about it for being three years old!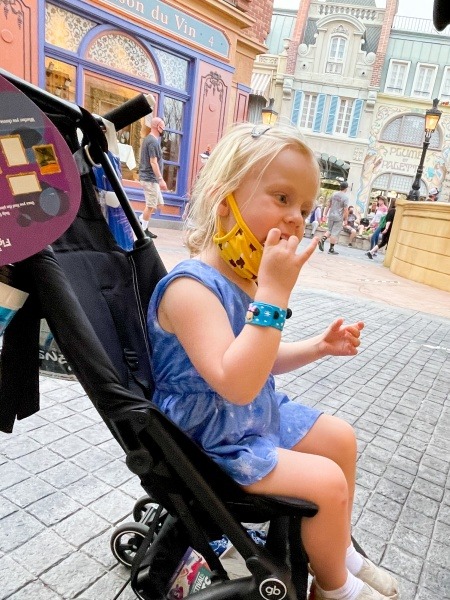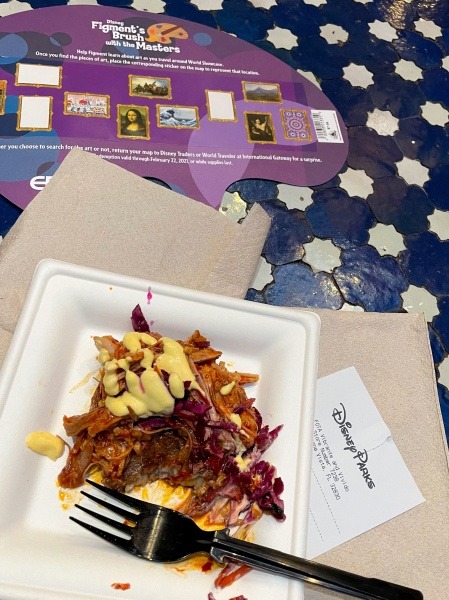 By the end of the hunt, she definitely loved posing with the pictures and copying Figment's pose!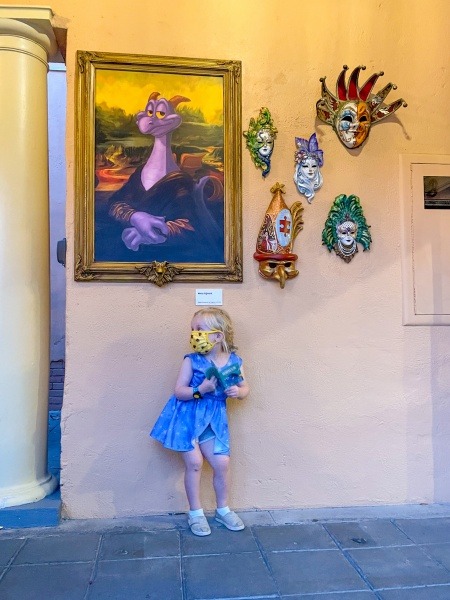 We celebrated completing our hunt with a ride on Frozen (with a very tired toddler!).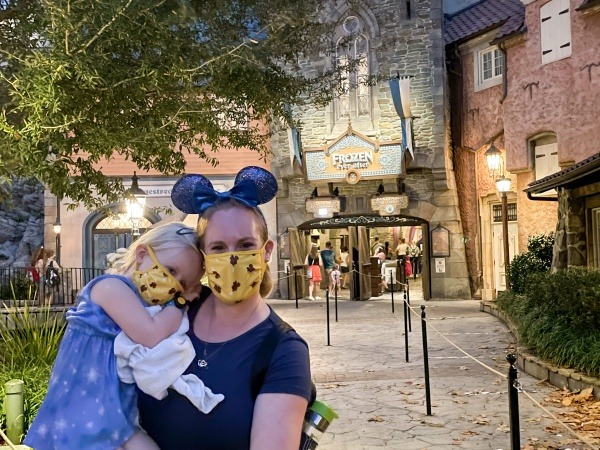 On our way out to the Skyliner, we stopped by the same shop we purchased our map from to redeem our prize. The prize is a 3D puzzle of the EPCOT ball paired with your choice of an additional puzzle of Mickey, Donald, Chip and Dale or Figment. I was convinced she was going to pick Mickey, but to my surprise she picked Figment! The lovable dragon was my favorite as a kid and it made my heart so happy to see she fell in love with him during this trip too!
Definitely plan a whole day for the EPCOT Festival of the Arts (or multiple if you have the time!) and know that it can definitely be super fun for everyone if you take just a little bit of time to plan your day!
What about you? What tips do you have for spending time with toddlers at the EPCOT Festival of the Arts? Have you done the Figment scavenger hunt or any of the hunts at the other festivals with your kids? Do you have other tips for doing festivals with little ones? Let us know in the comments or on Facebook or Twitter!
Did you like this article? Make sure to share it with your friends! Check below for easy ways to share!  
Want to visit a Disney Destination? Contact The Magic for Less Travel for more information and a free, no-obligation quote.

Incoming search terms:
https://www themouseforless com/blog_world/experiencing-the-epcot-festival-of-the-arts-with-your-kids/