This post may contains affiliate links for your convenience. If you make a purchase after clicking a link we may earn a small commission but it won't cost you a penny more! Read our full disclosure policy here.
From Our Magically Speaking Newsletter Archive – subscribe today!
By Jennifer Retzlaff
When my husband and I visited Disney for our ten-year anniversary, we wanted to take advantage of meal time without kids.  We booked the Disney Dining Plan allowing us a table service meal, quick service meal and a snack each day.  As I started to look at our table service meals, I had two goals in mind.  First of all I wanted to make sure that we were trying different cuisine at each meal; I didn't want to book six meals that all served burgers and fries.   Secondly, I wanted us to try places that we didn't try with our kids two years earlier.  When we went with our kids we ate at Cinderella's Royal Table, Chef Mickey's, Crystal Palace, Tusker House, Coral Reef, and Mama Melrose's.  Even though there were a few favorites during that trip, with the numerous options Disney has to offer it seemed silly to repeat.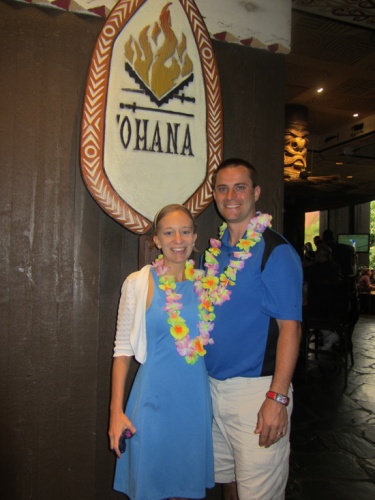 With those goals in mind, on our 180 day mark, I was up early to start booking.  I was able to book Be Our Guest (dinner), Liberty Square Tavern (lunch), Boma (dinner), Le Cellier (dinner), 'Ohana (dinner), and Biergarten (lunch).  I had accomplished my goal of getting a variety of different cuisines and we hadn't been to any of these restaurants on previous trips.  Following our trip, my husband and I chatted about which of these restaurants we'd book again and both of us said without any hesitation that 'Ohana will be a must-do when we return to Disney.  The atmosphere, quality of food and service was better than any of the other table service restaurants during our trip.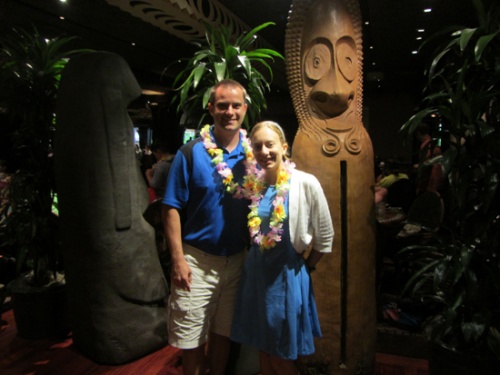 My husband and I are low key people.  We don't eat out a lot and when we do it, we don't go to fancy restaurants.  We enjoy our Applebees, Texas Roadhouse and even McDonalds once in a while.  This is probably one of the reasons 'Ohana appealed to us.  Right when you walk into the Polynesian there is a welcoming and family feel that overcomes you.  Even though it was under construction, you could still hear the waterfalls and feel the warmth that it radiated.  When we arrived at the hostess' stand, we were greeted with smiles by the cast members.  We were around 45 minutes early due to rain changing our plans, but they were still more than accommodating.  Heading down towards 'Ohana's entrance, I couldn't help but feel happy as the surroundings of tropical plants seemed to encourage relaxation.  We were sat quickly despite being there early and our server promptly provided us with a rundown of how 'Ohana worked.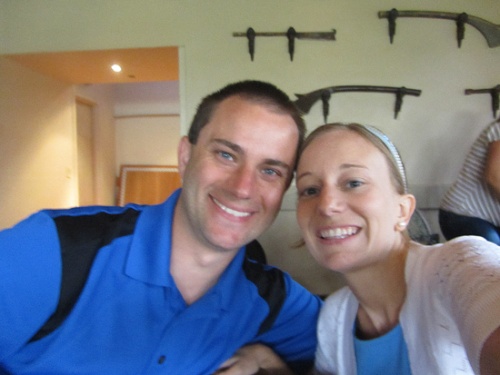 If you aren't familiar with of 'Ohana, it is a family style restaurant where items such as salad, bread, chicken wings, dumplings, and noodlesare placed on the table allowing guests to choose and serve themselves.  The meat (pork and steak) are cooked over an oak fire and brought to the table on skewers.  After taking our drink orders and delivering our 'Ohana pineapple-coconut bread (which had a nice fresh flavor to it), our food was all brought to us extremely quickly which was good, but overwhelming at the same time.  It was hard to determine what to choose when there is so much offered at once.   Sticking with our "trying new things" attitude, my husband and I tried everything that was offered.  After trying a little of everything, it was unanimous between us that it was all exceptional.
I personally really enjoyed the salad which was very light and fresh with fruit as well as greens mixed together using a lilikoi dressing on it.   For meat, my favorite was the sweet-n-sour pork loin.  I am not a pork fan at all and often try to avoid it a home at all costs; however, this pork had such amazing flavor and when dipped in the peanut sauce they provided I couldn't get enough.  My husband really liked the noodles that were tossed in teriyaki sauce with fresh vegetables.  For meat, he enjoyed the szechuan sirloin steak that was offered.  Again it all had such amazing flavor all around.  Like I said we did try the pork dumplings and honey-coriander chicken wings and they also had great flavor but we both stuck to our favorites overall during the meal.  Along with amazing food, was the specialty pineapple rum drink that I had.  Not only was it fun, but it was delicious down to the last scrap of pineapple.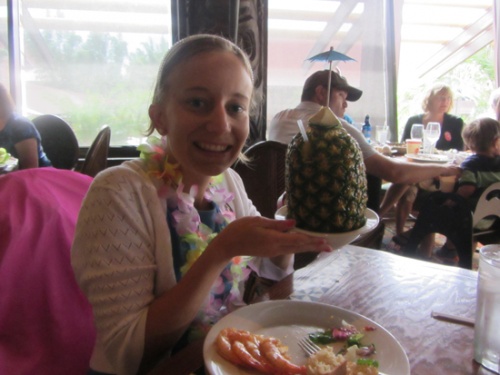 The meal ended with a banana pudding dessert which neither of us were big fans of, but we did sneak the ice cream off of it.  Since our food came extremely fast at the beginning, in turn we didn't get a lot of meat throughout the meal.  I'm not sure if that was because of timing or because we weren't overly vocal about what we wanted.  As being new to the restaurant, we weren't sure what the policy was for getting more.
As I stated earlier, out of our six table service meals, 'Ohana was our favorite.  We appreciated the willingness of the cast members to seat us early and be patient enough to explain the process of the restaurant.  The food was delicious all fresh and well flavored with a variety of choices and an abundance of food.  Finally, the Polynesian provides a friendly, welcoming and relaxed environment which we loved following a day at the park.  If you are looking for a table serve meal I would highly recommend 'Ohana.
Magically Speaking Featured Article
Library of Congress ISSN:1556-3863