This post may contains affiliate links for your convenience. If you make a purchase after clicking a link we may earn a small commission but it won't cost you a penny more! Read our full disclosure policy here.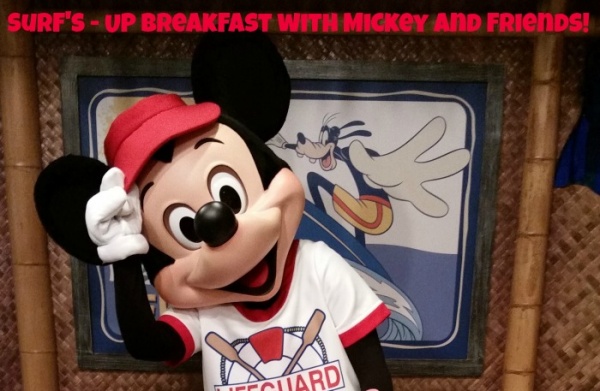 This month my baby girl turned 4! I can't believe it; time sure flies. To celebrate her birthday my family and I took her to the Surf's-Up Breakfast with Mickey and Friends. This is located in the PCH Grill, one of the restaurants in the Paradise Pier Hotel at the Disneyland Resort. This restaurant only offers character dining during the breakfast hours only (7:00 a.m.-11:00 a.m.), and it is set up in a buffet style with many options to choose from. You also get PCH Grill buttons with Mickey on them, as well as a birthday button for the birthday girl.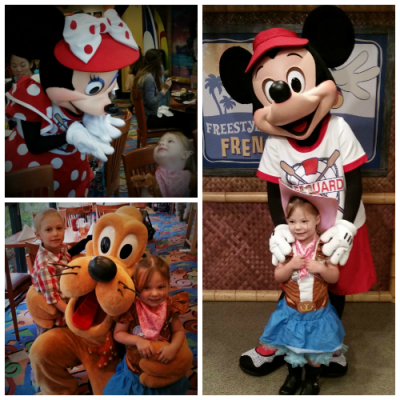 Price:
Adults (age 10 and above) – $33
Children (age 3-9) – $17
Keep in mind prices do not include sales tax or a 15% gratuity that is added to all checks. Children age 2 and under dine free. Reservations are highly recommended and can be made online or by calling Disney Dining at (714) 781-3463.
Menu:
The breakfast is served buffets-style. Selections include: Mickey Waffles, Minnie Pancakes, bacon, sausage, eggs, "build your own" omelet, various pastries, smoked salmon, seasonal fruits, peanut butter-banana-chocolate stuffed French toast, chicken, breakfast flatbreads, and more. I didn't get to try everything, but what I do have was pretty good. My kids loved the Mickey waffles, they are about the size of your palm making them easy for little fingers to dip and eat (in fact, I think my son ate about 6 of them!).
Something that I loved throughout the buffet line, on the signs labeling the foods they also list any possible allergens, making it very easy to navigate foods that are best for those with food allergies to eat. In addition, if you have any questions you can always ask to speak with the chef on duty and he/she can go over ingredients with you. They will accommodate you as much as possible as well, offering alternatives and substitutions.
Characters: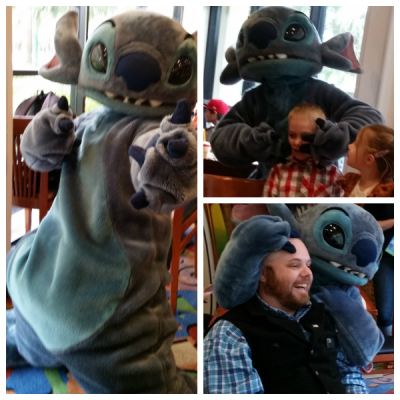 As with most character meals, characters are subject to change depending on when you go. The only guaranteed character here is Mickey, who is standing near the front of the restaurant for your group to take pictures with him. All other characters will walk throughout the restaurant as you enjoy your meal and will visit each table, allowing you the opportunity for pictures and autographs.
The characters are the best part of the experience.For our visit they were just wonderful. All of them got down on my daughter's level for hugs and pictures. She dressed up in her Sheriff Callie costume for the event and many of the cast members made sure to tell her how awesome she looked. Our favorite by far was Stitch, who was his normal, rascally self. He tried to sneak off with someone's birthday cupcake, made faces with my son, and even joked around with my husband a little. Overall it was a great experience.
It can be a bit expensive, but keep in mind that you are paying for the experience, not just a meal. Also, it can be a great way to meet some favorite characters without paying for park admission (or even stand in line because the characters come to you!). Our family loves doing character meals and hope to eventually do them all!
How does it compare: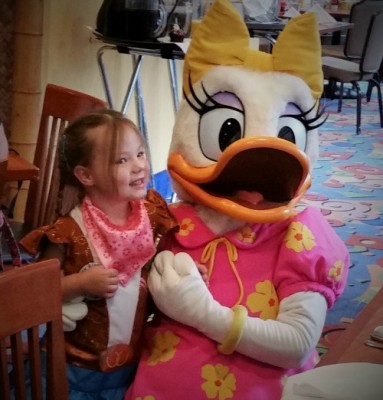 My family has done 2 other character dining experiences in the past. We have had dinner at Goofy's Kitchen (Disneyland Hotel) and ate at the Minnie and Friends Breakfast in the Park (Plaza Inn inside Disneyland). Goofy's Kitchen is the most expensive, but it is the only one that offers character dinning during times other than breakfast. It also seems to have a larger variety of characters. For example, they had a princess (I think it was Snow White that day) and the Mad Hatter, whereas PCH Grill did not have a princess and it was mostly just the "classic" Mickey characters. I do not know how the menu compares as we went during dinner and not for breakfast.
The Minnie and Friends breakfast is the least expensive for the actual meal ($30 adults/$14 children), however, it does not include park admission (if you include that it would be the most expensive). However, it could be a great add on to an already planned visit. The character variety it as good as or better than Goofy's Kitchen (we got Captain Hook, Winnie the Pooh, Minnie, Alice, and others), and the food selection and quality is similar to PCH Grill.
Have you ever done a character meal? How was the experience? And what are your thoughts on the Surf's Up Breakfast with Mickey and Friends?