This post may contains affiliate links for your convenience. If you make a purchase after clicking a link we may earn a small commission but it won't cost you a penny more! Read our full disclosure policy here.
Transatlantic Cruise on the Disney Magic May 2011 – Day 6 (4rd of 6 days at sea with NO LAND IN SITE)
Cast of characters:
Mic from The Magic for Less Travel
Missy, from The Mouse for Less and of Minnesota mom's runaway to WDW fame, one of Mic's BFF's
Ross, Missy's darling husband (aka DH)
……..please lord….a tree…a small island…olive branch…something to indicate that land and other people still exists out there….
Naaaawww…no sweat.  Despite dire predictions we are all doing great!  Seas are still calm, food and drink are still flowing and we are still making new friends!
A quick note about our table mates…we are so lucky.  We connected with a great group of people.  Chris and Ryan, a couple of guys from Louisiana, Monique and her father from Florida and finally Maggie and Susan from North Carolina.  They are so much fun!  We usually end up doing a lot of activities together – shows, trivia contests and of course dinner every night!  Our daily routine has settled into Breakfast, deck time and seeing if there are activities (lectures, special appearances) during the late morning/early afternoon, the 6:30 show in Walt Disney Theatre, Trivia contests in Diversions – one of the on board clubs, Dinner and then either bed or one of the adult activities.  This is definitely a routine I wish I could take home with me!
A big day today!  It started out with a Character Breakfast for our table at Parrot Cay.  As always, breakfast versions of awesome service and awesome food!  Added to that was a steady stream of characters.  Mickey, Minnie, Goofy, Pluto and Chip & Dale came to visit and pose for photographs.  We ended breakfast with everyone wearing a napkin hat of some kind (daisy bow, pirate hats, etc).  (Mcnote: we have discovered the breakfast crepes, doesn't matter what is in them but they are awesome, my current favorite is the banana ones)
After breakfast Mic went to see a showing of Gnomeo and Juliet in the Buena Vista Theatre and Missy and I went to see Alton White a Broadway musical actor who plays Mufasa in the Broadway production of The Lion King.  Wow!  What a voice and presence.  He sang a selection of songs from the different musicals he has been involved in as well as some Disney favorites.   Simply him sitting on a stool with a piano accompaniment, very cool.  (McNote:  Gnomeo and Juliet was cute, glad I got to see it in 3D, not sure it will be one of my fav's however).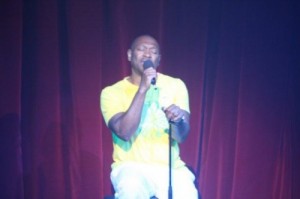 From there we met up briefly with Mic before she went to her home-away-from-home, the Rainforest Room.  She is getting so relaxed she is going to begin to melt soon.  Missy and I hit deck 9 to snack our way through lunch and have a do-nothing afternoon.  I got a lot of iPad time in and Missy pretended to read for a while until she gave up and snoozed.  (McNote: a full blog on the rainforest room will be forthcoming at a later date, stay tuned to this mousechannel).
This evening's 6:30 show was Villains Tonight!  A cute musical show in which Hades attempts to enlist other Disney villains in helping to keep his position as leader of the underworld by filling the Evil-O-Meter before the end of the night.  Very cute production with great singing and a bit of comedy mixed in.  Perfect for the family, good singing and choreography with the classic Disney corniness mixed in.   (Mcnote: This is the second time I have seen this show, saw it recently on the Disney Dream, and I liked it as much as I did the first time)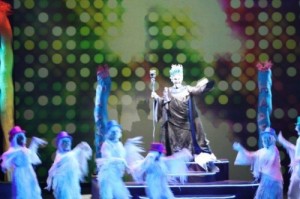 After the show it was off to Diversions – tonight for Family Feud!  Team style version of the game show.  We did ok as usual.  Our group usually comes in second.  Not for lack of enthusiasm though.  Our Diversions trivia night can get a bit rowdy. (Mcnote: the other team's are always cheating or we would win for sure!)
After that everyone made their way to Parrot Cay for dinner!  Yet again the "boring" awesome service, awesome food and awesome friends!  Suffice it to say we all ate too much.  Some at our table (Chris and Ryan) have discovered that it is socially acceptable on a cruise to order multiple meals so that you can try different things.  They are up to 3 appetizers, 3 entrees and 3 deserts at every meal now.
After dinner we headed to the adult show of Alfred and Seymour.  These guys are hilarious!  We had the front row again – my theory being they would never pick me twice, thankfully I was correct – so we were up close for all the action.  Their adult show was not much different than the family version – a little off-color, but not much.  However, the show was different and as such had everyone in stitches!  I particularly enjoyed watching them put other "victims" through the ringer.  Although none were on stage as long as I was.  Less a statement as to any talent on my part vs. their ability to make more fun of me…As I said before, if you have the opportunity, check these guys out.  They are great!
Mic, Chris and Ryan went off to Club Trivia and Missy and  I headed to the room to rest and watch some movies on Disney Cruise TV.  Mic joined us a bit later and her and Missy proceeded to have a "Lost" marathon – there is a channel on DC TV that is constant "Lost" episodes.  Apparently Mic is an addict.  She is quickly converting Missy.  While I attempted to sleep with a pillow over my head, these two watched TV until 4:00 am. (Mcnote: It WAS the final final episode, I had to finish watching it, unfortunately I have since found out they seem to be replaying the same episodes over and over as I have only seen 3 different ones.   And for some stupid reason, the commercials that are just in between one episode and the next are SUPER loud, makes it hard to nap to Lost!)