This post may contains affiliate links for your convenience. If you make a purchase after clicking a link we may earn a small commission but it won't cost you a penny more! Read our full disclosure policy here.
Over the years, our family has seen almost all of the sights and attractions Epcot has to offer except for Innoventions East and West. We determined prior to our most recent trip to spend an afternoon at Epcot for the sole purpose of exploring this section of the park (and eating Mexican food for supper).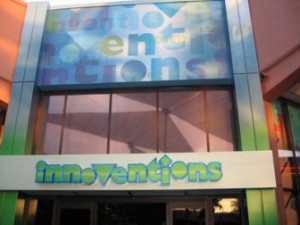 Upon passing through the gates of Epcot and taking a quick excursion through Spaceship Earth, we headed directly for Innoventions East. Despite being a natural planner, I had little knowledge of this section of Epcot. We entered determine to take our time and not feel rushed or lured away by our favorite Epcot attractions.
"Storm Struck", a three dimensional film about weather-proofing homes, first grabbed our attention. Upon entering the relatively small theater, we put on 3D glasses and watched a very realistic show of a home being destroyed by a tornado. Once the show was over, we were then "tested" on the best way to weather proof a home, choosing answers by pressing buttons on a panel in front of our seats. After the test, the correct answers were given and adaptations were made to the home on the film. Finally, the film was replayed, showing the strength of a home when properly weather-proofed.
As we exited the building, we passed several table activities, most for young children, before finding "The Sum of All Thrills", a virtual roller coaster created by guests who are then allowed to ride their creation on a large robotic arm. This attraction is perhaps the best-kept secret in Epcot and was well worth searching through Innoventions to find.
We concluded our time in Innoventions East by testing the safety and endurance of several items, such as a hard hat and television screens. We then moved on to Innoventions West, where we immediately paused to press some pennies at a machine near the entrance.
Our boys then spent a few minutes exploring a fire truck before moving on to the fire safety house, where we played a game with other guests. Several teams were formed, and laser guns that looked like flashlights were given to each player. With the flashlights, we identified and shot fire hazards in different rooms within the house. The team who identified the most hazards won. This attraction has potential to be very fun, but I was frustrated because the several flashlights I tried would not hold their charge and work properly. However, no one else seemed to have this problem.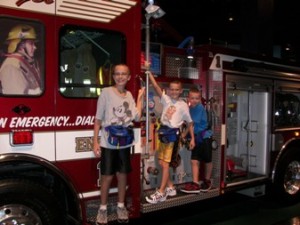 Our next stop in Innoventions was an unexpected surprise. As Disney Visa cardholders, we had our picture taken with Minnie Mouse and Goofy and were given a free 5×7 print, which we picked up later as we left Epcot.
As we continued through the final half of the building, we were disappointed to find only a row of computer games, which we chose to bypass, a large area dedicated to Segways, which was closed, a few displays of enlarged insects, and a booth on recycling. I regret not spending time at The Great Piggy Bank Adventure, a virtual game designed to teach children fiscal responsibility. However, at this point, we needed to meet the grandparents for dinner. Having reached the exit, our journey through Innoventions ended.
Overall, Innoventions holds much potential for continuing the entertaining, educational adventure that Epcot offers. We began our exploration quite impressed with the realism of "Storm Struck" and the uniqueness of "Sum of All Thrills". Yet some parts of Innoventions left us wanting more of the Disney magic to which we have grown accustomed rather than displays similar to those in our local museum. On future trips, we will likely take a brisk walk through Innoventions, hoping to find our favorites and perhaps be surprised by new additions. However, we are unlikely to devote a significant amount of our time to this location.